Introduction
The 2012 expedition was a major undertaking involving 2 film trips in Son Doong and a 2 month full on expedition. Hanoi University was again excellent in their support.We had excellent help especially from the National Park under Mr Thanh. The whole community around Phong Nha village and Son Trach villages were very supportive to all our team members.
We have now filmed with National Geographical, NHK Japan, BBC, VTV4, Quang Binh TV and Tokyo TV in Son Doong which has helped promote the Ke Bang massif to many parts of the world. This year's filming with Vietnamese TV and Tokyo TV will continue to promote the amazing Ke Bang National Park and the caves. This project also helps the local people in obtaining a reasonable wage as porters and guides.
The National Geographic magazine article about Hang Son Doong and the caves of the Ke Bang Massif was a great success. The story and pictures won numerous awards for both the magazine as well as the website. This is an excellent advertisement for Vietnam and especially Phong Nha Ke Bang National Park.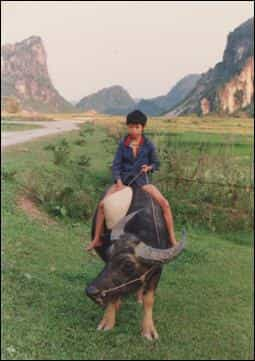 Phong Nha Village 1990
In 2012 we had no problems with permissions with the great help of many people. We have now been working in the National Park now for over 22 years so we have a good relationship which is important in Vietnam.
The first thing we had to do this year was to take the National Park people and the forestry people and members of Quang Binh committee and a Vietnam film crew down Hang Son Doong. This was a real eye opener for many of these people and helped them understand the conservation issues and just what would be required if ever this cave is open to the public. At the moment no one is allowed into Hang Son Doong or indeed to the entrances. No one has been into the cave without our team accompanying them.
No tourists are allowed to go even to the entrances. This is strictly controlled and although websites promote tours to the biggest cave in the world these are all utter lies!! Maybe one day Son Doong will be a tourist cave but at the moment it would require major investment to produce what would be a mind boggling show cave. I would love to see the cave kept in its present condition but understand the realities that may force this to change.
Our next task was to accurately GPS a number of caves we discovered pre GPS days. This was interesting because we now have a digital map of all our caves which will assist us in the future in the search for caves. We have a greater understanding of the hydrology of the area but there are still many unanswered questions.
The actual main caving expedition was a great success. We all had a really fantastic time especially the jungle adventures with our guides and porters. We discovered over 21km of excellent and varied caves in our 8 week expedition.
With the help of Hanoi University, we had a member of the University with us in one of our groups in the jungle. This is a great learning experience for many of these students. Mr. Bac, Mr. Hanh, and Mr. Phuong have all played an important role in the success of the expedition.
During the first 4 weeks of the expedition we had 8 members in the team but the last 4 weeks of the expedition we had 11 members in the team. This gave us the opportunity to send 2 or 3 teams into the jungle to search for caves. All team members had long jungle stints on this expedition. Many of the new caves involved long walks up to 3 days away. With the aid of modern medicine the team just about managed to return home in one piece, though a few younger bodies next trip may help.
We didn't manage to find the master cave to the Chay River resurgence but we opened a new area in the search for this elusive system. We have left numerous new caves and our guides are actively going out to the jungles in searching for caves. We may have to change our approach to time out in the jungle on future trips. To really spend maximum time in the area a base camp in the jungle 3 days walk in, stocked by porters for up to 15 days would be a possible solution.
We owe a huge thank you to the men of the Phong Nha village who act as guides and porters for all our team. Without their considerable assistance our success would have not been possible. The highlight of any caving adventure is who is on the trip and the local lads are always nothing short of brilliant.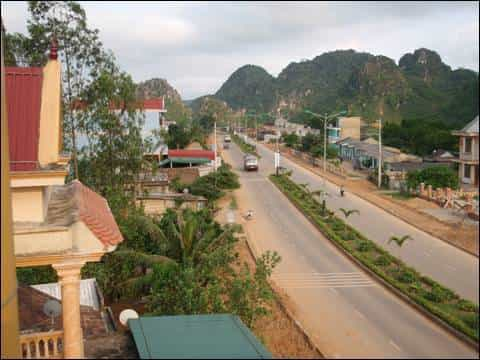 Phong Nha village 2009
I would like to thank all team members for their considerable hard work both before and during the expedition. Exploration of new caves in the park is not generally easy nowadays and this last expedition was possibly the toughest of the last 22 years.
We also discovered some pottery in a cave which is now thought to be up to 2,500 year old. The Vietnamese archeologists are pretty excited about this find and we hope to return to take them into the cave.
We plan to return in 2013 for filming but maybe a quick recce. The next main expedition will be 2014 for 6 weeks.
Howard Limbert
Editorial
This is an account of the 2012 caving expedition to Quang Binh, Vietnam.
Little or no editing has been made to the articles as they are personal accounts of the amazing adventures and exploration that the writers encountered.
All photographs are credited to Vietnam caves 2012.
Martin Holroyd
Summary of 2012 Expedition Quang Binh
This 10 week expedition included the assistance of the team in taking down Hang Son Doong two film crews from Vietnam TV. One Quang Binh TV, and the other VTV4. Also on this trip members of the Quang Binh committee, National Park and forestry people were present. This gave the people in the province an insight into the wonderful Hang Son Doong for the first time.
The main part of the expedition set about its work in early March and up to date has surveyed and explored over 20km of new cave passage. A total of 43 new caves have been discovered all within Quang Bing province, the vast majority in Bo Trach district. Using the invaluable assistance of local guides we have been able to discover many fascinating new discoveries.
The longest cave discovered to date is in the Xuong valley where a great deal of new cave is present. This is a difficult area to access and involves very long walks into the jungle for up to 9 days. This cave Hang Ky is over 4km long. Another cave called Hang Va was discovered off the new Ho Chi Minh highway from Khe Van bridge. This cave is 1.7k long and has some excellent and possibly unique stalagmite formations which are extremely beautiful. A lot of publicity in the National press about this cave has increased the awareness of the expedition and the amazing caves that are present in the Ke Bang massif.
The Phong Nha system will be now over 75k long, the longest in Vietnam and the Hang Vom system will be over 43k long, the second longest in Vietnam.
Much work remains to be done in the Ke Bang massif and future expeditions will I am sure yield more success. This trip has been an excellent expedition and in conjunction with Hanoi University of Science has been one of our most rewarding in the last 22 years.
The final 2 weeks of our expedition we will lead a Japanese filming team into Hang Son Doong to make a film which we hope will promote to many people the beauty of the Quang Binh province and which in turn will lead to more tourists visiting the World Heritage site.
A complete list of caves and all photographs and surveys will be available for the Peoples Committee and the National Park and Forestry departments after the expedition. We are hoping in conjunction with Hanoi University of Science to produce a book about the caves of Quang Binh in the near future.
The Phong Nha Cave System Overview
The Phong Nha system starts about 40 kilometres south of Phong Nha Cave. Near to the Vietnam/Lao border a series of streams and rivers enter the limestone.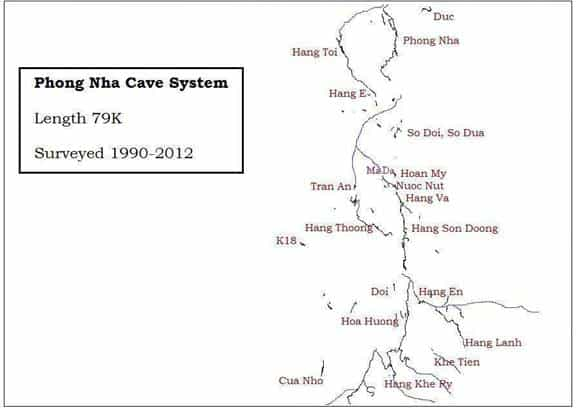 Heading east from the village a few small streams are noted. These all enter the limestone and find their way into Hang Khe Ry. The entrance to Hang Khe Ry is a large dry entrance. A large dry passage continues and soon leads to the main streamway. This cave forms a major part of the Phong Nha system.
It is almost 19 kilometres long and eventually emerges in a small valley beyond Hang En.
To the east of Hang Khe Ry, Hang Khe Thi is reached. This river joins Hang Khe Ry several kilometres into the system. The final sink to the east is Hang Khe Tien. This has only been explored for about 500m, but the water is believed to eventually connect with Hang En. This area should be checked out in future expeditions.
Hang En is the next major cave in the system. A large river enters and flows through Hang En before joining with the water from Hang Khe Ry. Upstream of Hang En, a few short caves Hang Vu Ca Tau, Hang Khanh and Hang Hong form part of the system. Water from these caves joins the river leading to Hang En. Upstream from Hang En, Hang Lanh was explored in 2001. This stream cave was 3.7k long.
Hang En has one of the largest sections of cave passage in the system. At one point the passage is 190 wide and at least 100m high. The cave is very spectacular.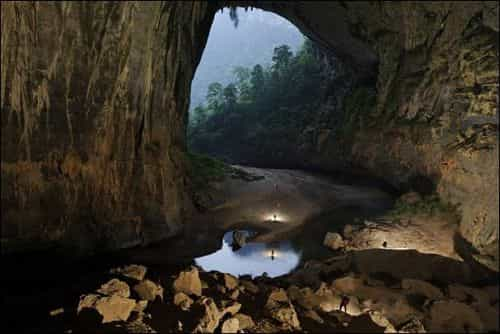 Exiting from Hang En, you enter an enclosed valley. The water from Hang En and Hang Khe Ry combine, and disappear underground in a mass of enormous boulders. Attempts to pass the boulder choke have so far been unsuccessful. There are a number of high level caves above Hang En and Hang Khe Ry.
Hang Long, Hang Phong, Hang Doi, Hang 1987, Hang 1989, Hang 1990 and Hang Ho Nui are all very well developed caves, but are not connected with the current drainage of the Phong Nha system. Often well decorated most of them end in calcite blockages.
In 2009 a very important discovery was made near the final choke of the Hang En River and the Khe Ry River. Above the final choke an entrance to a cave called Hang Son Doong (Mountain River Cave) was discovered and explored for 8.5k. This cave is huge with passage over 200m high and in places over 175m wide. This is the largest known passage in the world as yet discovered.
The whole of the water from Hang En and Khe Ry combines to form Hang Son Doong. The river passage sumps and is heading towards Hang Thung where the water resurges. The gap is about 700m. The main phreatic passage is a huge tunnel for nearly 5km which exits via the Great wall of Vietnam.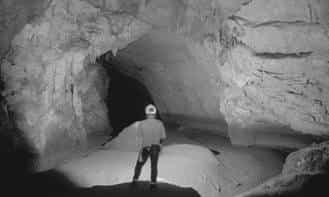 The next cave in the sequence is Hang Thung. This cave was explored in 1994. The water from Hang En and Khe Ry passes through Hang Son Doong before it is found in the 3 kilometre section of Hang Thung. The water emerges from Hang Thung in the beautiful Thoong valley, and continues to Hang Tra An. In 2007, the caves of Hang Tron and Nightmare Shaft were unexplored which helped us understand another small section in this very large cave system.
In 2012 Hang Hoa and Hang Hung were explored near the river valley of Hung Thoong. More caves have been mentioned in this region and is well worth another visit. Also the valley behind Tra An was briefly checked in 1992 and 2 caves were found. This valley is again worth another look with experienced jungle guides. The exploration of these caves completes the link between Hang Thung and Hang Tra Ang. Hang Tra Ang was first surveyed in 1992. It is about 600m long, ending in a sump.
In 2001, the team explored Hang Nuoc Nut. A dry entrance leads into a very well decorated cave and a large stream passage. 2.2k long the water emerges at Ma Da and flows above ground to join the Tra Ang river.
Hang Va discovered in 2012 is probably fed by the Khe Oum stream which sinks higher up the Nuoc Nut river bed. It is presumed to join Nuoc Nut where the main inlet enters the cave via a sump. Also in Hang Va a small inlet is met which is thought to be from Passchendaele passage in Hang Son Doong.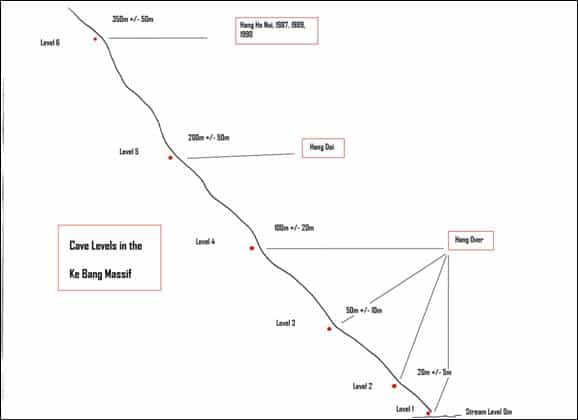 In 2012 another feeder to this system was discovered called Hang 21. This is likely to lead to Hang 18 where both the upstream and downstream sumps were dived for 50m the upstream descending at -9m the downstream ascending to -3m. The area left of road 20 has potential for major discoveries especially from the supposed stream sink area around km 27 on road 20.
The large river from Tra An flows on the surface for 4km until it enters the Phong Nha cave. The water disappears into a large jumble of loose rocks and tree trunks. The water enters in lots of places and we have been unable to find a way into the top end of Hang Phong Nha.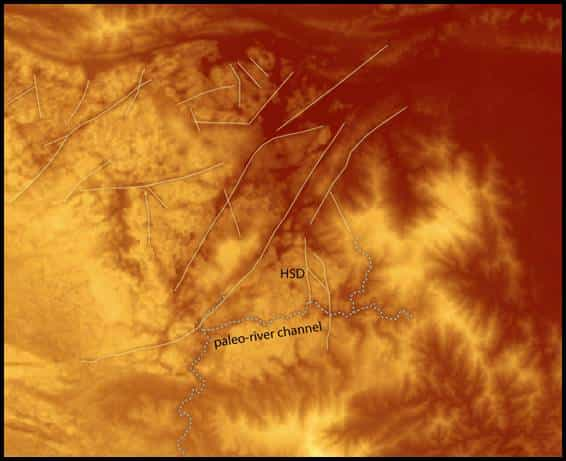 Above this area is the entrance to Hang 11. This small stream cave was finished in 2009 and must connect in some way to the Phong Nha system. Diving will be the only possible way into Phong Nha Cave from Hang 11. However, the sump is perched and still 1km from the nearest point to Phong Nha cave.
At the bottom of the road 20, 3-4 kilometres before Phong Nha village, there are a number of small caves on the edge of the limestone. Hang Duc contains a small stream, and was explored for 1.3 kilometres. It ends in a large sump pool at the down stream end. This may also feed into the Phong Nha system.
Hang Phong Nha is 8.3 kilometres long. It has long sections of deep water passed by swimming, some sections of wading and walking along sand banks, and nearer to its exit some well decorated dry sections of cave. The first full exploration and survey of the cave was completed in 1992. In 2003, whilst working on the entrance to Phong Nha, the locals uncovered a dry entrance some 100m above the river entrance, Phong Nha Kho is a large dry well decorated section of cave 980m long which ends in a 10m pitch down to a lower level and a final calcite choke. This cave has now been opened up to tourism.
To the West of Hang Phong Nha lies the Hang Toi system, comprising Hang Toi, Hang E and Hang Hung Thoc. Hang Hung Thoc lies near kilometre 14 on road 20 and is 450m long. It is in an area which obviously floods in the rainy season. The entrance is very close to the end of Hang E. Water flows through Hang E which is 740m long, resurges and enters Hang Toi which is over 5 kilometres long, and is a very large impressive cave. It is believed that the Hang Toi system is formed by flood overflow from the Phong Nha system. When water levels are high, the choked upstream end of Phong Nha cannot take all the water, which is believed to overflow to the Hang Hung Thoc area where there are many places for water to sink.
The total length of the Phong Nha cave system is now over 79k.
Howard Limbert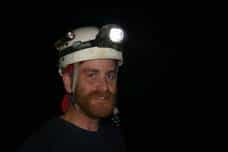 Hang En, Khe Rhy and Hang Nuoc En (honest it isn't a sewer) Report.
Team members: Ian Watson, Anette Becher, Howard Clarke Mick Nunwick, Ky, Nguyen, Mr Uy and extra porter.
It was to be a four day trip starting with a gentle walk in on the 14th. All packed and ready for the off, it was like visiting an old friend. Although very well known and used by many, Hang En was and still is a truly beautiful place to camp.
We set off participating in the usual banter, often at someone else's expense. Time really does fly when having fun and I was having fun! We even found time to burn rubbish on the way to Dong village.
The one thing I had observed and really appreciated whilst on the entire expedition was the eco mindset which the porters and guides had adopted.
Dong village had changed vastly since the floods of the previous year. The floods had caused devastation throughout the whole area, but the people were just the same, friendly, hospitable and keen to share their rice wine.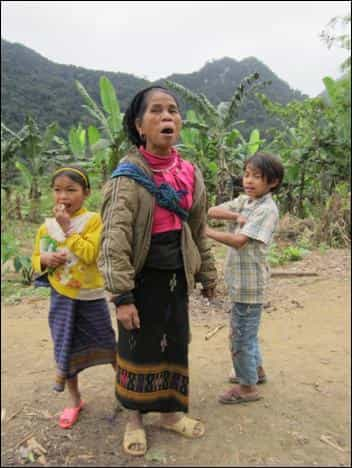 Whilst resting some of the porters scurried off and started pulling some small tree like plants up in the village (with local permission of course). These sweet potatoes were for a hot snack later. The walk to Hang En passed too quickly, even with the cooked sweet potato break. The initial plan was to check a new lead out prior to setting up camp at Hang En. However the plan didn't quite go to plan, translation issues and Hang En fever seemed to take over. Mr Ky just sat there mumbling to himself about our stupidity, lack of our understanding of the Vietnamese language and his own unique form of semaphore.Having set up camp we set off back to check the lead out. Walking for approx 20 minutes upstream back towards Dong village we passed an inlet on our left hand side. Shortly after this we came to Mr Ky's resting place where he was honing his semaphore skills (yes that was where we should have gone earlier).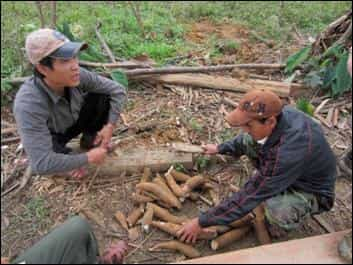 A muddy scramble into an open Banana plantation was our way on. Following a little stumbling, thrashing and flailing of arms through the plantation we came to the resurgence. The crystal clear pool at the base of a small cliff was a pleasant respite from the heat. Myself and water baby Anette decided to take the plunge and look at the small boulder choke. I took my shirt off before entering the small stream inlet, Anette wouldn't. With Anette up one tight slot and myself up another, thoughts of huge unexplored caves came flooding back. No joy for me, only a few scrapes and unsuccessful attempts at finding the way on.
Water baby found a way through without removing three layers of skin, so off Anette went into Hang Nuoc En.
Back at the pool myself and Mick thought we had better show willing and start surveying, all to Watto's amusement. Having negotiated the slot we started surveying up the boulder choke towards the stream way. By this time Anette had been gone quite a while, so we were quite pleased when she re appeared. Apparently Anette was also pleased to see us, as she had become a little disorientated on the return.
Once hitting the stream way proper, myself and Mick had started commenting on the caves sewer like proportions much to Anette's disdain. To appease I agreed to swim "the sewer" with water baby thinking it would soon close down, we set off. It didn't, and much to Anette's amusement we would have to return to continue the survey.
15.03.12 Khe Rhy
With reports from memory of a possible lead in this phenomenal system we set off with high hopes. Spirits high we set off looking for the cave exit. Mr Ky seemed to have a little difficulty locating the cave, I suspect the boys were expecting a rest day. Having located the cave they went back to camp. Following an obvious path on left after 15 minutes of exiting Hang En, Khe Rhy true magnificence can be seen. Wetsuit clad we entered the cave proper. We were looking for an obvious passage reported from an earlier expedition. Long swims, navigating large boulders and traversing around large pools didn't bear fruition. The passage was followed for 2.5km upstream before deciding to retreat and take the opportunity to take more photographs. A gentle walk back taking various GPS readings concluded our trip into Khe Rhy.
16.03.2012
Following a good night's sleep (rice wine induced) myself, Watto, Anette and Mick set off to continue the surveying in Hang Nuoc En (the sewer). Having all passed the entrance slot (Watto kicking his way through), navigated the boulder pile, we were back at the stream way surveying again. Watto on compass and clinometers, Anette on Disto with Mick drawing. I was spotting, which entailed treading water and holding onto delicate stall in the roof. Bats and rats, Anette still wasn't calling the cave a sewer. Swimming, wading continued to a chamber with large boulders and broken stal. The way on soon returned to its former glory (long tube like passage, delicate stal and agitated bats. This concluded at a small boulder choke with no obvious way on, although water could be heard beyond the choke. Mick "the digger" just couldn't resist having a little poke in the unstable pile. Hang Nuoc En totalled 450m in length with a depth of 5m.
Back to Hang En and our luxury camp. Another night of intellectual exchanges, heated card games, rice wine and superb food was had by all. The following day we made our way back to Dong village (drank rice wine as customary) and exited the jungle. Another superb Hang En experience although the camp is becoming used by other parties. Hang En and our luxury camp.
Clarky
Hang Va
This significant discovery found early on in the expedition, provided the team with a spectacular cave with amazing and unusual formations. Khanh our guide who discovered Hang Son Doong told us about a cave with a small river on the last expedition but time did not permit us to visit it.
Hence we planned a quick trip to check because any river caves in these parts are usually pretty special. The walk to Hang Va starts from the same place as visiting the exit of Son Doong. Following a sizeable river down to its sink than climbing steeply up to a col and into a large depression. The walk is only 1 1/2 hour from the new Ho Chi Minh road and soon we reached a depression from where we could hear a sizeable stream.
We descended the steep boulder slope until we were at the stream level. We pushed downstream first in a pleasant passage to a large pool. A short swim led to a reasonable walking passage passing a small inlet. Downstream the passage was pushed for 200m to a sump which had a similar appearance to a cave we found many years ago called Nuoc Nit and as expected when the survey was drawn this would appear to connect.
The small inlet we passed was also pushed to a sump which we now believe to be the water from Passchendaele in Hang Son Doong. This inlet is small and would account for the water in Passchendaele backing up and forming a lake after heavy rainfall.
This was all we really expected of the cave but when we returned to the entrance we thought it wise to check the upstream passage which had a stream flowing from a large boulder ruckle. This was easily passed to a continuation and after a few climbs up and down through boulders we managed to enter a stream passage.
This passage was followed in a fine style for 200m until the passage suddenly changed dramatically. The streamway continued but above we could see a huge dry high level passage. We had surveyed over 500m that day and we knew we had 2 excellent open passages to push.
We called it a day so that more members could have a chance to grab what looked like some cracking passageWe were not able to return for a couple of weeks due to other trips in the jungle but when all the team returned to base we decided to have a day trip to Hang Va, surveying and photographing as we explored. One team bagged the main stream passage and the other the large high level passage.
The streamway continued in classic Vietnamese excellent streamway mainly around 10m wide and 8m tall. After passing a number of large waterfall inlets a sump was reached after just over 500m. The team photographed this fine passage and on the
return met the other high level team.
They all insisted that we all must visit the high level passage due to its amazing formations. Back at the junction a high level traverse with a 20m rope led to a 30m wide and 30m high passage filled with giant gours.
This dramatically increased in size passing a huge stal boss. The huge gour floors had cracked mud in the initial stages but little water.
We climbed up on the left of the passage to a huge gour dam and the view from this part of the cave onwards is very dramatic. You overlook more giant gours now in a passage 90m wide. In many of these giant gours are vulcanites or conulites usually 2-3m tall and numbers of many hundreds if not thousands. All are in a shallow pool of water in the dry season. These formations are absolutely stunning and we had never seen any like in the world before.
This passage continues for 500m and the majority of its length is filled with these special formations. We have found out since that these type of formations can also be seen in a cave in Thailand and another in China.
However the huge numbers and pristine quality of the ones we were lucky to find made for a special day out. This section of the cave is very close to the end of Hang Son Doong (within 100m) but no way on was found due to the high calcite blockages were encountered.
Since our return we have been reliably told that these formations are formed when a calcite raft in a gour pool has a drip into it and this pressure sinks a small section of the raft. Over time and many drips a vulcanite or conulite can be formed. In this case due to the large size of the passage these formations are large and plentiful Hang Va was an excellent discovery and we believe that many more important caves are still to be discovered in this section of the massif.
Howard Limbert
Hang Ho Ky
The entrance to this cave was in the vicinity of the large fault heading towards Hang Son Doong, and so was a good lead to find large passage. The first team to visit was unable to bottom the cave due to lack of a drill and rigging gear, but left the cave with a draught and looking into a large passage. The nearest camp site was located a long way from a decent water supply, using a static pool in the limestone.
Due to the potential of the area, it was decided to send a second team to finish exploration. A day and a half's walk saw us back at the dry campsite. No water to cook lunch, so it was straight off for the steep hour's walk to the entrance. We passed the pool on the way, and it looked very small and murky!
The entrance was an impressive steeply sloping shaft. Ky showed us where the previous team had rigged the rope, and we were off. Thunder was rattling around as we descended and we soon heard the sound of heavy rain. Great, that would bring the leeches out and make the walk back a slippery mess. With the use of a drill Mike was able to create a decent safe rig. The entrance slope led to a short vertical drop, followed by a long slope down the right hand wall to a more level area. Traversing to the left we then followed the left wall down another steep slope, crossing back to the right to rebelay to some stals. An 18m vertical pitch with a knot change landed on a rubble slope in a stooping passage.
The passage soon enlarged, but stopped at a popcorn covered drop of 12m. We rigged a rope and descended into the lower chamber. The passage continued, and soon enlarged to 12m wide and 40m high. It was well decorated but was soon split by a rock bridge. Continuing underneath the passage closed in and was blocked by calcite.
The passage above the rock bridge looked enticing, black spaces could be seen between the stals. With no way to climb up easily we had to be inventive. Adam and Mike managed after a few attempts to lasso a calcited block on the bridge. One end was belayed off, and Mike bravely prusiked onto the ledge! Unfortunately the passage soon met the fate of the lower one and blocked with calcite.
Returning we could feel the occasional breeze, but it was possibly just circulating air, there was definitely no other way on. Arriving back in camp, we had the luxury of a good water supply. The team in camp had used their plastic sheets to collect water and fill 2 large tackle bags. Time for rice and green tea.
Deb Limbert
Hang Hoa and Hang Hung in the Hang Thung Valley
The final trip of 2012 expedition was squeezed in to check the GPS co-ordinates of Hang Thung, last visited in '94 & to continue the exploration of Hang Hung. The plotting of the former on the map using the original co-ordinates made no hydrological sense & where clearly wrong, the latter having been left as an on-going lead from explorations undertaken prior to the arrival of the main body of the 2012 team.
Martin H, Mick & myself plus guides arrived around mid day at the idyllic, cliff-face, campsite overlooking the Hang Thung valley river only to discover that a major part of the sleeping kit (ie hammocks, bivi bags, insulation mats) had been left behind in the vehicle. Post-mortem discussion revealed one of the guides had been out with us on a previous trip & had retained an old Exped tackle bag. We were also using Exped bags for this trip &, whilst having counted the correct number out of the vehicle, had failed to take into account this additional "cuckoo" & so had left behind one of ours. Discussions ensued about what do before deciding to make the best of a bad deal & go caving, the campsite at least having a sandy floor & therefore we reckoned bearable for at least 1 insect riddled night.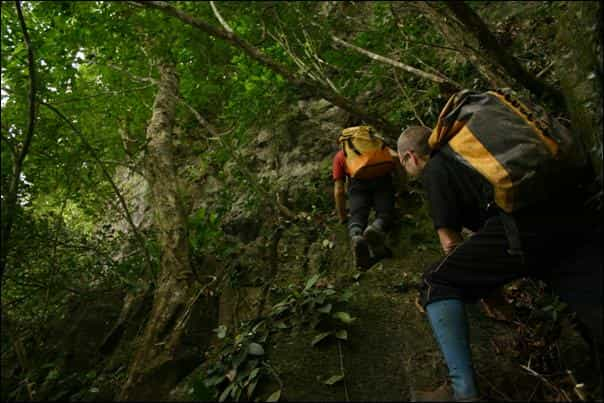 We headed for Hang Hoa almost opposite the campsite but high up on the cliff face that soared above. Discovered in 2009 the bold cliff face climb and exposed traverse to reach the entrance was affectionately christened 'no place for daddies'. Armed with rope and a bolt kit the approach was made much safer this time. We donned wetsuits to explore the waiting lake, this was a bitterly cold swim with only occasional rests on rock but mostly trying to keep electronic survey kit out of the water on featureless undercut chamber walls. We reached a calcite beach with the only way on through a calcite obstruction. This led to a large terminal chamber with no obvious way on. A balcony did however give a spectacular view of the large entrance chamber and lake.
Meanwhile however, Howard L, upon discovering our remaining bag still in the vehicle, duly dispatched this to us via a hot-footed porter & with a, somewhat poorly received, pithy note questioning our competency in blunt, anglo-saxon vernacular. This arrived whilst we were surveying down Hang Hung. At least we were very grateful for the mosquito nets & hammocks.
Hang Hung was explored the following day, this was about 1k eastwards from the cliff camp & proved to be an old remnant passage of comfortable dimensions, approximately 350m length & with a second entrance about 200m in. Remains of pottery can be found inside the cave & these will presumably need excavating for dating at some future date. The cave is dry throughout, no obvious sign of any flowing water. It ends at a horizontal downwards squeeze that, whilst presently impassable, could soon be opened up following the judicious application of a lump hammer to remove some very sharp calcite nodules. Whether this would prove worthwhile is a moot point, there being no obvious draught, but you never know.
The next day it became clear that a 3rd expected new cave didn't actually exist or, if it did, it's whereabouts where at least another 1.5 days walk away. The day was spent visiting the entrance to the 3.3k long Hang Thung. The original co-ordinates had been derived from an estimated map position taken in 1992, pre-GPS. This proved out by a couple of k's , a col & a valley, the actual entrance being plotted as being exactly where logic had dictated it must be rather than where it was shown on the map. A leisurely exploration of the beautiful entrance series, past a 2nd daylight shaft entrance, ended at a 20m pitch down into water.
A final festering afternoon, sultry night ensued before packing up & making a welcome return to Son Trach, flights home being due in 48hrs time.
Sweeny
Hang Dan and Hang Lo Do
To be told that there were two caves just past the National Park check point after all these years was just amazing. But perhaps with one being of military use, we could see the reason why. Less than 800m past the checkpoint, Howard Deb Russ and myself were guided into the usual dense jungle for about 500m, and then onto a reasonable track.
We soon met a decent stream, which we crossed, and continued into the jungle until we hit the hill, and a crag. Turning left, we soon arrived at our first cave. Hang Dan or Bullet Cave was a square hole cut into the crag with a small wall on the right to reduce the entrance size. It was basically and Anti-Aircraft gun placement used during the war with the Americans.
A quick measure up (36m long) and a drink, and we set off in search of our second cave. This proved a lot harder to get to. It involved a lot of climbing up pinnacle karst, and very loose boulders. Eventually we reached a col, and descended into a small long valley, where we found the cave. On reaching the entrance, it didn't look really good, we were quite high up and it looked very dry, but it had a reasonable draught.
We set off in to survey, but after a short distance came across a junction. Going left and following the draught, we started to descend in quite a nice passage, although a bit small. Passing a second passage on the right, we arrived at a small chamber with a large crack in the floor (choked).
Keeping right we traversed through several breakdown chambers all getting smaller until we arrived at a large boulder choke, which was very loose and also very rotten and crumbly. We called it a draw after about 30m in the choke, with no draught and no obvious way on.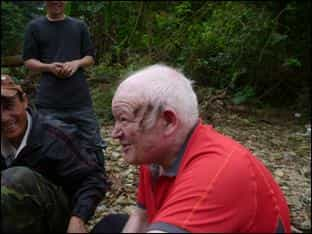 The two right hand passages formed a loop in well decorated passage, with no other ways off. We took photos on the way out, and had an entertaining climb back down to the vehicle.
Ian Watson
Caves from road 20
Hang 21
This cave had been mentioned for quite some time and a number of villagers had tried to persuade us to visit. We finally arranged transport and off we went on the infamous road 20 for more bone shaken adventures. To 21k is a bit of a doddle these days with the improvement of the road but it will be so nice when the road is completed.
We parked our German truck next to the road at Km 21 and hacked a camp in the jungle for our first night sleep. Khanh our trusty guide was keen to take us to his new cave and off we went next to a stream bed we had seen and used for many years along road 20. This obvious stream bed can be followed to the cave about 12 minute walk from the road. Why we had never checked this out before I am not sure. It is only because people are now actively living by the road in the construction business that many more caves have been found in the last year. I expect when we return more caves in this area will have been discovered.
The entrance is very impressive and must take an enormous amount of water in the wet season. This large boulder strewn entrance drops very steeply in a large passage 50m x 40m until a good sized stream is met. The entrance climb of 116m can be achieved with only a short rope around 1 exposed small drop. Martin Colledge unfortunately had chipped his elbow a few days earlier. This caused a few problems on the climbs for him but the rest of us gallantly raced ahead whooping and surveying as we went. We had 3 passages going off from this point. Firstly there was the downstream continuation, secondly the upstream passage and finally a large passage to another daylight shaft. We had only a short time before we must leave and because the streamway involved swimming we opted for the large dry passage.
This led up steeply to the daylight shaft but at its base another passage went off with the sound of water in the distance. We stopped at a large chamber with a steep drop where a rope would be useful. Pretty excited we left the cave with hopes high for a good push the following day.
The weather until this time had been fairly cool for Vietnam standards. Today it changed and it brought out millions of flies. I have never seen this before in Vietnam but I don't wish to see it again. Eating was a real task with the number of flies who managed to bite through our clothing. It was an early night under the mosquito nets and hence a very hot one. Finally it cooled down a little in the early hours and some sleep was grabbed. We were up early and so were the flies! We had a rapid noodle breakfast and quickly set off to the cave to escape the maddening flies. The cool draught at the entrance soon stopped the little buggers.
We retraced our steps with an additional rope to allow us to descend into this large chamber. This was soon achieved, but sadly this high level passage choked quickly and we tried to find a way down with the water in the large choke. A very sporting passage in fantastic gours was forced to rejoin the main streamway. Upstream was pushed for over 100m to a very dodgy looking choke. It had very limited potential so was not really fully concluded. The way on was downstream. We know the water resurges 3km away and a large ridge runs from the doline we are in to the resurgence. If we could manage to reach that ridge underground we should pick up another very important part of the Phong Nha system. Downstream was explored for over 500m in a pleasant streamway often involving swims or wades. The water sinks in a rift and choke where it can be heard falling. There is also a good draught at this point. However it would be a big dig and would require some scaffolding so was left for future years. Along the way to this point a number of high level passages were intersected. Unfortunately all these high level leads broke down and no way could be found to bypass the end.
This was a disappointing end to a fine cave with huge potential. More work needs to be done in this area and many more caves must exist in this stunning part of the park. With the improvement in road 20 it may be possible for future trips to access by minibus thus making the access to many new areas so much easier. I first went up road 20 in 1992 and then it was a horror show in a truck on a completely knackered road totally unsuitable for even 4 wheel drives. Back then we had 6 wheel drive Chinese trucks which were relics of the war. The road has improved in time and the advent of German trucks has made the journey easier. We only had one mishap on the journey back when the truck started smoking badly. A quick panic in the back when flames appeared, but the trusty Vietnamese took the lead and quickly found out that the load of wood stashed under the trucks chassis had touched the exhaust system and set on fire. A quick re adjustment and we were off back to Son Trach and to escape those flies! The flies seemed to last around 3 days and affected other groups out in the jungle at that time.
Howard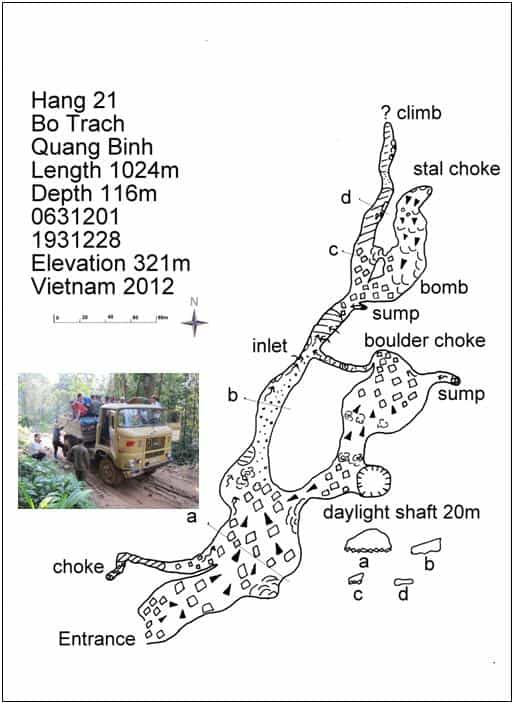 KM 28 Cave
I awoke, seriously jet-lagged at around 6 am after only a few hours sleep, enthusiasm at an all-time low but breakfast and a coffee sorted this out and the hotel was soon bustling with activity as everyone got ready for the next trips into the jungle. For Deb, Adam and I, this was to be a 5 day trip to investigate a cave in a valley roughly a day's walk from Road 20 (which heads west into Laos). The cave had been found by Mr Khan (the same man who found the entrance to Hang Son Doong back in the 90's, and who along with other locals spends much time between expeditions searching for caves for us to explore). The adventure was to begin with a grueling 2 – 3 hour truck ride up Road 20 which starts well enough on tarmac, but a few miles after crossing the ranger post soon degenerates into a track/deeply-rutted muddy mess. But the surrounding landscape was stunning. Steep hills and cliffs draped in a dense green jungle reverberating with the sounds of birds and insects. At one point, we hopped off the truck to admire the view and were lucky to see a large monkey in a tree above the river, its cover blown as a branch in front of it broke and fell.
Eventually the truck stopped again, at km 28, and we hopped out to go and look at an entrance only a few minutes from the road. Breaking a trail between banana trees soon brought us to a fairly large shaft. A rope was rigged around a tree (NOT a banana tree, which seem rather too easy to push over), and Deb abseiled around 10 m to land on a floor of mud and detritus. I followed and we soon found a way on at the far end. A handline was rigged and we dropped down a greasy, muddy climb into a small chamber with the only way on being a small grovel through a hole surrounded by cobwebs. This was worse than Mendip! Deb quickly disappeared through and into a larger passage. I followed and we were quickly into a solid passage with climbs down to a pitch, with a rift disappearing into a chamber in the distance. We exited to grab the drill and some ropes to continue the exploration, since all we had to do today was make it to a roadside camp at km 30 from where we would set off into the jungle the following day.
Martin Holroyd and Deb began the survey from the entrance while I disappeared back into the cave with drill and ropes. The short pitch was quickly rigged and a short climb dropped into a chamber. By this time, Martin and Deb had caught up and I located the way on in the corner. A greasy climb led into a rift passage with pools to a hole between calcite, which led on to another pitch adorned with calcite. This was around 5 m and was followed by another pitch of around 15 m, the rift beginning to increase in size in beautiful black limestone incised with quartz veins. The walls and floor were polished, indicating the significant quantities of water, which must flow through during the rainy season.
The passage continued on as a fine streamway with several climbs to one requiring a handline. Soon after this was another ~8 m pitch, with a massive block wedged at the top making for a fine natural to rig the rope from.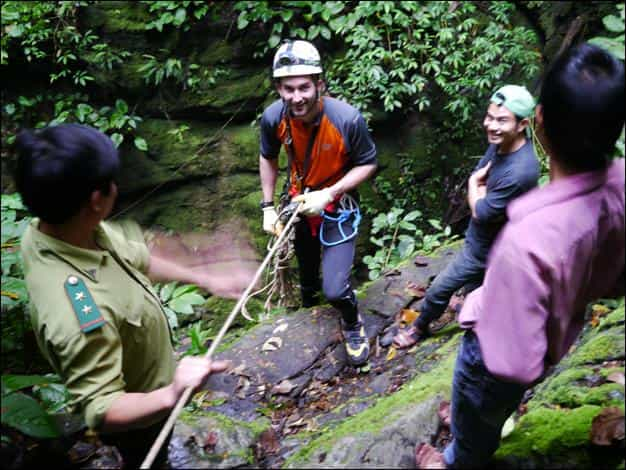 An aven entered on the left just after this, and the streamway continued until I was gazing down a very fine looking ~20 m pitch. Unfortunately, we had run out of rope and so the survey was stopped and we exited this great little Yorkshire-esque pothole to share our find with the team waiting back at the truck. It was a shame not to be heading back in with more rope, but we continued on to camp. Arriving at camp (which was also occupied with local Vietnamese working on the road), beds were setup and a meal of pork and rice prepared for us by our porters before getting some sleep. As darkness fell, the jungle erupted into life and it was difficult sleeping with all the noise from the insects and animals, but it was certainly amazing to hear.
A few days later, Deb, Martin Holroyd, Martin College and I were able to stop off at km 28 and continue exploration of the cave on the way back to Son Trach, and so by 9 am I was back at the top of the fine ~20 m pitch armed with drill, bolts and rope eager to see what lay beyond.
Unfortunately, the cave didn't 'go big' as we expected, but quickly degenerated into a narrow passage and a wet wallow which was fortunately bypassed by a narrow oxbow to the side. Deb and I continued on with the drill and ropes while the Martins followed with the surveying.
The going soon improved, slightly, and a sporting narrow streamway continued onwards, although it wasn't the friendliest of cave to traverse in Ronhills and thin t-shirts. We soon arrived at a climb with a superb eyehole natural at the top for rigging the hand line. The streamway continued in the same style down a couple more climbs to a chamber and the terminal sump, which although small was definitely diveable. Above this, however, was a climb up to a mud slope, which continued on up to a hole which might bypass the sump, but since we only had a morning to finish explorations in the cave, we headed out meeting the Martins soon later. The drill was packed up and Deb and I exited with the Martins de-rigging and we reached the surface just after 11 am to find lunch had been prepared for us by the track. We were also shown some large cat prints on the road, which we were informed come from a ~40 kg cat, probably similar in size to a large German shepherd. These tracks certainly weren't here a few days ago!
The cave we had just explored was left at around 400 m long and 126 m deep….not too bad for a morning's exploration we thought as we endured another bumpy journey back down to Son Trach, a hot shower and a very refreshing beer. Great stuff!
Mike Bottomley
K30 Valley
We had visited this valley in 2006, and remembered it as a pretty tough walk in. Lots of sharp limestone and several dodgy wooden log bridges. We then had to climb up the side of the valley to almost the top to get to the cave entrance. Luckily this trip was not the same!
We set off on the first day by truck up road 20. We stopped to explore a roadside cave on the way, so ended up sleeping at a road-workers' camp at the side of the road. The next morning saw us heading off into the jungle on the usual path. Some up and down, but nothing too severe, with a few short sections of pinnacle limestone. After a couple of hours we had reached the entrance. We walked further on for about 15 minutes to set up camp and have lunch, then it was back to the entrance for exploration.
When we arrived the entrance looked good with sunbeams coming down through holes in the roof. We descended the boulder collapse entrance to reach a large passage heading off to the left. The right was a calcite choke. A dry cave with many large flowstones and gours.
We surveyed in following a passage generally 20-25m wide and high. After about 500m we were high up on the right side with a lower trench on the left. We reached a point where it was not possible to continue along the calcite without rigging a rope. We descended to the lower level and pursued a small passage through the calcite, eventually ending in a calcite choke. However partway along we were able to climb back up beyond the steep flow which had stopped us. The way on was an equally steep calcite slope, but it was possible to free climb up. At the top a low arch made us resort to hands and knees to cross a small pool. The passage soon opened up with a flat mud floor, some columns and pools.
After 20m or so we climbed a calcite slope to another calcite choke. To the right a small passage through stal led into a well decorated small chamber with stal columns. A steep mud slope led down into a larger passage with mud floor and lots of formations. Two climbs were noted which needed rope and were left for the next day.
We returned the next morning to rig the drops. A climb on the right led to a 10m pitch with no obvious way on. Continuing over the top we arrived at the head of a large collapse. A hand line was used to descend 10m of steep mud and rocks. The passage continued to descend until it reached a terminal choke of very large boulders. There is an aven at the end and a few bats. The cave was named Hoa Huong after our guide's wife, and was 1034m long. We completed the survey and photographed the cave.
Returning to Road 20, we stopped to investigate a small entrance. Following a dry stream bed a small hole was found. A short drop of a few feet led to a small pitch of 5m. At the bottom a climb down through boulders for a further 5m led to a gravel choke. At the foot of the pitch a small inlet passage became too tight.
We returned to the road-workers' camp at road 20 for the night. In the afternoon we went to check another shaft close to the road. A small entrance, but quite deep. Adam volunteered to descend. Unfortunately the rope was not quite long enough and Adam was left dangling a few metres off the floor and about 70m down past a mid-air knot change.
We re-visited the shaft on another trip and Adam was able to complete the descent of 80m to find no way on, but a very large old bomb at the base of the shaft. As there is a fair amount of loose stuff on this shaft, he was not too keen to hang around!
Deb Limbert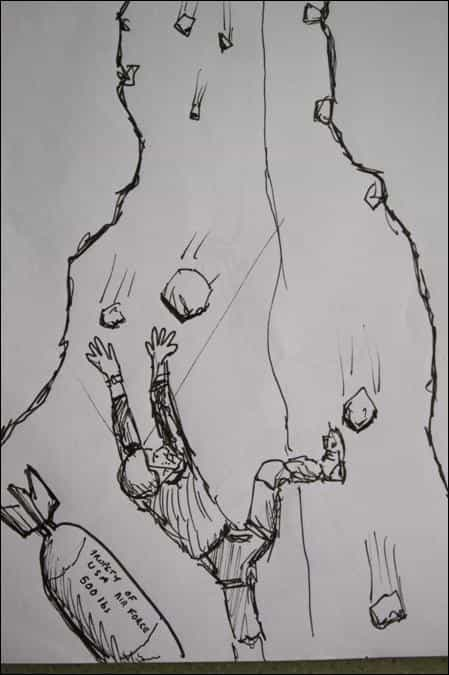 Sketch by Snablet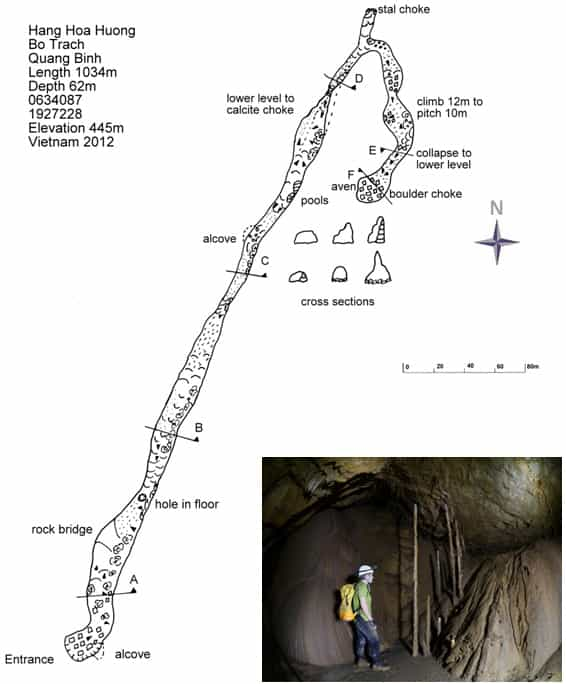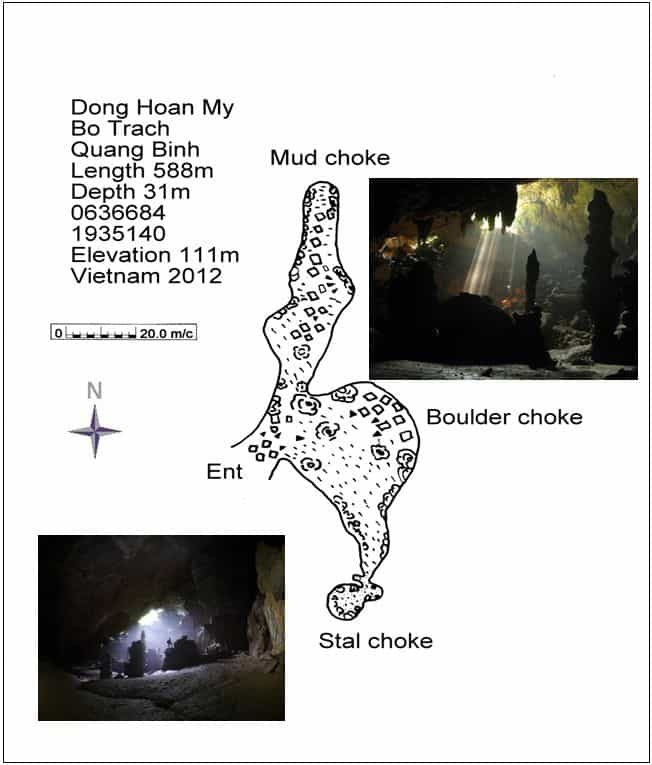 Hang Ba Lam KM 35
Hang Ba Lam was an exciting lead according to Khanh and he was eager to take the team to it. We bounced around in the back of the truck along the HCM road 20 to KM 35. It was a relief to leave the vehicle behind and descend steeply on an overgrown but distinct track with a washed out gully on the left. After 15 minutes an alcove cave is found on the right and was to be our campsite. We had two venomous snake sightings in the vicinity during our stay but also from the campsite we were lucky enough to observe a magical spectacle of a flying fox on two evenings.
From the alcove cave camp Hang Ba Lam is reached by descending a gulley and into the jungle below, heading straight down we reached the entrance within ten minutes. A dry River sink entrance with large boulder guarding the entrance which required equipment to descend; an improvised tree/ladder was used. The walking passage soon degenerates to a mud filled stooping tube, left at the junction, right was not explored but likely to connect back in the entrance chamber. The way on is low until a low chamber is met. To the left was followed through low bedding and some walking rifts with daylight shafts penetrating. This ends at a choke. A passage on the left was followed to a pit with no way out, on the opposite side the passage continues with a strong draught but gear would be needed.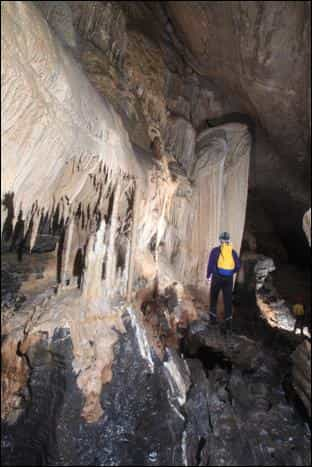 Back in the chamber to the right duck under an arch which will sump in wet weather to reach a chamber and a scummy pool. The way on was a low duck and we were not keen to duck under the water to pass it. Some time with large rocks eventually smashed enough of the calcite of the wall and we were through but not before we were stripped down to our briefs and thong chamber was christened. For a short while a walking passage is followed until a calcite blockage was reached but a climb down on the left reaches a pool. This looked to be a sump but on close inspection it was passable with low airspace. We were not alone here; the pool was full of white fish. The wet sections are low and narrow with an awkward climb out. The cave continues through pools, squeezes and sharp climbing obstacles until relief is gained in a walking section. The second part has magnificent calcite flows on the left with large 'angel wing' formations. A large chamber is reached with some large formations on the left is reached. A pool in the middle is traversed to a pitch. This can be rigged off natural belays and although only 16m deep required 40m of rope. The flying fox pitch landed on a small ledge followed by another swim in very deep water to a shingle beach. The next section is on very sharp friable limestone with a number of climbs up and down. A small boulder choke is descended into similar going below. The 9metre Scorpion pitch follows, named after the resident guardian of this part of the cave. An awkward series of climbs follow and a hand line may be useful. A hading rift is followed at various levels to reach a chamber with a pitch to the right and an inlet on the left. The inlet was followed a short way with some climbs up to reach a confusing area of rifts and deep drops. The way on is not clear here and would require equipment.
The pitch was descended for 25 metres past large blocks to a boulder choke. The whole of the passage was now heavily silted and clearly backs up here. The choke was descended with care and requires a line (20m). At the bottom a squeeze through blocks led to the top of a 3m climb needing a hand line to the top of another climb. This was not descended but due to the large deposits of silt it was believed to be sump.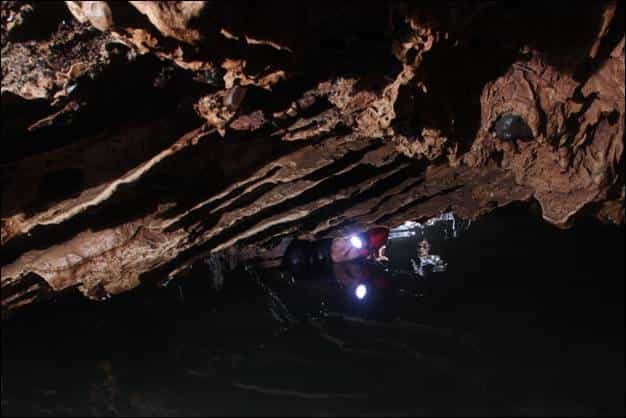 Martin Holroyd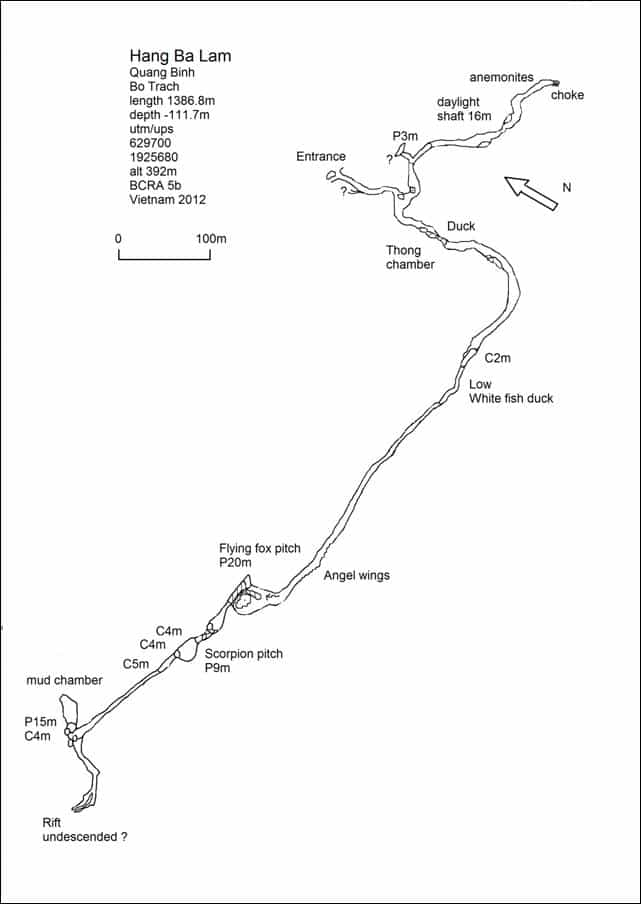 K27 Shaft
To get to this shaft we had to take the usual truck up road 20. After calling in at the Forestry checkpoint we continued for a couple more kilometres. Our guides jumped out next to the road and started rummaging about in the undergrowth. After a few minutes they announced we were there.
Literally right next to the road was a relatively narrow opening which was obviously quite deep. The first pitch of 8m was rigged off flowstone bosses, and was a slope down. Too steep to free climb, and with further drops below. A couple of flowstone rebelays and pitches of 6m and 12m led on to quite a large wide ledge.
Adam continued with the rigging whilst Jonathan and I did the surveying. A couple of bolts over the lip of the ledge and we had a nice 33m free hang onto a rubble floor. The passage is 20m wide here, but narrowed down to a 2m wide passage descending steeply over rocks. Several old animal bones were scattered about here. A piece of jawbone with a tooth was identified as a juvenile wild boar.
After a couple of short drops, two pitches of 15m and 12m dropped down what was now a narrow rift. Sadly at the bottom of these we were left with a 6m climb down to a gravel choke.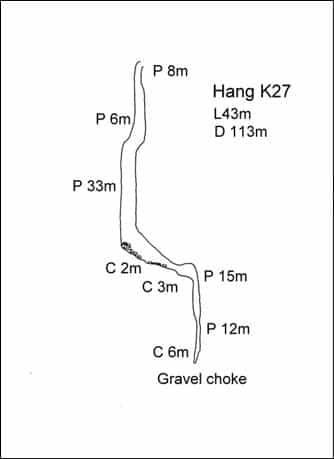 We camped for the night on the other side of the road, putting our hammocks up in the trees. We had a nice dinner, and sat around for the usual rice wine session. For once it was one of our guides who had too much and had to be put to bed.
We were woken about 5am by the sound of thunder and an approaching storm. Adam and Jonathan with their modern hammocks and tarpaulins were quite cosy, but the rest of us with local hammocks and plastic sheets beat a hasty retreat to the back of the truck. We loaded all the gear, and covered ourselves with a tarp just before the deluge hit. It was an impressive storm. After an hour or so when the rain had eased but not stopped, we retreated to the forestry post to shelter on their balcony. When the rain finally stopped the truck went back to pick up Adam and Jonathan.
Hang Trau
We drove back down to kilometre 24 as our second objective was to finish off a cave discovered in the first week of the expedition. This meant a 4 hour walk to Hang Dai A, where we would camp.
After a roadside lunch we set off. The rain reappeared and we got a soaking, but luckily it stopped before we got to camp. Hang Trau, named after the Betel Nut tree nearby was a large dry entrance with an assortment of ways off. Most closed down fairly quickly. One choked passage emitted a strange rumbling sound. It could have been anything, water draught or bats!!! Impossible to say, and impossible to get in there. Over on the right hand side was a shaft which the previous trip had stopped at due to lack of rope. Three 5m climbs led to the head of the pitch with a Damocles-like stal hanging down. Possibly a calcited tree root. The pitch consisted of two drops of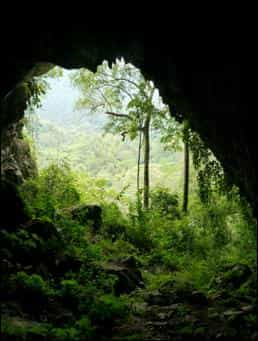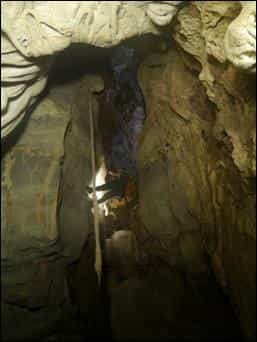 10m and 18m to a large ledge. Climbing down off the ledge led into a narrow passage heading back underneath, which led after 30m to a gravel choke. We finished the survey and de-tackled taking a few photos. Back at camp the lads said they'd found another entrance nearby. A 10 minute walk along the river bank led to an entrance filled with large mudbanks. Jonathan was in his best caving gear so had the treat of pushing the 2 small ways on. Luckily for him they soon closed down. The cave was called 2 frogs cave after the occupants. No more leads in the area, so the next day we retreated back to base.
Hang Dai Cao Report (Hang Nam, Hang Nghia)
Day 1
This seven day trip was otherwise known as "the lady Debs tour". Following frantic packing, loading the minibus and then transferring all the kit onto a truck we were finally off. Just how rough could road 20 actually be to justify a truck? All would be revealed shortly.
Having finally arrived at km24 both teams set off. The Hang Dai Cao team being Myself (Clarky), Watto, Sweeny, Debs, Phuong (translator), Nguyen, three other porters and one park ranger. Easy walking until the two teams stopped for a light meal before leaving our separate ways.
This stop prompted a camp cook competition. Which team could put together the best camp and deliver the best cuisine? Not only did we win hands down on both counts, Nguyen even had time to carve our team water buffalo a new head stock!!
The route we had taken to Dai Cao wasn't the usual trade route so there was much slipping and sliding before the first views of Dai Cao were revealed, a beautiful cave entrance with crystal clear water. The actual camp was to be a little past Dai Cao, at the side of a small lake next to Maze cave. This was a truly idyllic camp once we had checked for tiger
paw prints. It was comforting to know we would be fine, as Watto's open larder hammock construction would be a far easier target for any hungry cats!!
The camp was frequently inhabited by the park rangers and woodmen and therefore was relatively easy to set up camp and settle down for the night before the challenging walk / climb to Hang Nghia.
Debs had the privilege of having her hammock erected by Nguyen (hence lady Debs). How well it looked! Hung from a large log, tarp tensioned to perfection and mosquito net in place.
Debs was all ready to slip into a blissful sleep. Much to our amusement the frog chorus then started. The beautifully erected hammock with all its soft furnishings just happened to be where the entire population of camp frogs enjoyed their evening sing song. Oops
Day 2
During the night Sweeny's feet had been quite severely bitten by mosquitoes / sand flies. Hopefully they wouldn't get worse and cause any more discomfort on the trek to Hang Nghia. The climb up to Nghia took four grueling hours. Steep hard terrain with short breaks was the order of the day. The favourite porter pastime was to tease Watto on the climb up; telling him it was only to get worse. Expression filled language was spat back in response, much to the porters delight.
Hang Nghia
The large 65m entrance shaft was a real welcome sight after the hard climb. Within minutes Sweeny was hanging over the edge and starting to rig. This was an ideal opportunity for "Lady Debs" to be fed.
Having descended the shaft we started surveying. Myself on compass and clino, Debs route finding and Sweeny on drawing. The shaft looked so promising from the surface, however it wasn't to be. The vegetation covered slope ended in a large calcite choke. Debs took some atmospheric photos of the stall chamber on the way out. Total depth 103m and 222m long. The scramble down back to Dai Cao camp was much easier than the assent, although much care had to be taken on the slippery sharp limestone. It was a hard but very enjoyable 9 hour trip.
Day 3
The next day came around too quickly. A little stiff from the day before and nursing a few aches and pains, we started to break camp. Sweeny having taken himself to a quiet part of the camp started to inspect his feet before attempting to put his boots on. They were not looking too good. Some blisters had burst and had started weeping. His swollen foot was cleaned with Betadine and a dressing applied.
We set off at the usual brisk pace, passing time by cajoling and teasing fellow team members. As time passed we had gained some considerable height and some of the views were quite spectacular. Sweeny was suffering with his feet but wasn't complaining too much. Maybe we should have given him some extra weight in his already overfull pack. Lots of toys (even had a wood burning stoke in the pack). Finally arriving at Heaven's Gate after a day's walk we set up camp. Unfortunately there was a distinct lack of water near the cave. Having found a volunteer to go in search of some clean water, we set about hanging hammocks. Watto's frame proved quite a challenge for the lightweight hammock frames our porters are happy to hang from. An ingenious array of slings and ropes made the frame a little more Watto compatible. Finally the water arrived, an Exped sack with a plastic liner brimming over with water. The weight of that sack must have been monstrous to carry back to the camp.
After the evening meal the porters decided it was about time they challenged Watto to an arm wrestling competition. Our champion had the advantage that his fore arm was larger than the other competitor's legs.
Day 4
Hang Nam was approx. ten minutes walk from Heaven's Gate. The large entrance was easily accessible down a small slope. After an initial quick look in the cave we started surveying Hang Nam. Myself on compass, clino and Disto. Watto and Debs route finding with Sweeny drawing. Easy going level floor turning sharply to the right under boulders leads to a large well decorated passage. Steep climb to right continues with slippery slope down to pristine pool. From pool climb up to right into beautiful stal filled chamber, with no way on. Time was spent taking photographs of the stal chamber along with numerous attempts at firing Magi cubes to get a pool shot. Watto still has the charred fingers for his efforts.
Day 5
Morning spent prospecting for a reported cave about hour walk from Heaven's Gate. With little potential of finding water and Nguyen struggling to find the cave, we headed back down to the Hang Dai Cao camp. That evening and not wanting to be "out done" by Watto, Sweeny decided to unleash his wood burning stove, a fantastic bit of kit, which finally worked very well. However our resident Ray Mears showed us how to light the stove using cotton wool soaked in Vaseline. Very effective this technique was, however Rays (alias Sweeny) also had a generous coating of Vaseline on his hands. Not only did the stove go up in flames but Sweeny's hands also. Watto 1 Sweeny 1.
Day 6
A day trip into Maze Cave, with a view to accurately GPS entrances and exits. Explore valley between Maze and Pitch Cave. Once we had successfully negotiated our way through Maze Cave (including the swims) and started exploring the beautiful valley with boulder piles, rocky alcoves and light vegetation beyond, we realised just how remote we were. After much scrambling and exploring we came across a large camp in a huge alcove.
Writing on the walls along with camp debris indicated once, despite its remote feeling had been quite a popular camp. After thoroughly checking the alcove for leads we set off back to Maze. Everything was going well re negotiating our way through Maze until we reached the swims. One of the tackle sacks lost its buoyancy and started to pull Phuong under. Luckily we were close at hand to dive in and drag our spluttering translator to safety.
Day 7
The final day and walk out.
Howard Clarke
The Hills Are Alive …
…with the sound of gunshots. No, seriously, I am not an expert in explosive sounds, but these bang noises that reverberate around the Hang Dai A sink and cause a few corvid dollar birds to leap up into the sky sound suspiciously like gun shots. I look at our guides and mimic shooting a monkey out of a tree. Vigorous head shaking and lip pursing by Mssrs. Khanh and Ky. It may "just" be someone blowing up the stump of a perfume tree, decapitated and chopped into slices long ago. There should, of course, be no sounds of this sort in the World Heritage Site. Rather, we should be enveloped by bird song, monkeys howling, tigers growling, and bears grunting. … with heaps of smugglers. On our way to Hang Dai A, part of the Hang Vom system, and every day on our way to various leads we saw numerous well-used tracks and many signs of human activity.
The hills are also alive with Vietnamese cavers and Vietnamese guides! Having reached Hang Dai A (an alternative name for one of the entrances to Hang Ho) and struck camp, Mr Hung took us for a warm up trip via the steep right hand bank (when facing Hang Dai A). We revisited two of the three Hang Ho entrances that lie in the vicinity of each other. Mr Hung enjoys steep climbs with beautiful views, precarious drop offs and sharp, but grippy hand and foot holds. This warm up trip did not disappoint. After a brief rest back at camp we climbed back up the same river bank. After a good walk Mr Hung indicated we were to wait next to an 80m drop off and disappeared only to return brandishing his mobile phone. He showed us a photo asking if we would like to see this cave or another cave. Dial a cave by digital photo – whatever next. We agreed to visit Hai Cua.
The large entrance is split in half by a large stal boss. To the right, there are a number of ways on. A steep drop on the right hand wall leads into a boulder choke. The same boulder choke is easier to descend via one of several holes in the muddy floor about 20m to the left of the right hand wall. Mick descended the hole and discovered a hip-deep stream way before finding his way back up through the boulder maze. Later this was surveyed by Mick and Anette only to sump after about 30m. To the left of the entrance stal boss is another way on that quickly leads to second entrance largely blocked by a sizeable boulder and hidden by an overhanging curtain of vines.
The next day it drizzled and we literally fell through the forest, boots like skates without brakes, over, under and around the jagged but polished limestone crags, slippery roots, and tangled vines of the forest. The owners of those ubiquitous brown plastic sandals miraculously glide, sure footedly, tirelessly and perfectly balanced where we stumble, crash, exhaust and injure ourselves. Our cave was Hang Ky, reached by climbing up the left bank of the stream bed, right next to Hang Dai A's fetid entrance lake. Hang Ky's large entrance is awash with stal and flow stones. To the back on the right hand wall, Mick carefully climbed a tiered flow stone to discover a small pool tiled with shampoo sachets. On hearing of the pool, Mr Ky and Mr Khanh nonchalantly ran up the same flowstone that Mick had climbed so methodically. Presumably this ready-made water depot near the main smuggling track was news to them. Belayed by a rope, we descended a drop on the left hand side of the cave wall. At the bottom we discovered more water, animal bones calcited into the floor, and a nest full of live, pink baby rats but no obvious way on. Howard photographed Mick climbing back up the rope, and we fell, slithered, and scraped our way back to our camp site fighting off hungry leeches all the way.
The next morning saw us climbing up the left river bank again, once more meeting local walking parties along this track with its numerous cross roads. After the previous day's rain we thoroughly enjoyed more slipping along the muddy track and its ankle grinding, pock marked limestone excrescences –here, walking to the cave is easily more hazardous than the caving itself. Eventually we climbed a ledge to reach an uncharacteristically small cave entrance. A strong draught clearly prompted the cave's name Hang Gio (Wind Cave). On our knees we either crawled over or under a short, smooth terraced flow stone rift. The rift leads into a heavily decorated chamber – so well decorated as to appear stuffed.
Unfortunately, some of the stal is damaged, providing a taste of things to come. The floor of this antechamber is littered with rubbish. Moving on, the cave opens out into a much larger and airier chamber with superb sizeable formations. It is also reasonably populated with arthropods and fresh water crustaceans. Further towards the end of the lofty chamber a large second entrance opens into the leafy green forest, explaining the draught.
The hills are also alive with the sound of croaking. In the evening, there was a bit of banter about the frogs that were using the cave entrance as a ready-made amplifier. A search party armed with head torches and sticks went out and returned with a fistful of frogs. The frog soup we had for supper was extremely tasty, and we saw millions of tadpoles, guaranteeing continued abundance of frogs in this stream bed. Perhaps because of our supper, we had a very slow start to the next day. We finally left to inspect Hang Nuoc Dung just after lunch time. No longer was I surprised to find three groups of folk encamped near Hang About. One group was a family of local Ruc people, there was a party of villagers from Son Trach looking for something in the boulders, and a third party of about eight men was encamped nearby. This cave is at the bottom of a 30m doline that can be descended using a rock ramp. It has characteristic twin entrances with lakes. We realised we had surveyed it before but used the opportunity to have a bath.
On our final day, Mr. Phuong, Mr Hung, Mick and I went for a walk up the right hand side of the Hang Dai A stream bed, as I had had enough of falling through the forest for a while. We walked along the obvious path and then turned off to the left at the first obvious fork. Eventually we reached a flat sandy stream bed with a blocked resurgence at the foot of the cliff. Mr. Hung and Mr. Phuong collected some betel leaves from a vine. The cave was named after these (Hang Trau/Betel Tree). We checked out the entrance that must resurge into the stream bed during the wet season, but could not find a way in. Moving up the cliff, we were shown a 25m wide and 10m high entrance to a cave. Mick and I turned left to descend a small sandy tube. However, there was no draught and the instruments steamed up horrendously. Fortuitously, Mr Hung and Mr Phuong eventually showed us a sizeable pitch, characterised by a 15m long elephant's trunk of a stalactite hanging right over the Centre.
We climbed down to a ledge, but despite looking well worn, we felt the remainder of the pitch was sufficiently hairy to require a rope. Mr Hung was keen to climb down it, but we dissuaded him. He is a superb climber, but there was little point in him going down on his own, as I certainly would be unable to follow him. This pitch is probably likely to choke, but this still has to be confirmed.
Mick went for a long walk with Ky and Uy to Khe Ngang. This proved to be disappointing. Three dry streambeds entered a steeply descending passage, 5 metres high and 4 metres wide. A low air space duck and gravel ascent led up to muddy chamber. A muddy steep descent on the far side led to a scummy sump.
Anette Becher
Perfect Cave
Deb, Adam and I went to have a day trip to a cave 15 mins from the road that Mr Ky (one of the excellent guides and porters who had joined us on our last two trips) had found the previous day while we were waiting to be picked up after a 3 day trip into the Jungle.
Arriving at the large and impressive entrance confirmed he had done a fantastic job. The entrance appeared to be a window into a very large passage. Both ways eventually choked, but were adorned with fine formations and large stal bosses as well as a large colony of bats, which were none too pleased to be disturbed by Mr Ky while looking for possible ways on. After finishing the survey (around 600 m of new passage in total), Adam took a few photos before we headed back to the road to be picked up after around 2 – 3 hrs in the cave.
It just goes to show that in this jungle environment there is still plenty of potential, even close to home!
Mike Bottomley
Hang Cao/Vuc So 5 Day Walk 19/3/12– 23/3/12
Howard, Deb, Clarkey & myself duly dispatched with Ky, Tang & 3 other guides as Tang knew a man who knew a cave that he'd last visited some 20 years previously. Also Phong & Tang had visited another cave in the relative (1 day walk away) vicinity that had ended in a short pitch in a gigantic descending passage.
Initially following the start of the Salt n' Pepper track, the walk followed the usual pattern: humid, plenty of ups/downs, little water, claustrophobic jungle although the paths underfoot remained good throughout the entire trip. The GPS showed our route as heading directly for Cha Noi, indeed we came within 3k of the Cha Noi valley before dog-legging north-west & then walking parallel with the Cha Noi valley.
On the 2nd day in we arrived at a broken, vegetated cliff leading up to the entrance of Hang Cao, Phong & Tang's cave to an undescended pitch. An uninspiring 10m climb up was rigged by Tang using a freshly macheted sapling with a disturbing amount of spring. Some not so subtle glances from the others, darting between my modest girth & the give in the makeshift ladder, spoke volumes as to their lack of confidence in this proposed method of ascent. Instead; Tang clambered up a 2m chimney to the left before then stepping right onto the cliff face & hand- slapping up grass tufts up & out of sight.
Clarkey & I gingerly followed whilst Howard & Deb awaited developments, falling bodies. The cave entrance was a useful looking 10m x 10m arch descending steeply over good rock with tell-tale slither trails indicating a potentially sizeable snake population being in residence. No draught or sign of water, the passage wended down through calcite stal for about 150m before descending steeply down a calcite slope. Phong & Tang became noticeably excited as we peered downwards & indicated this was the pitch & as far as they had been. The Vietnamese, not being blessed with the more "muscular" European arse & therefore not having our distinct physical advantage, appeared astonished when this 50m obstacle was quickly overcome by the simple expedient of sliding down, bum first.
The cave ended at a distinct calcite blockage some 310m in from the entrance, still no draught or sign of any active water & with no likelihood of there being any potential for future progress. Returning, the climb down from the entrance was if anything worse than the climb up. Matters not helped when my brand new digital Panasonic camera decided to unclip & descend at a greater rate of knots then envisaged by their standard warranty. Clarkey's inadvertent rock shower from above as I descended the chimney instantly forgiven when, after 15mins careful searching, he not only found the missing camera but it proved to be still in perfect working order!
Vuc So
Was visited the following day as we retraced our steps back albeit some 1k north & then east of the incoming path. The obvious, distinct looking cleft (captured for posterity on camera for those wishing to re-visit), 20m x 4m with a rubble strewn descent to the pitch head proper. Obvious straightaway that our 35m + 20m tat ropes would prove insufficient, thrown rocks dropping for 4 seconds before bouncing off a ledge & then down to a further, indeterminable, depth. Would guess probably not worth attempting without 100m's of rope to ensure you not only got down but had sufficient in reserve for any additional drop.
Walk out to pick up point joined the main track very near Salt n' Pepper shafts. GPS log showed some 42k walking in total. Vuc So will need visiting again with drill, ropes. Rock looks good & wouldn't expect any particular difficulty in rigging.
Sweeny
Thuong Shaft and sink
From our camp Phong lead us uphill over a high ridge above the Chai River. A short descent took us to the edge of a very fine shaft. Russell and I scouted out the best place to start the descent. A tree provided a good belay for the rope and soon I was heading down. The sun lit the shaft magnificently. A good thread rebelay split the pitch and after some 80 metres I touched down on the floor. Unfortunately a quick look round revealed there was no way on. Ascending back to the top Phong had his head in his hands with disappointment as he had hoped it would be the way in to a big new system.
We headed back towards camp and a stream sinking into a cave similar to nearby Hang Lao. I was pretty excited as Hang Lao had been a fantastic sporting stream cave. A short way inside a pitch landed on large sandstone boulders. The continuing passage soon narrowed down to a canyon with several short climbs. Emerging into a chamber we soon reached a sump. Russell soon found a small tube emitting a good draught and volunteered me to explore the way on. A very awkward descending tube led me to a high muddy rift. I was able to chimney up to a larger section in the roof. A slippery traverse forward and climb down brought me back to the stream. The way on now deteriorated to a low muddy crawl with ducks to a point where I WAS GOING TO GET VERY WET. The draught here is very strong. With nobody to back me up I decided to return to the others. Although squalid this cave is definitely worth another visit as similar potential to Hang Lao is a possibility. On the way out we explored the maze of passages off to the side of the entrance rifts. They all end in sumps so the bypass awaits a return of someone with a Yorkshire head for exploration.
Mick
Xuong Valley.
Vietnam 2012 saw three light weight reconnaissance trips heading into deep into the interior of the Ke Bang Massif beyond the Xuong Valley to explore caves on two mountain plateaus.
The route to the Xuong valley was used this year as a gateway for exploring deep into interior of the Ke Bang massif, west of the Chay River. The Xuong valley itself is a large closed depression ringed by imposing limestone cliffs and is home to a grotty resurgence, which serves as a habitual watering hole for every illegal logger, poacher and smuggler applying their respective trades between Thailand, Laos & Dong Hoi. It is located due west from Hang Vom and accessed by foot along a well-established path that traverses a high fault valley, over a series of high cols and closed depressions walled in by towering cliffs.
Due to the weight of packs and lack of water, the 10 hour walk into the Xuong valley is split after 3.5 hours at a small water hole (only water) situated close to the top of highest section of the trail. Water is at a premium in this region of the massif, dehydration is always close by. In 2010 a number of small caves and shafts were explored in the valley itself; however the extensive wet season flooding and subsequent lake appears to block everything within the valley floor with silt after a short distance.
Vuc Ky Area:
This year our focus for exploration was concentrated in the mountains around 5 hours walk to the south of the valley. We followed the Cha Noi to Lao trade route out of the low lying Xuong valley via a brutal climb to a stunning col hemmed in by walls of towering limestone. Shortly after the col the first clean fresh water, (since leaving paradise cave car park) is reached in the form of a couple of intriguing resurgences at 650m altitude. We followed a well-worn track that ascends through reasonable open forest past a couple more surface streams and areas of non-limestone. After the second stream at around 850m altitude we left the main path and headed west up into the karst. After crossing a series of small depressions the route reaches a hunters camp by a dry stream bed sinking below a small limestone cliff. This was to be our base camp for exploring the sinks of this high karst plateau.
Four caves located at an altitude of around 900m, where visited and explored from this camp.
Hang Ha Hai; located close to camp, a dry stream bed leads to a large rift entrance and adjacent shaft. (See Hang Ha Hai description for details).
Hang Khe Cung, approximately 45 minutes from camp in a confusing set of depressions a small boulder filled entrance fed by an active stream way. (See Hang Khe Cung description for details).
Vuc Ky, approximately 1 hour from camp a pair of dry stream beds feed a large impressive rift entrance. (See Vuc Ky description for details).
Hang Ha Hai 2 an open shaft located close to Hang Hai. This shaft has not been explored due to time restraints. We surmise that Hang Ha Hai 2 may well link to the lower regions of Hang Ha Hai providing an opportunity to try and connect the two Hang Ha Hai caves to the nearby master cave of Vuc Ky.
Future prospects for exploration: This area deserves further investigation. To date the plateau has yielded over 6km of exciting and challenging cave reaching a depth of 300m. The caves are likely to all be part of the same master system, which is currently trending north east towards a significant surface feature which on the map looks like a deep fault valley at about 3km to the north with an altitude of around 300m. Further work shaft bashing and using the surveys to target underground inlets is likely to provide connections between the caves, which in turn could produce a sizable cave system. Vuc Boom Area: A second plateau was visited approximately 3 hours east from the Hang Ha Hai camp on the neighbouring peak. We back tracked back to the main trail and turned off the trail at the second stream. An improvised route led over a high col to a plateau on the western side of the col with a number of sinks and depressions.
 Deep depression with an undescended shaft.
Dry rock shelter used as a hunter's shelter immediately above a dry river bed sinking in to boulder filled entrance which terminated in an uninspiring small crawl.
Vuc Boom; an awe inspiring 190m deep entrance shaft (see Vuc Boom description for details).
Hang Em Boom; a draughting snake filled boulder ruckle leads to the head of a deep undescended shaft.
Future prospects for exploration: This area is also extremely exciting with a couple of impressive shafts visited to date and a draught that suggests huge open passage still to be revealed. The caves are currently sitting at around 850 to 900m altitude, we are surmising that these sinks possibly feeds a resurgence stream we passed on our return journey at around 650m on the lower western flanks of the mountain. On our return journey back to the Xuong valley we noted a massive enclosed valley to the west back towards Hang Vom which would also merit further investigation.
Logistical considerations for future exploration: Travel time and distance to the prospecting area is the major logistical headache. The commute to the caves is taking the best part two and half days to walk in, with camps at the first two watering holes. The journey back is quicker at two days as a considerable percentage of the weight has been eaten. To date each foray to this area averaged around 60km of walking to and from the caves over four and a half days. The majority of caves explored to date in this region commence with a 200m deep vertical shaft system, requiring a considerable amount of rope, rigging gear and drill battery power. As a result of distance, time in the field, equipment required to descend and record the caves resulted in a large number of porters being required. To continue exploring deeper into this area, it may be worth considering for the future a staged supply chain feeding to an advance camp every few days to try and reduce the time walking to and through the caving area. This could allow an increase to the duration in the field for cave exploration and may also reduce the number and cost of porters needing to stay at camp for long periods of time.
Snablet
Xuong valley and beyond
Andy, Snablet, Sweeney and an extremely leech bitten Mick have just returned from 9 days up in the Xuong valley area. After a 3 day walk in and a 2 day walk out to this amazingly remote area we have managed 40 hours of caving, bagging 4km of new passage and reaching depths up to 250m. This is the first pushing trip after several recces during preceding years. The last recce a few weeks ago saw a team of 3 to the entrance pitches of Hang Hi Hai, Hang Cung and Hang Ky. These were our objectives but this time we were equipped with bolting gear and half a km of rope!
Our main aim with our work in this area is to try and get into passage along one of the two major faults south of Cha Noi; the main fault to the East will hopefully lead us to the underground source of the Chay river. If this is ever found it will be epically big and very wet! The expedition's interest in these 2 faults has recently pushed us to explore this extremely remote area through the Xuong valley and beyond. One must also note also that water is very limited in this area, 3 of our guys could have easily died of dehydration here a few years ago. In short, this is not an area to head into without meticulous planning.
The walk in leaves from Paradise Cave, aka Hang Vom. Last time I was in the immediate Vom vicinity was in 2005 when the walk from the road took 3 and half hours. Nowadays Vom can be accessed by bus/jeep/truck and has a golf cart track that shuttles tourists from the car park to the dry entrance. There is also a bar and restaurant with full amenities selling cold beer! We were slightly bewildered by the hordes of tourists visiting the day we left. The walk heads west with a camp after 3 hours, from here it is a day to the unforgiving Xuong valley and a further day to take you to 800+ metres and to our camp that would become home for the next 5 days. Leeches are ridiculously active around this area, on a bad day in Vietnam you might find 10 on your legs and feet at rest points, in this area you can bet on nearer 50 each time you stop. Keeping the little bastards out of your sleeping bag, brew cup, socks and ears becomes your main task, they are an absolute nightmare.
Hang Ha Hai was the first cave that we hit. Its nicknamed Monkey Poo cave for obvious reasons but after 100metres of the classic rift entrance series the monkey poo relents. The first push started at around 2pm of the third day in once the final camp had been established. We dropped 3 short pitches on rope and several longer ones without!
Initially the cave appeared to have come to a premature end in a tight, log-filled rift. However a howling draught & too much time on our hands resulted in a digging epic. Andy eventually managed to wrestle a torso sized log from out of the rift, having first subdued it with the help of the bolting hammer, leaving the way forward for 2 hours of frantic digging by Snablet through a flat-out gravel & sand floor squeeze. The cave thankfully then took on more sensible sized proportions leading down a descending rift to the head of an 18m pitch. At this juncture an elated turn-around was made returning to camp at around 7pm.
The next morning saw us back, Andy and Sweeney pushing/rigging and "miserable mick" and snablet surveying. At the bottom of the pitch we found another 20 metre pitch which hit a large master cave. The cave split 3 ways going for half a km in 2 different directions. There was several side passages duly pushed and surveyed. The main way with a draft stopped us in a huge area of breakdown, too complex and too dangerous to push further. We took some shots of the big stuff and the shape of the passages and derigged. Hang Ky is 180m deep and 1250 metres long.
Hang Cung was our next target. The month before we were there Hang Cung was left with 250m passage at a 6 metre drop with a good draft. We rigged a hand line and started to survey with happy Mick and Snablet heading the pushing team this time. Sweeney and Andy followed on with the Shetland Attack Pony and disto as our tools. The stream passage is quite young and meanders through a band of chert, after a wet, miserable 20m pitch we were dismayed to notice mick and snablet's push had taken them through a series of wet crawls and the a proper duck! Helmets off, deep breathe in and under we went.
On the other side of the duck we finally struck big passage, 30m wide, 10 metres high with the stream continuing on into the darkness. It was here that Sweeney and Andy started to notice the bats and not just a few, there were thousands of them. On station the bats were flying between our heads and the notebook, Sweeny's screams were extremely girlish (Sweeny: my memory of this is mine was the calm, authoritive voice whereas Andy threw an almighty wobbler. Mind you; I still believe I'm 6'2, slim, 30 & give George Clooney a run for his money!) but definitely justified! As we pushed further along with the bats constant attack we finally caught up with the pushers, an end had been found, Snablet had pushed a wet, tight, terminally looking muddy passage and had awoken the colony of bats and had decided to not push on due to their annoyance of his presence. He had however found a Mendip style dig to keep him smiling. The "dig" drops into a parallel stream passage and goes for 30metres to a terminal sump, with plenty of tight passage, ducks and wet crawls Hang Cung ended at 735m at 95m depth, ending more with a whimper than a bang. Not the deepest or longest trip but a good fun & somewhat serious trip nevertheless.
Vuc Ky Day 1.
A 50minute, meandering stroll from base camp leads to a dry-stream bed ending in an impressive 20m vertical rift entrance.
Easy 7m climb down to pitch head, an open, chert riddled shaft of impressive dimensions. Loose rock abounds making rigging, ascending/descending somewhat of a potential accident lottery. Mick did a fantastic job in difficult circumstances, an electric drill being essential so as to ensure multiple rigging points.
From the head of the pitch the 2nd & 3rd rebelays follow at 4m intervals before descending (40m?) to a large ledge & further ( 17m?) drop.3m of rift, a welcoming refuge from falling debris, then lead out to a second pitch split mid way with a traverse. The base of the shaft leads into a short steeply descending meandering passage and abruptly reaches another pitch. The obligatory rock was tossed over the edge into the unknown; we excitedly counted the seconds as it crashed into the distance and concluded the rope was not going to be long enough. Immediately all four of our remaining ropes were tied together and Mick set about rigging down a spectacular 90m 'Boppidy Bop 'pitch. With the drill batteries fading the next two short drops were rigged off naturals to the head of another 17m pitch, lack of rope brought the day's proceedings to a close. We exited the cave surveying and photographing as we went.
Vuc Ky Day 2.
The 17m pitch was swiftly dispatched which to our amusement revealed a section of tight rift similar to Pippikin's stemple rift. Moving tackle bags through tight narrow rifts wearing extra thermals and balaclavas was more reminiscent of caving in Austria than Vietnam. We burst out of an insignificant slot into a large tunnel; we had broken into a master cave.
A short debate ensued as to which direction the stream flowed, with the intention of exploring downstream chasing depth. We then promptly headed upstream along a beautiful gravel floored running passage in a dead straight line. A previous incident involving distos and water meant we were undertaking a grade 2 survey, Mick managed to get an 85m survey leg. After a few hundred metres at a chamber "tumbling dice" the passage forked with Sweeny investigating a hanging death route to a miserable water obstruction. Andy checked out the large draughting walking passage, Sweeny was out voted 3 to 1 and we raced off down more open passage, which eventually our exploration was terminated by a number of high avens.
We retraced our steps back to our initial entry point into the tunnel and started the downstream investigation. The passage was initially flat floored and easy going, passing a number of pools populated by hundreds of blind whitish pink fish 'the fish bowl'. Large side passages and avens started intercepting the main drag, encouraging a growth in dimensions. Boulder falls littered the passage floor in huge piles forcing some steep climbing. At a couple of points the passage became completely filled and sneaky routes were sought through the choke 'houses of cards. Once through the choke the passage opened up into a spectacular well decorated borehole with a huge echo. A discussion ensued between Sweeny and Snablet as to whether to wait for the survey team to catch up or just check it goes. The question was asked what would Mick do, and both proceeded to run down the passage. Meanwhile Andy and Mick started surveying around the house of cards and through a few of the side leads, there were several question marks left on the survey in sizable passage. When the survey team eventually caught up with the grabbers they were pointed in the direction of the way on and leaping and yelling all four of us descended the 50m boulder slope into the amazing passage. The 500m echo and strong draught in this 10m by 25m passage indicates good things to come. It was decided that a grade 2 survey would absolutely not be acceptable in this super master cave and without much time left on the clock we decided to head for home, the 2 day epic walk back to Vom leaving the cave rigged for another trip.
The level that the larger cave is sat in is the same height as the big stuff in Hang Hi Ha; a definite trend is developing in the area with the chert bands and the different levels in the limestone. This group of entrances are a few km west of the Xuong Valley and are generally tending northwards, a return trip will leave tomorrow to push Hang Ky to its limit and will then check out a few entrances to the south east of the Xuong valley. A great trip, some brilliant caving and a good time for us all.
Andy
Xuong Valley Third Trip
The team consisting of Snablet, Andy, Sweeny and Mick were in great excitement at the prospect of the discoveries ahead. Hang Ky had been left wide open and time permitting we would visit three more caves. The only down side was the three day approach march. Luckily the weather was dry so some of the slip sliding could be avoided. A late start down at Phong's house saw us collect our seven porters and supplies.
Up at Paradise Cave, the loads were packed with the usual bemused audience of tourists. It looked like all the kit would never be fitted in but as usual there was even enough room for the rice wine.
Some got a lift on the electric show cave cars as we set off in the midday sun. The path now being very familiar, we left the porters struggling with their loads and marched straight to the first camp. The evening was spent consuming some of the rice wine to lighten the load.
Day two dawned even hotter and again we forged ahead of the porters to reach camp two a little after midday feeling the strains of dehydration and heat. The afternoon was spent in shady hammocks, sweating and reading. A new element of annoyance and frustration had appeared in the form of a plague of flies to add to the now prolific leeches. Any exertion meant attracting one's own personal swarm.
Day three and its hot again as Andy and I make a dash up the hill to reach the only running stream on the journey to have a complete bath in the pool before being engulfed in flies and Vietnamese woodsmen onlookers. Once the porters and others caught up it was on up hill to the last water hole and a noodle break.
Half an hour's more punishment uphill brings us finally to base camp. Here by means of drawings and sign language we explained our plan for advanced base at the cave entrance. Repacking essential gear and digging up the previously buried rations, by three pm it was off on the final leg. Of course the flies and leeches were following us now so as we arrived at Hang Ky after an hour of sweating up and down hill, they descended on us with a vengeance. Erecting hammocks was madness-inducing as hands were too busy for swatting and killing. After collecting wood and making us a fire, Ky and the other guides left us to our fate.
By six the next morning the camp was a bustle of activity as we lit fires and packed essential kit for exploration. Into the cave and away from the flies and leaches at last.. Adrenalin Rush Pitch and Boppidy Bop were descended one at a time to avoid killing those below with loose rocks. At the Northern Line Snablet and I set off surveying whilst Andy and Sweeny went to start surveying from the front. With all side passages covered Snab and I finally caught up with a very excited pair at the front. They had reached the top of a boulder pile with seemingly no roof above and a steep slope disappearing into the blackness below. Whoops of excitement received a reverberating echo in reply.
Snab and I were only too happy to take up the invitation to scout ahead and play marker for the Disto.
A long slope down over some slippery calcite took us into a beautifully decorated large passage. Several good side passages were passed on the left. To the right a massive passage ascended to the right until climbs barred progress with avens above. Shortly after on a corner any active stream seemed to sink into some clean washed narrow rifts. Beyond the passage became muddier before ending in a final breakdown chamber. Here Andy and Sweeney made a difficult final climb down the greasy boulders to confirm no way on.
Back at the good formations a fine five by five metre tunnel bored off at right angles leading to the most amazing sculpted rift. A climb up and then traversing on razor sharp flakes led to a sandy passage you could push my wheel chair along. This in turn reached a junction and it became obvious this was not your usual linear Vietnamese cave. We split into two survey teams again and continued to explore and survey all we could. By six pm we had pushed all the easy leads and just had enough energy left to do a couple more back in the main passage.
The trip out seemed long and tiring. I was first out at 10pm and got a fire going to get the tea on. Our fantastic porters had been and left a take away meal and delivered more much needed water supplies. By now Andy had contracted the shits so was not too hungry. The rest of us tucked in ravenously to the tucker and tried to rehydrate with a few brews.
Day five was a sluggish but still early start. We had left a note for the porters to come and collect us at four pm. So we reckoned on photographing till twelve and then dragging. All went to plan although we did not have enough time to do the cave justice. The variety of passage types and formations could justify another trip in its self. There are still a couple of leads left but suspect horizontal development will be limited by the size of the block of limestone we are in. The bottom of the caves here seems to be at the 600metres contour which corresponds with several resurgences in the area. By the number of avens seen I am sure there are several more entrances. If they are all as spectacular as this one there is some great vertical caving to be had.
With the de-rig complete the porters escorted us back to base camp along with our fly escort. Next morning it was a big pack up and down hill to the waterhole for a welcome wash. Next it was off up hill again on a new trail. My legs seemed to have lost all power and I was soon trailing at the back. Once again we ascended on to a new mountain block with thinning woodland, like an English wood in autumn. Down to a small stream crossing and short climb to a Malham Cove type feature that had a camp under the cliff and a small sink cave below. I was too knackered to take an interest, so the others went down and pushed the small muddy passage. With no way on the porters stripped the camp of some planks and set off a short distance up hill. A new camp was made complete with table and chairs and joy oh joy the flies seemed to have gone.
After a nice rest in the hammock it was off to see Ky's next find, Vuc Boom. This was only five minutes away and resembled a large Hunt Pot, for those who don't know a pot hole in Yorkshire. Rocks thrown excitedly in certainly did booom encouraging giggles of anticipation for a descent. It was a re-energised team that quickly returned to camp to pack the tackle. It was Sweeny's turn to rig and I teased him that if it was too scary or tiresome I would be happy to relieve him of his duties.
Back at the shaft we moved to the opposite side for an airy take off into the abyss. Complex deviation ropes were thrown to Andy on the other side to tension off. Sweeney disappeared off down through the sunbeams and became a speck in the distance before he placed his first rebelay bolt. I delivered some more rope and some fluids before re-ascending to start surveying. Snablet headed nervously down and I followed.
The shaft is magnificent especially with the star burst effect of sun light coming through the trees above. A great rig by Sweeney with several rebelays saw us regrouped at the bottom of the 122metre deep shaft. Much larger on the eliptical boulder strewn floor than the top. We proceeded as one onward to the lip of the next pitch. Once again it was more Vuc Boom with rocks thrown down. Estimates were sixty metres and with no more rope and tea time approaching it was time for an exit. It was a great night in camp with no f lies, sat around the table. Whilst Snablet drew cartoons for our guides Andy anticipated the morrow as it was his turn to rig.
A fine morning and Andy seemed to have forgotten the state of his bowels. Away in front with Sweeny to nurture I could soon hear the sound of the drill as I came down behind Snablet. As I arrived Andy was not too happy and somewhat frustrated. The drill had died and the reserve battery was f lat. They decided this shaft could not be descended without bolts. What a shame and Sweeney said at least it would be a fantastic lead for the next expedition. No way, I thought this is my last expedition. Make way for an expendable old fart! I tied all the short bits of rope together and took the few slings we had left and plunged over the edge. Surprisingly I found two thread rebelays in calcite and continued down to the first knot change. This successfully completed I continued to where a small boss of rock gave a marginal rebelay. Then oh shit another delicate knot change. I reached the floor with two metres of rope to spare and Swan Song pitch was complete.
A call to the others could only induce Sweeny down gingerly for an inspection of the way on. With more rope we set off down the steep slope in a very large high passage. A calcite slope was rigged down to what looked like a final vertical drop. This was six metres protected with a tackle bag over the lip to the ongoing passage floor. Unfortunately after only fifty metres the roof came down almost to the sandy floor. A loud noise through a hole at the end created by the draught is an incentive to dig here. Never have I felt so cheated. Oh for a spade and crowbar! Going by what else I have seen up here I am sure there is a good system beyond.
Our time up here was drawing to a close. On returning to the foot of Swan Song the whole cave was lit up by the sun's rays allowing a few small plants to flourish. We ascended with our disappointment. It only remained for a quick look at an entrance nearby. Vuc Booms baby got Andy and Sweeny excited and very nearly bitten by a snake as the entrance is home to several of the blighters. No time or drill for rigging leaves it for others.
Day eight the march out began with all tired and dehydrated. We'd not gone far before Sweeny's being sick and shitting his pants. The temperature reaches a new high and we feel lucky to reach Xuong valley camp in one piece. Sweeny collapses in to his hammock and we are all pinned down in the trees to avoid the sun.
The final day, nine, and it's an alpine start in the dark to try and get out before the sun destroys us. Luckily Sweeny has recovered somewhat. It's a very grateful team that stumbles in to the river at Paradise cave after one of my toughest Vietnam experiences.
This is a great new area for exploration with so much potential for exciting vertical systems.
I doubt they will go below the 600 metre contour as Vuc Boom also levelled out at this depth. On the walk down from it there was resurgence at this level. What others may well find are good exciting complex caves up to 250 metres deep and 3 to 5 kilometres long. A base camp mounted expedition supplied by porters would save on all the trekking and expensive porters remaining idle in camp. Water will always be the restricting factor out here though. For a generation of hard fit cavers who like a bit of misery this is the place!
Mick Nunwick
Tu Lan cave system
Fabulous river caves in the idyllic setting of the Sogn Nan river valley makes Tu Lan a memorable place to cave. The approach to the town of Han Mho enters the river valley of Sogn Nan enclosed by limestone tower Karst. Emerald green fields of rice are passed divided by an intricate network of irrigation channels. From the village the land is used for grazing cattle and Buffalos are happily wallowing in the small water holes dotted across the fields. Beyond the walk leads through cultivated land of Maize before dropping to the glistening warm waters of the Song Nan. Wading across the river with the back drop of cultivated land and the tower Karst is stunning. Ahead, cave entrances appear. Above the main sink to the left is Rat Cave, a dry fossil cave surveyed in 1992 and is used to reach the La Ken valley, which may be an important area to find the missing link between the Tu Lan/Hang Ken system and Hang Tien. In 2010 the expedition spent some time looking for caves in this area, however the guides at the time knew of no caves other than the exit of Hang Ken. This year whilst caving with the Oxalis group they told us of a new cave known as Gibbon Cave. The cave was found in the jungle high above the resurgences explored in 2010 of the Song Nan as it enters the La Ken valley. Gibbon cave is the translation of Hang Uoi, a pleasant cave and is now used as part of the adventure trips to the area. A steep scramble up through the jungle soon leads to a large entrance. The cave starts as easy walking in a well decorated passage with many large cave pearls littering the floor. A large pit in the floor prevents further progress however a sneaky squeeze through the stal on the right side led to an exposed traverse. The traverse is best protected with a hand line and the way on is more decorated cave passage and calcite false floors but sadly soon closed down.
An objective of 2012 was to return to Tu Lan and push the two leads at the end of the cave in the hope of finding a way on inside the cave. We had also met with the Oxalis team who were keen for us to help survey and check out caves for use with groups and led us to explore a number of caves that we had previously missed or by passed in the belief that they were short and used as thorough fares for wood cutters.
Our first trip to Tu Lan was heading for a washout due to a massive thunder storm and with rapidly rising water levels we decided not to push Tu Lan. Whilst sitting at camp Howard was dutifully performing his ambassador role and was asked to give a TV interview at Han Mo. Chuckling Martin and I swung lazily with a brew in our hammocks soaking up the impressive entrance of Hang Ken as Howard was escorted away to be interviewed. Minutes later it appeared Howard had done a runner as he ran into camp out of breath, 'you better come and see this' he remarked trying hard not to give away his obvious excitement. Five minutes later we were all stood inside a narrow entrance passage with a large passage opening up in front, but this was not To Mo! Amazingly tucked behind the trees and out of sight was an overflow river bed and cave resurgence that linked with To Mo and more importantly it had by passed the sump in To Mo. A short exploratory trip ended when we reached a large river. We were not equipped and again with perceived high levels of water we left the cave. The Cave was named Hang Kim. Confident the sink was in the doline below the second col we diverted there on the walk out. Entrances were located and we were confident that these were the loggers cave and the sink for Hank Kim. Our guide was sure of a quick way back and took a different route back. Hours later we arrived in the first doline from a different angle having descended one of the scariest ladders ever.
On our next trip we agreed to check out the river passage that flows through the second col and we had previously been told was used regularly by wood cutters to bring timber through. This was known as Hung Tong and comprised of the active lower cave and Hang Hung Ton a dry fossil passage above. The dry passage above was explored to a pitch overlooking a passage which dropped to the final lake of the lower cave. When we returned later in the expedition we were amazed to find the Oxalis team had commissioned the construction of a homemade ladder made from 6" square timber and lashed together to scale the 10 m drop, yet another example of Vietnamese ingenuity to overcome a minor obstacle.
We had chosen to use boats for the adventure and provided a firm dry platform for surveying. Unfortunately the passage narrowed and we had to carry the boats through the narrows and over a number of large blocks and trees jammed in the passage. Whilst negotiating this disaster struck, a tree 'traverse' collapsed sending Martin crashing heavily to the river and rocks below. Carrying a heavy pack exasperated the situation as he landed heavily onto his right elbow. Clearly in pain and an examination of the elbow suggested a fracture was likely, however Martin was determined to carry on and stoically he continued with the trip. We exited the cave in a magnificent enclosed valley which is referred to as the Tu Lan valley and provided us with a subsequent stunning bivi site. The Oxalis team had walked over the col and dropped down to meet up and cook lunch. This was a whole new dimension to caving. We fed Martin the best drugs we could rifle from the first aid drum and this was where his addiction began. However they did the trick and he was ready to explore again. The continuation of the river we knew sank into a cave further downstream and certain to be the same river in Kang Kim and Hang Mo. With the help of the porters the boat was carried to the entrance and the river passage again explored by boat, however this time only one was used as we punctured the second on the razor sharp limestone. A second entrance to the cave was discovered during the survey before we swam and paddled downstream. A large river was followed passing a number of cascades and a large mud bank before confirmation of the connection was made. We returned to the bivi site to find a very rickety hammock frame had been made for us. The jungle men of Minh Hoa are certainly second division compared to Quang Binh guides and was clearly demonstrated with this structure. Within seconds of lying in our hammocks it collapsed sending us sprawling to the floor in fits of laughter. Martin and I abandoned hammocks and went for the floor. Jon persevered and reconstructed a make shift frame.
We left Tu Lan and sent Martin for an x-ray which confirmed he had chipped a bone on his ulnar. Determined not to have to give up caving he spoke to Dr John Burton in the UK for some advice. He was given a half plaster cast to support his arm and with a cocktail of painkillers enabled him to carry on with the expedition.
On our final trip this year to Tu Lan we were determined to make the end leads of Tu Lan. Again we were joined by the Oxalis team. We helped survey the final cave that went through the first doline, Hang Son Oxalis is reached by an easy scramble to the entrance but be we were acutely aware of the dead branches that may collapse! A climb down blocks into the cave (10m hand line useful) crossing a stagnant pool on mud coated rocks desperate not to slip into the scummy pool. Ahead it was necessary to climb the boulders ahead with flood debris littered throughout. A Large impressive tunnel was then followed requiring some boulder hopping. An entrance on the left is passed which is probably the one below the timber cresta run on the first col. The cave passes some fine formation just before exiting in the large cultivated doline which then leads to the second col or Hang Ton. We chose to follow the cave systems to the To Mo valley where Tu Lan and Hang Ken entrances lie. We were met there by the Oxalis team and another wonderful banquet. That night Jon, Martin and myself headed off by boat into Tu Lan. The advantage of a boat was the attachment of a torch to the front so that we could turn off our own lights to escape the swarm of moths. The boat had to be man handled over the cascades but in the main passage was a relaxing and far quicker method of travel. The large inlet on the left was climbed high above the river but led nowhere and proved somewhat challenging to descend safely. The inlet to the right was pushed in a diminishing size passage to a pit and the sound of running water below. By combined tactics I was part lowered part climbed and part slid down a rope only to find a sump a short way on. Tu Lan is a truly amazing place and a connection to Hang Tien is sure to discover more stunning cave. This will require longer trips into the jungle and some time spent to find guides who have travelled deeper into the jungle and have better knowledge of possible caves.
Martin Holroyd
Medical Report
This year's trip had more than its fair share of medical ailments. We owe a big thank you to John Burton who made himself available at all hours for telephone advice. We would also like to thank Nick Howlett for his help in getting the medical kit together. In order of appearance, the complaints were as follows:
Insect bites mainly on the feet and ankles to which one person reacted badly. This resulted in blisters which swelled and burst and led to possible infected bites. Treatment, keeping bites clean, antihistamines and thicker socks.
Colds were passed around and led to a severe chest infection in one caver and a couple of the Vietnamese. The team member then damaged a rib cartilage with extreme coughing fits. This was very painful. Treatment rest and painkillers as required. He was out of action for several days.
A sore foot, thought to be a sprain, but potentially gout. Treated with Voltarol and paracetamol. Painful for several days.
One caver reacted badly to mosquito bites, resulting in a swollen face and also swollen hand. Treated with antihistamines.
One caver had a chipped Ulna after a fall with some muscle damage. X-rays from Dong Hoi hospital were sent back to England to John Burton for examination and advice. Treated with Co-Codamol and Voltarol Still recovering from muscle damage.
One caver developed an extremely swollen red leg, from groin to knee. Cause unknown. There was evidence of infection. Treated with Flucloxacillin and Erythromycin, which resolved the problem in a few days.
Some mild cases of diarrhoea lasting a day or so were resolved without treatment. Several cavers in the Xuong Valley developed more serious diarrhoea and vomiting. The water supply in this area is very dubious, and possibly the storage of fresh meat was not at its best. Further trips will need to look more closely at improved hygiene measures to avoid a repeat performance.
A small slip resulted in a very painful knee which was thought to be possible cruciate ligament damage. Very painful for several days. Treated with Voltarol, Co-codamol and paracetamol. Has taken 6 weeks to mend. Most likely a torn muscle on the knee.
One of the Japanese film crew fell on his shin whilst in Hang Son Doong, and his lower leg swelled to almost double the size in a couple of hours. 2 small marks made us worry about a snake bite, but luckily this was not the case. Within a few hours the swelling decreased and he was able to make his own way out after a days rest. Severe bruising appeared a day later.
Luckily nothing too severe, but the remoteness of the caving areas makes all medical problems a bigger issue. Walking out for 2 days with severe diarrhoea and vomiting or any of the other ailments is not an easy task!!
Various ailments which the team brought with them resulted in a regular queue at Son Trach pharmacy to stock up on Voltarol and antihistamines.
Ian Watson & Deb Limbert
Gear Reviews
Keela Trousers – Fast Drying, Lightweight, Comfortable and Hardwearing. A useful thigh pocket for carrying essentials: wine gums; iodine; salt for leech dissuasion; survey book; pencils; and survey kit.
Keela ADS T-Shirts and long sleeve thermals – Fast drying, Wicking and Odour free. Perfect. Keela kindly donated a large number of the t shirts to the expedition to present to guides and team members.
5Ten Canyoneers.
These boots are comfortable and lightweight. Equally at home in the jungle and in the caves, with excellent grip on rock; both wet and dry. My first choice for caving in the biggest caves
Steripen – Quick, Clean, Odour and Taste Free water. An excellent chemical free alternative to iodine. They were particularly useful for the longer expeditions when water had to be taken from pools and streams.
Hope 3000lm light – Bright, Brilliant and very hot to hold after a while.
SpanSet Fall Arrest Harnesses – Easy to don and adjust which was useful when fitting inexperienced people on the filming trips. Provided safety and Comfort to the wearer when hauled or lowered on pitches. The only minor drawback, the ease of donning and adjustment requires the wearer to step into the leg loops; an inconvenience when the floor is very muddy.
Adam Spillane
Vietnam 2012: The Descent of Son Doodle by W.H. Bowman–Long
Although discovered as recently as 2009 Son Doodle was soon established as the world's biggest controversy. Expeditions were mounted year on year and month on month to film in Son Doodle and to try and break the holy grail of speleological world records – the record for the maximum number of people in a single underground camp. Son Doodle is totally invisible from the Ho Chi Minh highway, yet such are its mystical properties, that; by standing on the barrier at the side of the road and holding your camera above your head; a picture may be taken of the jungle of the Ke Bang massif. Son Doodle is 150ft above sea level, 40000 and a half feet long, and bigger than Odsal stadium.
The objectives of the 2012 expedition were; a new world record and a first traverse of the cave by a film star.
A team was assembled capable of performing this incredible and therefore unimaginable feat. The team of Yoshida – a cameraman with climbing experience, Takashi – a director with drinking expertise. How At – an up and coming chat show natural. Hugh Grant – an established filmstar. Generator Man – a cook and world's strongest man contender. The caving porters – a selection picked at random from Chief Biscuit Eater, Watto, Dep, Leg End, Dun Can, Adam the girl, and Sweeny. The final team was chosen; only by the continually changing expedition dates.
This team could not have achieved these objectives without the porters, led by Khanh, Ky and Nguyen. Supported by: a five man lighting team; sound team; camera team; geologist; stumbling team; forestry team; and someone on a lead; 5 porters carrying generators; 6 carrying fuel; 7 carrying sleeping equipment; 8 carrying food; 9 carrying cameras; and 10 carrying equipment for the remainder of the porters. A boy carried equipment for these last 10 and his own equipment.
After a long time, all of the equipment and all of the people were loaded into all of the vehicles. 40 minutes later we arrived at the road head. The people were counted and the bags were counted then all of the superfluous equipment was consumed or abandoned until the numbers matched, and the loads were heavy enough.
Progress started initially slow but was soon moderated to a crawl. After what seemed like hours the team arrived at the first water stop. Here bottles could be filled, caps dunked, and stars soaked. We then arrived at our first food stop, rice wine and lizard to fill our food and drink requirements.
As it started to rain, we ran for a location where being trapped by flood water was much more likely. This would make the film, more exciting, more deadly, more boring; depending on personal opinion and absence of knowledge and experience. The first campsite is one of the world's finest; air conditioning, soft sand, plentiful water, snakes and high ceilings. Here the boy was taken ill.
The following morning the boy was no better, an evacuation must commence. Loads were redistributed to make them heavier, and the weather looked worse. A choice was made to hurry to Son Doodle, some still thought that footage of flooding would be exciting. It was putting the expedition objectives at risk. One more push and we would be safe, trapped if necessary, but able to film and out of danger. Finally we made camp at the level playing fields.
The following days were spent battling fog and fumes as clouds waxed and waned; the filming hampered by climatic conditions and tardiness. Early mornings were cooler and clearer, but alas they came much too early each and every day. The porters became bored, playing cards with ever greater volume; this makes the game more competitive. The louder you shout and the harder you slap down your cards, the better your hand. Then on to feats of strength and feats of balance. People went missing, search parties were tasked, people arrived; until at last we set off to the land of the dinosaurs, traversing precipices while the porters unerringly found; safer, longer, faster routes. Arriving at Beach Camp, via a thorough soaking in a thunderstorm the last phase of the expedition was at hand. A world record set for underground camping, preparations made for a safe, staged exit from the cave, and a plan to scale the last major obstacle, the Great Wall. Would Passchendaele live up to its name? Or would it be a gentle paddle through the darkness? Or as it turned out, a slither along the trench, a quick dunking, and a slide and sink in thixotropic mud at the base of the wall. Some climbed the wall, most were dragged; the only casualty, an errant ladder which rolled – and dived into the pool and disappeared.
So it was that Son Doodle received its first traverse by film stars, and its first and last traverse by makeup bag and electric razor, which had somehow inveigled themselves into the necessary, from the superfluous. So ended Vietnam 2012, and so began preparations for the return in 2013.
Team Members

Dr Anette Becher

Mike Bottomley

Russ Brooks

Howard Clarke

Martin Colledge

Martin Holroyd

Howard Limbert

Deb Limbert

Andy McKenzie

Peter McNab

Mick Nunwick

Gareth Sewell

Jonathan Sims

Adam Spillane

Ian Watson

Acknowledgements

Keela

Lyon Equipment

Hope Technology

5.10 Boots

Vietnam Airlines

John Burton

Toshiba

Peter Ward/Span Set

Inglesport

John Atkinson City Learning Centre

Phoenix Survey & Safety Equipment

Thanh Dat Hotel

Oxalis Adventures
| | |
| --- | --- |
| Hanoi University of Science Nguyen HieuVu Le PhuongDang Kinh BacNguyen Duc HanhVu Van PhaiVu Anh TaiTran Ngoc AnPhan Duy NgaMr Dzung  Oxalis TeamNguyen ChauLe DzungPhan Van Thin | Phong Nha Village Ho KhanhHo Bang NguyenHo Xuan KyHo Van AnTran Van PhuongHoang Xuan NghiaNguyen Van HungNgo PhongNgo KyNgo TangNgo SonMr HaiMr Quang |
Special Thanks to Quang Binh Peoples' Committee, Phong Nha Ke Bang National Park and Forestry Department.
| Cave Name | GPS Easting | GPS Northing | Altitude | Length | Depth | Location |
| --- | --- | --- | --- | --- | --- | --- |
| Lo Do | 637159 | 1941007 | 109 | 317.0 | 8.0 | Phong Na |
| Dan | 637719 | 1941064 | 30 | 36.4 | 0.0 | PN |
| Hung 3 | 635241 | 1935423 | 314 | 115.0 | 19.0 | PN |
| Hang Va 2 | 636804 | 1933898 | 99 | 1686.0 | 14.0 | PN |
| Hang Ky | 625064 | 1928100 | 577 | 248.0 | 55.0 | Vom |
| Hang Hai Cua | 625891 | 1928893 | 465 | 575.0 | 127.0 | V |
| Hang Gio | 625767 | 1927487 | 263 | 513.0 | 44.0 | V |
| Hang Trau | 626695 | 1928741 | 319 | 186.0 | 67.0 | V |
| Hang Cay Chay | NK | NK | NK | 91.0 | 38.0 | V |
| Hang Nghia | 624045 | 1929905 | 628 | 222.0 | 103.0 | V |
| Hang Nam | 623872 | 1930425 | 739 | 452.0 | 68.0 | V |
| Hang Nuoc En | 639681 | 1927897 | 192 | 450.0 | 5.0 | PN |
| Thuong valley sink | 628883 | 1940796 | 459 | 382.0 | 55.0 | Nuoc Moc |
| Thuong valley shaft | 629282 | 1940153 | 523 | 68.0 | 68.0 | NM |
| Hang Cao | 622659 | 1943100 | 750 | 310.0 | 55.0 | NM |
| Hang Ming | 634994 | 1938744 | 50 | 406.0 | 27.0 | PN |
| Hang Ho Ky | 638227 | 1930078 | 514 | 235.0 | 93.0 | PN |
| Hang Khe Cung | 614827 | 1936602 | 749 | 734.0 | 95.0 | NM |
| Hang 28 | 631530 | 1928201 | 517 | 384.0 | 126.0 | PN |
| Hang 35 | 629700 | 1925680 | 392 | 1387.0 | 111.0 | V |
| Hang Hoa Huong | 634087 | 1927228 | 445 | 1034.0 | 62.0 | PN |
| Shaft 30 | 631399 | 1927468 | 468 | 0.0 | 80.0 | PN |
| Floodsink 30 | 632568 | 1927149 | 311 | 20.0 | 15.0 | PN |
| Hang Uoi (Gibbon) | 612956 | 1966266 | 234 | 310.0 | 9.0 | Minh Hoa |
| Hang Kim | 615461 | 1964853 | 137 | 829.0 | -20.9 | MH |
| Hang Kim (exit) | 614885 | 1964892 | As above | As above | As above | MH |
| Dong Hoan My | 636684 | 1935140 | 111 | 588.0 | 31.0 | PN |
| Hang Ha Hai | 616275 | 1936021 | 842 | 1247.0 | 182.0 | NM |
| Vuc Ky | 615998 | 1936700 | 880 | 3460.0 | 312.6 | NM |
| Cave Name | GPS Easting | GPS Northing | Altitude | Length | Depth | Location |
| Hung Ton(wet) | 614425 | 1964933 | 172 | 495.1 | 26.0 | MH |
| Hung Ton. | 614796 | 1964874 | As above | As above | As above | MH |
| Hang 21 | 631201 | 1931228 | 321 | 1024.0 | 116.0 | PN |
| Hang Leech2 | 632311 | 1923250 | 636 | 150.0 | 30.0 | PN |
| Hang Leech1 | 632338 | 1923287 | 604 | 30.0 | 15.0 | PN |
| Hang Cua Nho | 632409 | 1923606 | 650 | 924.2 | 85.2 | PN |
| Hang Cua Nho (Exit) | 632513 | 1924462 | 665 | As above | As above | PN |
| Tim Khi | 632468 | 1923129 | 593 | 52.4 | 50.4 | PN |
| Hang Hung | 632329 | 1923302 | 647 | 174.0 | 5.7 | PN |
| Flood sink near foot&mouth | 633563 | 1922136 | 348 | 10.0 | 10.0 | PN |
| Hang Nao | 636641 | 1935406 | 131 | 35.0 | 20.0 | MH |
| Hang Song Oxalis | 613900 | 1965300 | 172 | 297.0 | 15.0 | MH |
| Tu Lan inlet | 615335 | 1964727 | 125 | 139.0 | | MH |
| Vuc Boom | 618248 | 1933708 | 797 | 285.0 | 232.0 | NM |
| Vuc Em Boom | 618350 | 1933626 | 759 | 0.0 | 50+ | NM |
| Hang K27 | 631026 | 1928452 | 502 | 45.0 | 113.0 | V |
| Two Frogs cave | 626374 | 1928253 | 289 | 150.0 | 10.0 | V |
| Hang Hoa | 635663 | 1932864 | 450 | 377.0 | 27.0 | PN |
| Hang Hung KR | 634165 | 1933571 | 162 | 473.0 | 61.0 | PN |
| Hang Son Doong | 637258 | 1929750 | 250 | 60.4 | 4.0 | PN |
| Ca Chien inlet HSD | 637258 | 1929750 | 250 | 412.0 | 34.0 | PN |
| Greysnake | 633376 | 1939252 | 142 | 110.0 | 2.0 | V |
| | | | | | | |
| | | | Total | 21528.5 | | |
LONGEST CAVES OF VIETNAM
CAVE NAME
PROVINCE
LENGTH
YEAR
EXPLORATION
Hang Khe Rhy
Quang Binh
18,920
1997/1999
British
Hang Vom
Quang Binh
15,760
1992/1994/09
British
Hang Son Doong
Quang Binh
8,573
2009/10
British
Hang Co Ban
Son La
8,500
1994/1998
British/French/Italian
Hang Phong Nha
Quang Binh
8.329
1990/1992/2010
British
Nguom Ban San
Lang Son
5,416
2001/2003
British
Nguom Sap
Cao Bang
5,379
1997/1999
British
Hang Toi
Quang Binh
5,258
1990/1992
British
Hang Cha Lo
Quang Binh
4,483
2007
British
Hang Duat
Quang Binh
3,927
1994
British
Hang Lanh
Quang Binh
3,753
2001
British
Ban Ngam
Cao Bang
3,600
1995
French/Italian
VucKy
Quang Binh
3,460
2012
British
Hang Thung
Quang Binh
3,351
1994
British
Nguom Nam Lao
Cao Bang
3,360
2001
British
Ki Lu
Cao Bang
3,353
2003
British
Hang Ca-Be
Lang Son
3,342
1992
British
Nguom Pac Bo
Cao Bang
3,248
1997
British
Hang Over
Quang Binh
3,244
1997
British
Pac Lung
Cao Bang
3,109
2001
British
Bo Luong
Lang Son
3,094
2003
British
Hang Nuoc
Hoa Binh
3,075
2003
British
Bo Nhon
Lang Son
3,057
2003
British
Hang Ken
Quang Binh
3.018
2010
British
DEEPEST CAVES OF VIETNAM
CAVE NAME
PROVINCE
DEPTH
YEAR
EXPLORATION
Basta Noodles
Ha Giang
-528
1996
Italian
Hang Son Doong
Quang Binh
-449
2009/10
British
Hang Ong
Ha Giang
-341
2004
Belgian
Xa Lung 2
Ha Giang
-340
2004
Belgian
Hang Ha Lau
Quang Binh
-331
2009/10
British
Vuc Ky
Quang Binh
-313
2012
British
Mu Cai Shaft
Cao Bang
-300
1995
Italian
Pa Ca 1
Ha Giang
-293
2004
Belgian
Cam Thon
Cao Bang
-288
1999/2001
British
Lung Chinh
Ha Giang
-247
2004
Belgian
Hang Vuc Tang
Quang Binh
-244
2009/10
British
Hang Vuc Tang
Quang Binh
-232
2009
British
Ta Chinh
Son La
-184
1997
Belgian
Hang Ha Hai
Quang Binh
-182
2012
British
Cave volumes
Hang Son Doong 38.5 million cubic metres Han En 7.3 million cubic metres Khe Ry 32 million cubic metres Hang Vom 11.8 million cubic metres
Special thanks to all our sponsors for 2012
Keela
Lyon Equipment
Hope Technology
5.10 Boots
Vietnam Airlines
Toshiba
Peter Ward/Span Set
Inglesport
John Atkinson City Learning Centre
Phoenix Survey & Safety Equipment
Thanh Dat Hotel
Oxalis Adventures