Son Doong Expedition has welcomed over 5000 guests since its official opening in 2013 and is nearly always full. A customer usually makes a reservation at least six to twelve months in advance. The world's largest cave expedition is not by chance a strong tourist attraction, a popular filming location, and a top media brand. Particularly, it is regarded as a world-class experience tour. Let's find out why.
A MOST UNIQUE UNDERGROUND WORLD
Son Doong Cave is well-known for its enormous size by volume, as well as a cross-section that has been meticulously measured. The main huge passage is over 5km long with sections reaching up to 200m tall and 165m wide, large enough to house an entire 40-story New York City skyscraper. Thereby, Guinness World Records recognized Son Doong Cave as the largest cave in the world in 2015.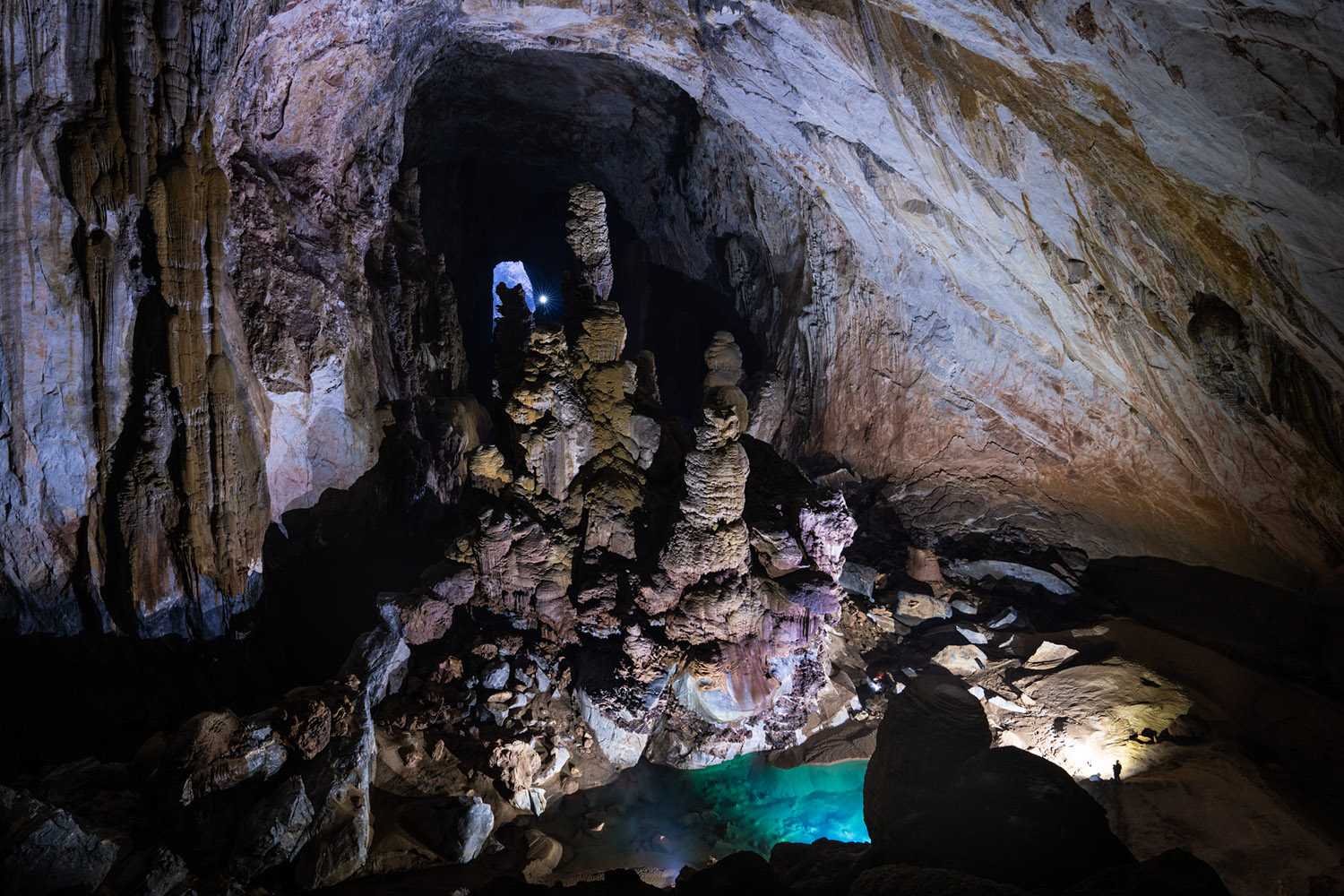 This is considered to be the first and only cave on Earth that has its own lush tropical jungle, underground river, and unique climate. Son Doong's two giant dolines allow sunlight to penetrate into them, while also combining with groundwater to form a unique ecosystem unmatched anywhere else in the world. The National Geographic team has described this as one of the most captivating caves in the world.
Thanks to its impressive scenery, Son Doong Cave has become a favorite destination for film crews of various famous television channels around the world. These include National Geographic, BBC, ABC, NHK, Hong Kong, Singapore. Son Doong Cave was the main background for the music video Alone Pt. II by a world-famous artist – Alan Walker. The New York Times ranked Son Doong cave as one of the world's best destinations in 2014. It has been named among the top 10 "most breathtakingly picturesque places to visit on the planet" by Global Grasshopper. Besides, National Geographic, Telegraph, Daily Mail, Trip Advisor, Huffington Post, etc have also hailed the beauty of Son Doong.
AN INCOMPARABLE WORLD-CLASS ADVENTURE
The detailed itinerary of the Son Doong Expedition is carefully designed by the operations team, with the safety advice of British Vietnam Caving Expedition Team . It's not easy to conquer the world's largest cave adventure. The 4-day expedition requires participants to have a high level of fitness and previous trekking experience to successfully pass through the challenging route. You will experience 17 km of trekking jungle with many river crossings, 8 km caving, 90m ascent of the "Great Wall of Vietnam" with safety harness & ropes and the help of a safety advisor. Many tourists thought that this section was too difficult and they were afraid that they would not be able to complete it wholly. But when they took on the challenge of climbing that calcite wall to get out of the cave, they really felt happy and proud to overcome their own fear. Also, the trip is a pleasant way to escape from social media and the hustle, and bustle of work. Experiences here will relax your mind.
Great! Son Doong is the 8th wonder of the world. The trip was very challenging but totally worth it! 99% of the world's population have not yet experienced this in their lifetime. Son Doong has impressive scenery. Its pristine and pure natural beauty makes you feel like you are on another planet, Andy H from Canada said.
US Ambassador – Ted Osius, who joined the Son Doong expedition in 2017, shared that he has been to many places, made many expeditions, but Son Doong is different. It's incredibly picturesque and this is one of the most wonderful places in the world.
Son Doong Expedition was voted a top adventure tour in 2014 by National Geographic Adventure Magazine because of these wonderful experiences. In 2019, the trip also was ranked fifth among the 20 greatest adventures ever on the planet by the UK's Dave TV.
SUSTAINABLE TOURISM AND COMMUNITY INVOLVEMENT
Son Doong cave, unlike other types of tourism, is one of the few in the world that limits the number of participants. For conservation purposes as well as to ensure customers have the finest experience, each year the number of visitors allowed is limited to 1,000. Each tour is organized in small groups of up to 10 people. The tour only lasts from January to August every year, the rest time is used to restore the ecosystem.
From the start, Oxalis Adventure and The British Vietnam Caving Expedition Team team have embraced environmental conservation as a way to preserve Quang Binh's homeland. Visitors are guided along strict paths set up within the caves to minimize erosion and protect delicate formations. There is no permanent infrastructure and everything that is brought into the jungle or caves is also taken out. Composting toilets are set up at campsites to protect the jungle and waterways from raw waste.
Besides nature conservation, Oxalis has highlighted local community involvement. We employ local human resources – people who previously did not have stable jobs or used to go to the forest and hunt illegally. As we continue to grow, more locals are employed. Now, there are very few people who do such illegal things and that has also contributed to the overall protection of nature and the ecosystems of the area.
Source: https://oxalisadventure.com/son-doong-expedition-a-world-class-tour/