Exploring the famous Son Doong Cave is not as difficult as people think. 
Many people think that booking a tour to Son Doong cave is like making reservation at the finest restaurant in town or getting a front row ticket to a basketball game. Yes and no.
And the nos are better explained here.
The tour to the largest cave in the world has reduced its original duration of six days and five nights to four days and three nights, and the number of tourists allowed has been doubled.
And then there are some common misunderstandings about the marvelous tour to Son Doong cave that you can cast aside.
Bookings to Son Doong are full until 2020
The Son Doong tour has begun to receive bookings from July this year until 2020. According to Oxalis, the travel agency that hosts the tour, there are still many slots left. (Details here)
People have to register early and wait for up to a year
Son Doong takes visitors from January to August, but people can buy the tour online at any time. So you can book now and start your tour typically by the middle or the end of next year. You can also get lucky in case there are cancellations, and start your tour soon after booking.
Strict health examinations are required before the tour
According to tour experts, Son Doong is not as challenging as people usually think. Anyone can go if they are able to climb 10 stories of a building on stairs without getting dizzy or out of breath.
Although there are really challenging climbs to tackle in Son Doong, they have also got safety equipment that make it easier for you.
There will be a questionnaire on health that you have to answer when booking the tour to see if there is any issue that can affect your trip, and that's it. No health exams or anything, but be sure that you answer the questions honestly, for your own safety.
You have to know how to swim
No you don't. This tour doesn't require customers to be able to swim because the water in the cave is only as high as your knees. You won't have to swim in the cave. However, if anyone wants to swim at the camping spot in the cave, there are life jackets and a guide to make sure you make it back safe.
You have to carry your own baggage throughout the trip
All you have to actually carry is your water bottle, cameras and personal essentials. Other things like gadgets, food or clothes will be carried by the porter division to the camp.
Only foreigners can participate in the tour
Nope, again. The number of Vietnamese nationals joining the tour has been increasing every year. In 2018 alone, 220 Vietnamese tourists, 25 percent of the total, have successfully finished the tour. And the rising trend is set to persist in coming years.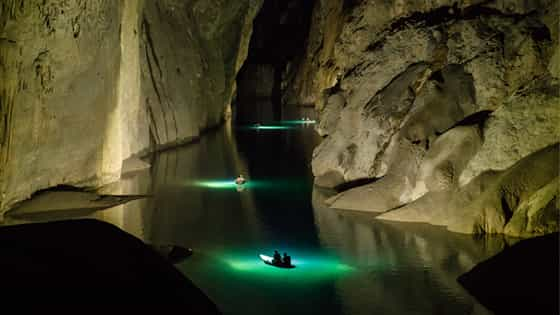 From 2019, additional light systems will be added to Son Doong to allow clearer views inside the dark parts of the cave.
The $3,000 dollar fee goes to the tour host
In this $3,000 tour price, 10 percent of tax is already included, $660 is the environmental service fee that will be transferred to the management of the Phong Nha – Ke Bang National Park.
The fees also go to the 22 porters, five safety assistants, one international tour guide, a cave expert, two cooks and a forest ranger who accompany every 10 people who take a tour.
Other expenses include transportation, hotel, food and drinks, management and administration.
You don't have to cover other expenses when you book the tour
You do. The $3,000 is just the tour price. Other expenses like traveling to Quang Binh are not included. Many foreigners have to pay for air tickets and other traveling costs. A full trip to Son Doong can cost up to $5,000 to 6,000 per person. Be prepared to fork out the money, and to have the most amazing time of your life.