Hang Va is one of the most treasured caves in all of Phong Nha National Park, home to some of the rarest formations seen anywhere in the world. Hang Va is located deep in the park quite close to the world-famous Son Doong Cave, and it is thought to be part of the same system.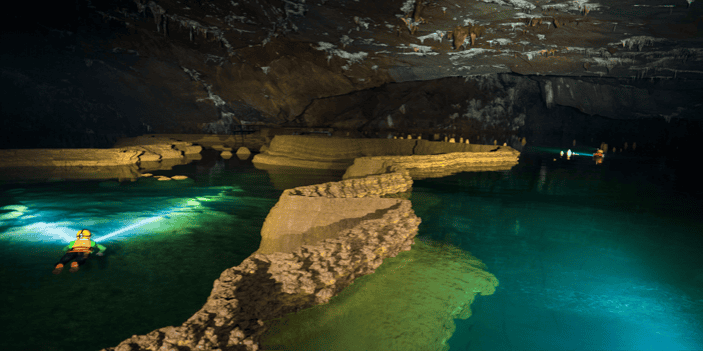 The entrance of Hang Va is actually a collapse in the floor of a steep valley, and requires a descent of about 15m down to a small stream passage that averages 5m high and wide ro reach the cave. It's offered by Oxalis as one of the best adventure tours in Phong Nha for those looking for a challenge – but don't be put off as its much easier then our three-day tours or Son Doong Cave Expedition.
At the end of the cave, there are fascinating wet and dry gours (pools) with numerous conical calcite formations that have been named as the Tower Cones. This cave is one of the most mysterious and magical of all caves in Phong Nha, and must-do if you have the time and energy to explore its fascinating depths. 
While not physically connected to Son Doong, Hang Nuoc Nut and Hang Va are part of Phong Nha cave system based on their shared water flow. Some explorers even commented that the stalactites and stalagmites in Hang Va are even more beautiful and extraordinary (see pictures below) than Son Doong cave, but you should see and feel it yourself.
These caves were found recently in 2012. To be one of the people who put early human steps into the caves, you will have to hike, stoop through the entrance, use ropes and cross some rivers including the ones inside the caves.
But don't worry, we provide the very best adventure experiences with every aspects of the trip are carefully planned including delicious meals, the highest safety standards, and friendly and informative adventure guides.
Come and enjoy unique and unforgettable experiences in the caves with our dedicated adventure tours. Although this tour operates 5 times per week, the maximum capacity is only limit number of adventurer per tour, so please book in advance because available places will be filled very quickly.
DAY 1: Phong Nha – Hang Nuoc Nut – Hang Va jungle camp
For your convenience, we will pick you up at your hotel in Phong Nha between 8:00 – 8:30 AM and drive to Oxalis Headquarters. At Oxalis Headquarters, you will collect your gear, listen to a tour briefing and please be noted that you need to sign our Release Form before driving 45 minutes through the National Park to the trailhead.
From the trailhead, we will enter the jungle and hike to the entrance of Hang Nuoc Nut. Here we put on our Petzl helmets and Hope Technology 1500 lumen head lamps. Once inside the low opening the cave enlarges dramatically and we explore the high level series with excellent photographic opportunities. We have a picnic lunch with ice cold drinks provided before setting off in the cave for around 2 kilometres. Enjoy the beautiful formations, enormous passage and Underground River, again with many photographic opportunities.
Leaving the cave you will trek on a jungle path which though short is on a tough and difficult terrain. The jungle campsite is located at the base of huge cliffs next to the entrance of Hang Va. Camp will be set up and tea/coffee will be supplied as well as a delicious dinner served by our local chef. Delight yourself with an evening of games and entertainment, or simply relax and soak up the views at our jungle campsite.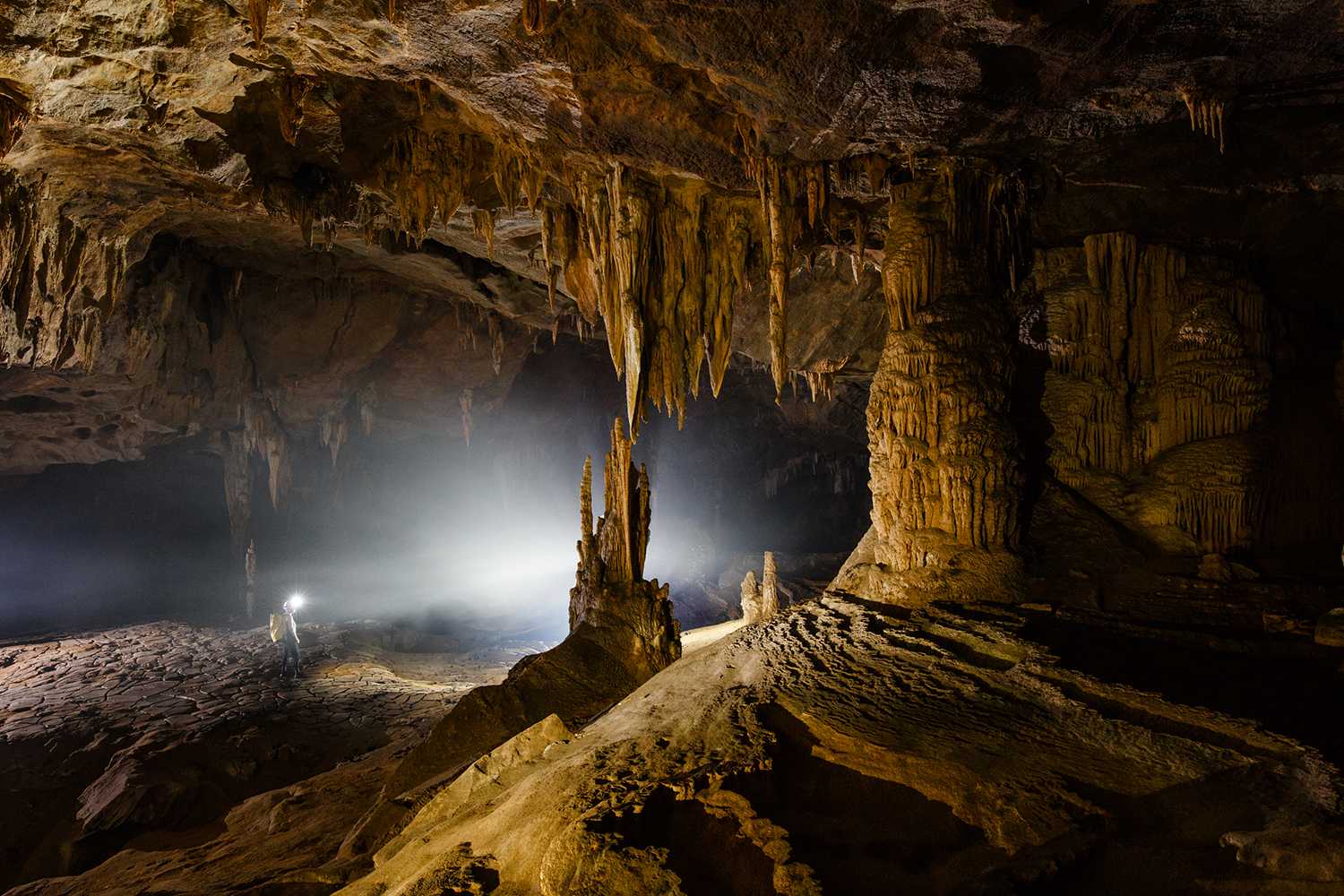 Hang Va – Phong Nha
Day 2 is the highlight of the expedition. Before experiencing this fantastic cave, Hang Va, you will have a delicious breakfast at around 8:00 am.
First, you will have to climb down the steep entrance of Hang Va. It can be quite slippery, so move slowly and with care. To ensure your safety, we will have a rope for you to clip into with a harness which will be provided for you. You will continue to wear the harness at all times inside Hang Va Cave.
After that, if we are early, there is a chance to swim in a downstream pool inside Hang Va before heading upstream. You will walk most of the time in water flowing through the river passage, climb up and down, and squeeze between the rocks. The water level of the river passage can be as high as chest level, so be ready to be wet for about 4 hours.
When you reach the end of the wet passage, you will need to use the harness again to carefully climb up to the high level passage. You will be amazed with this high level area because of its stunning formations, really rare throughout the world. In this area, we will have a lot of time to take beautiful images with the support of Hope technology and extra lights prepared specifically for photography in Hang Va Cave.
Finally, we will head back to the camp, enjoy lunch and at around 2:00 pm, walk back to the road by a different route to the pick up point. Our driver will take you back to your hotel in Phong Nha by about 5:00 pm.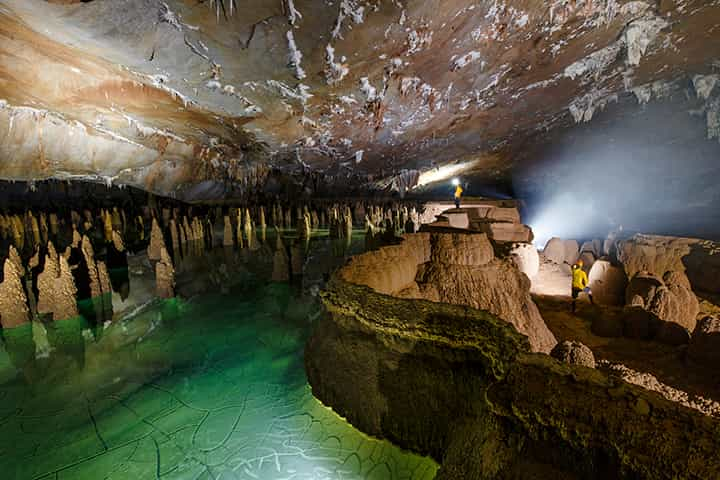 Our Hang Va Expedition is for those seeking a challenging jungle adventure combined with some real caving opportunities to discover some of the rarest formations in Vietnam. This tour is typically booked as an addition to the Son Doong Cave Expedition, or for those looking for a short, yet challenging 'tour' in Phong Nha National Park. This trip also includes a visit to Nuoc Nut, a smaller cave visited on a one-day tour by Oxalis Adventure Tours.
This trekking tour includes up to 10km of trekking and 3 km of caving. It is considered more difficult then any other two-day experience with Oxalis. It involves rock scrambling, wading through an underground river, bouldering and rope-traversing within the cave, to reach the rarest tower cone formations.  It costs VND 8,000,000 per person (equivalent to USD 352).