The Phong Nha- Ke Bang National Park in Vietnam is also known as the cave kingdom of the world! This explorer's paradise has some of the biggest and most beautiful caves ever seen. Phong Nha-Ke Bang National Park is home to the largest cave in the world – Son Doong cave, the third largest cave in the world – Hang En cave, the cave made up of some of the rarest formations ever seen – Hang Va cave, the gorgeous Paradise Cave and many more!
Oxalis takes people on adventure tours into some of the most famous caves in the world in small groups in order to ensure a very exclusive and peaceful experience. On the other hand, Hang Toi or Dark Cave is more of a tourist attraction, which is suitable for families, friends and even children. Dark Cave or Hang Toi is one of the most celebrated and significantly touristic caves in the region and the Dark Cave tours in Phong Nha are considered to be top notch for backpackers and other travellers looking to spend a full day filled with adventure and fun! This is one of the best one day tours in Phong Nha and will surely be one of the most enjoyable experiences of your trip to Vietnam.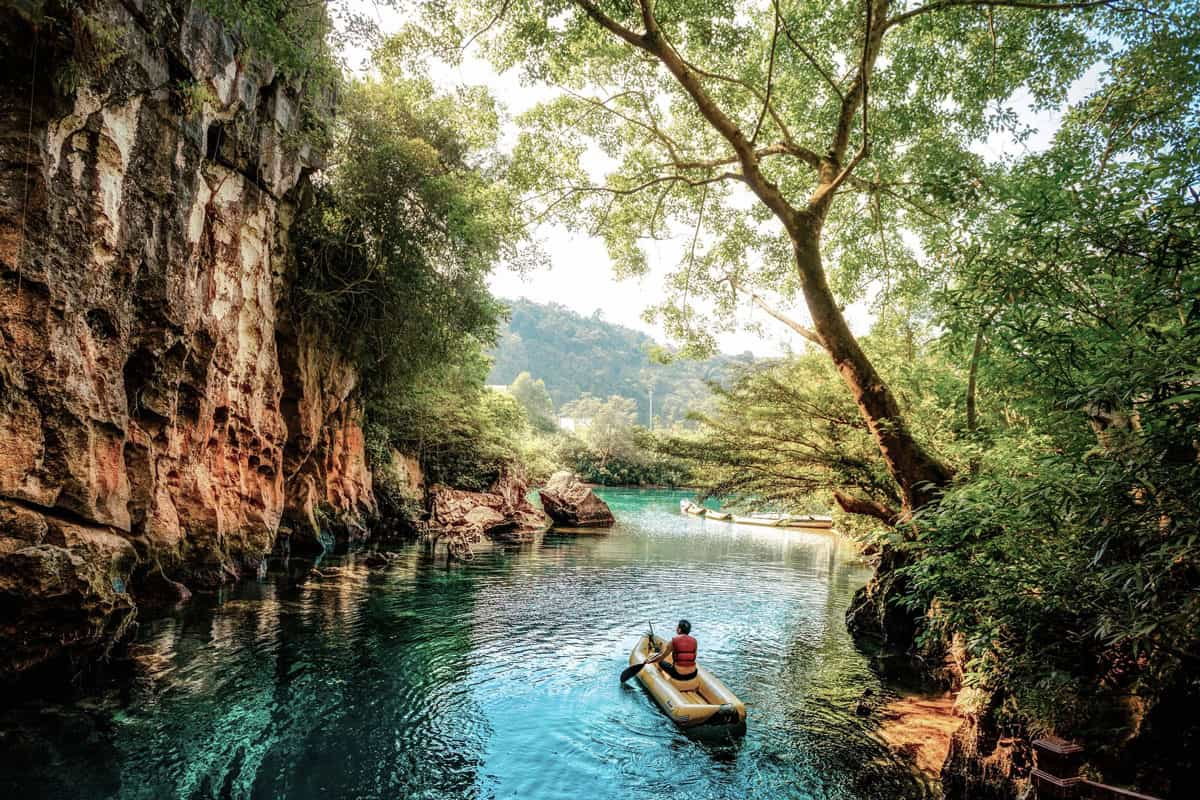 About Dark Cave
'Hang Toi', popularly known as Dark Cave, is one of the most major tourist attractions for people travelling to Phong Nha. This cave appeals to almost everyone that visits Phong Nha sheerly for the primitive fun that it offers. If you're looking for a day out filled with adrenaline, fun and frolic, make your way to the Dark Cave. The Dark Cave tours in Phong Nha can be booked at almost any homestay, hostel or hotel in Phong Nha or just simply need to hop on a bike, follow the map and visit the cave by yourself. This is one of the best one day tours in Phong Nha, if you're a fan of obstacle courses, swimming, kayaking, mud bathing, caves and zip-lining (Vietnam's longest zip-line)!
If you're wondering why this cave got the name 'Dark Cave', it's actually quite self-explanatory. The whole cave has absolutely no artificial lighting system installed inside and once you're inside you'll also observe that the majority of the rocks are dark; primarily dark gray or black. Also, when you come out of the Dark Cave, after having an unforgettable mud bath, you will surely be darker than the cave!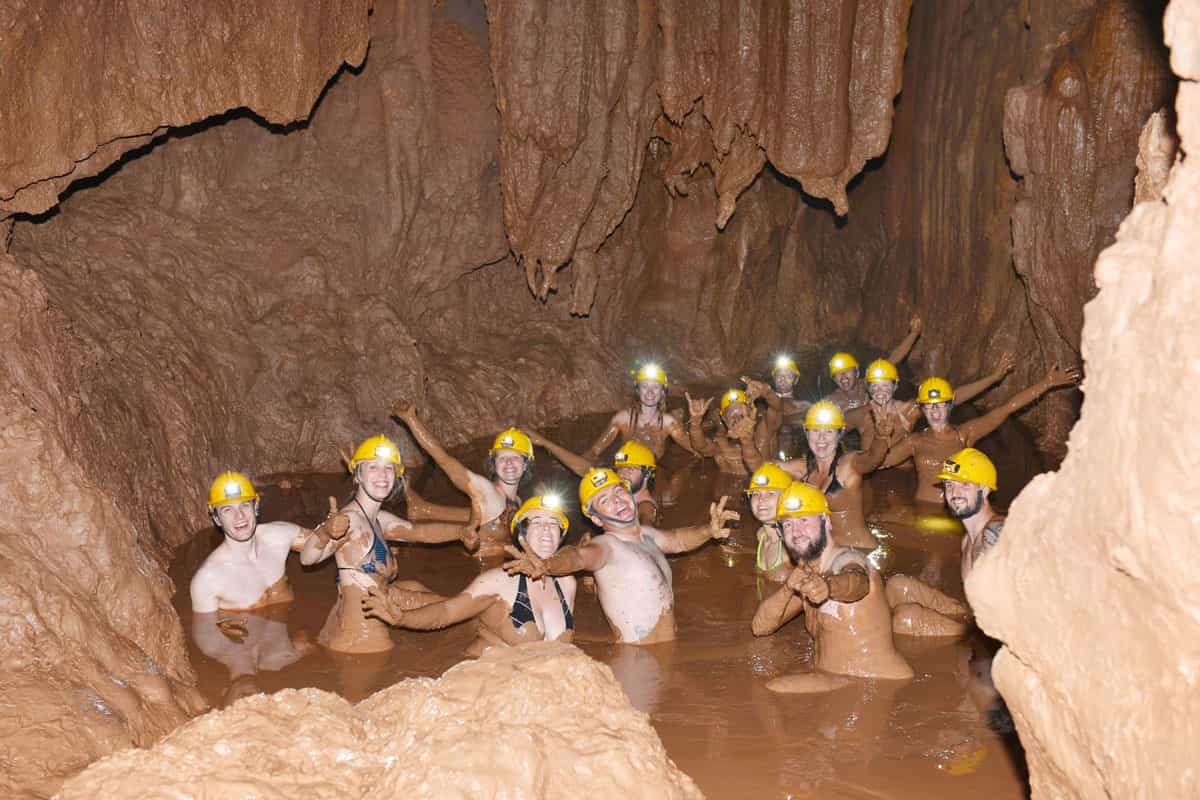 Early Days
The Dark Cave was first discovered back in 1990. Soon after its discovery and exploration, the locals realized that it could be opened up for commercial use and bring worldwide travellers closer to Phong Nha – Ke Bang National Park in terms of the soft-adventure and natural thrill it can offer. Since the Dark Cave tours in Phong Nha started being operated, it has played a great role in terms of giving travellers a wonderful experience if they're looking to spend a day out in the wild, filled with adrenaline and fun with friends.
Back in 2014, a decision was made to build a 400 meters long double zip-line which will serve as the apparatus to the entrance of the cave. This zip-line is known to be the longest zip-line in all of Vietnam and has also led to achieving a Vietnamese Guinness Record award at the Quang Binh province cave festival of 2015. All the early travellers that used this giant zip-line to access the Dark Cave's entrance called it one of the most adventurous and memorable experiences of their life, as zip-lining down above a river to an entrance of a cave isn't something you get to do everywhere.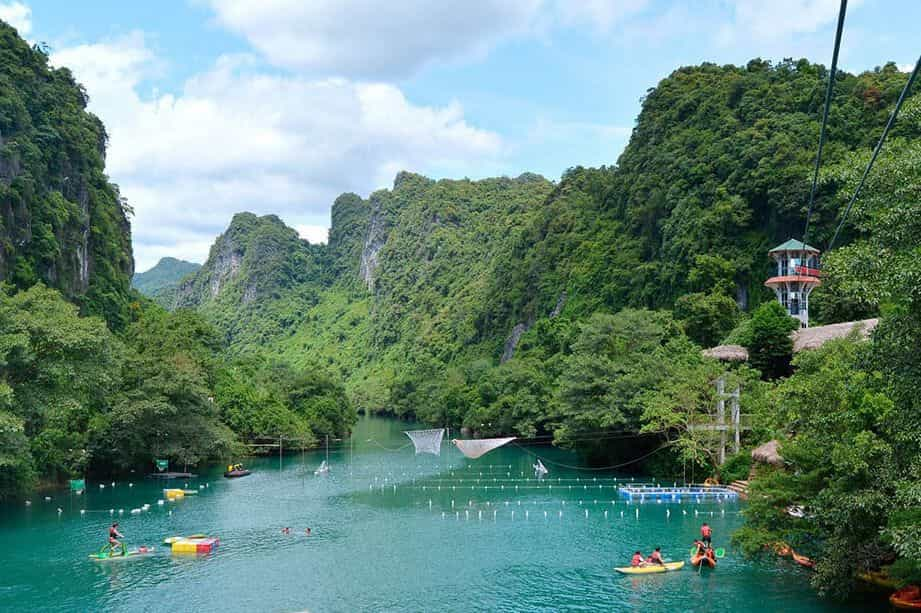 Geological features of the cave
You'll get to experience the geological beauty of the Dark Cave with your whole body, as you make your way deeper inside the cave. The Dark Cave in Phong Nha – Ke Bang National Park is measured to be approximately 6 KM long. On your Dark Cave tour in Phong Nha, you'll notice that the cave is primarily formed of crevasses that get narrower as you move deeper, muddy bottoms, thick clay walls.
The mud that you find inside is actually quite remarkable! The pattern, color and consistency of the mud inside the cave make it seem akin to pure chocolate milk. Another amazing part about the mud inside the Dark Cave is that it's completely buoyant; you will not sink at any point during your adventure inside the darkness of the cave! The nature of the mud makes you float around rather nonchalantly and the mud-pits are considered to be one of the geological highlights of the Dark Cave.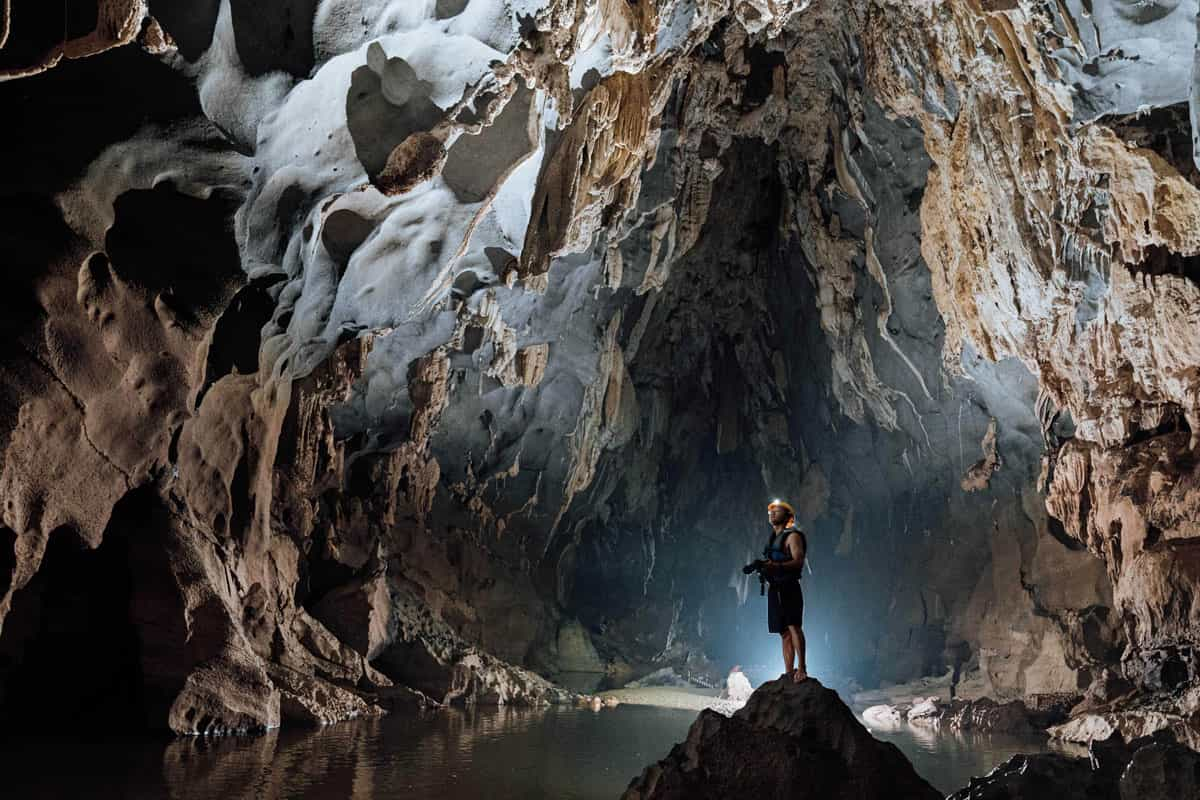 When you explore the Dark Cave
The Dark Cave is considered to be an adventure playground for travellers also due to the features of the cave and how you get to be a part of it in true essence. For instance, if you've joined a Paradise Cave tour, you'll notice that you get to walk to boardwalks and calmly admire the beauty of the cave's formations with the artificial lighting system involved. However, the Dark Cave tours are quite the contrary. Here, it's all about jumping in and being part of the adventure from the get go!
After you zip-line to the entrance of the cave Indiana Jones style, it's time to put on your caving helmet (this will be provided to you by the management there). You'll find a headlamp attached to your helmet and guided by its light, you'll make your way barefoot through a crevasse that you'll notice getting narrower as you continue. This steadily narrowing crevasse also gets muddier with each passing moment and eventually leads you to a section where you'll be surrounded by thick clay walls on both sides and even underfoot.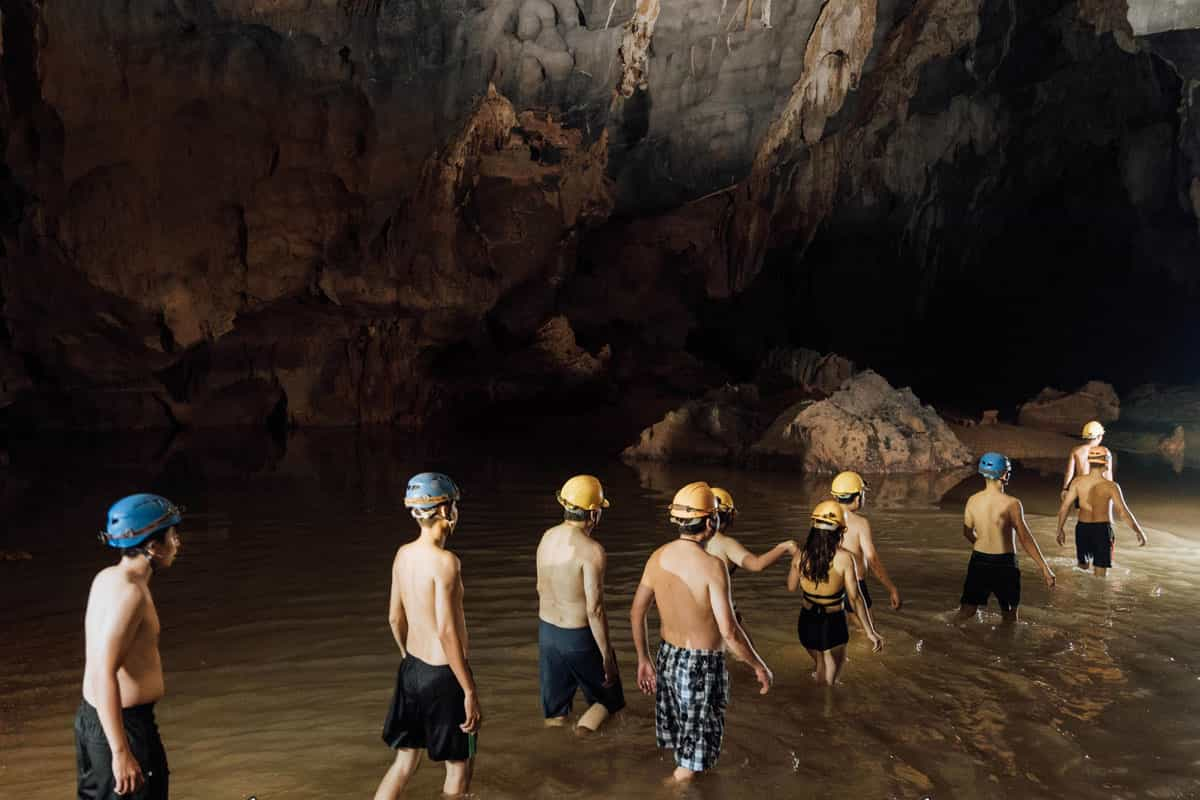 As you keep moving forward, you'll be welcomed by no trail at all and only deep and muddy footprints of the adventurer walking ahead of you. The whole little journey of 300 meters filled with squelching will surely be a really entertaining, funny and memorable experience for you. Please bear in mind that if you suffer from claustrophobia, Dark Cave will surely push you to the limits!
After making your way further, you'll find that the crevasse you were clumsily traversing leads you to a giant mud pit. Once you get through all this, you'll be invited by the cave's cold river where you can enjoy swimming and de-mudding while reinvigorating yourself (in pitch darkness). You will make your way back by kayaking and to accentuate your overall experience, you also get to enjoy a special obstacle course over the water and even a flying fox! For many travellers, dipping in the jade blue Chay River on hot summer days is perhaps the most special part of this entire experience!
After getting done with your adventure, you can grab some grub at the Dark Cave restaurant where you can enjoy the traditional Vietnamese delicacies that'll surely be an appetizing end to your adrenaline-filled day.
Please note that a limited number of visitors can go in the cave for mud bath at a time, be prepared!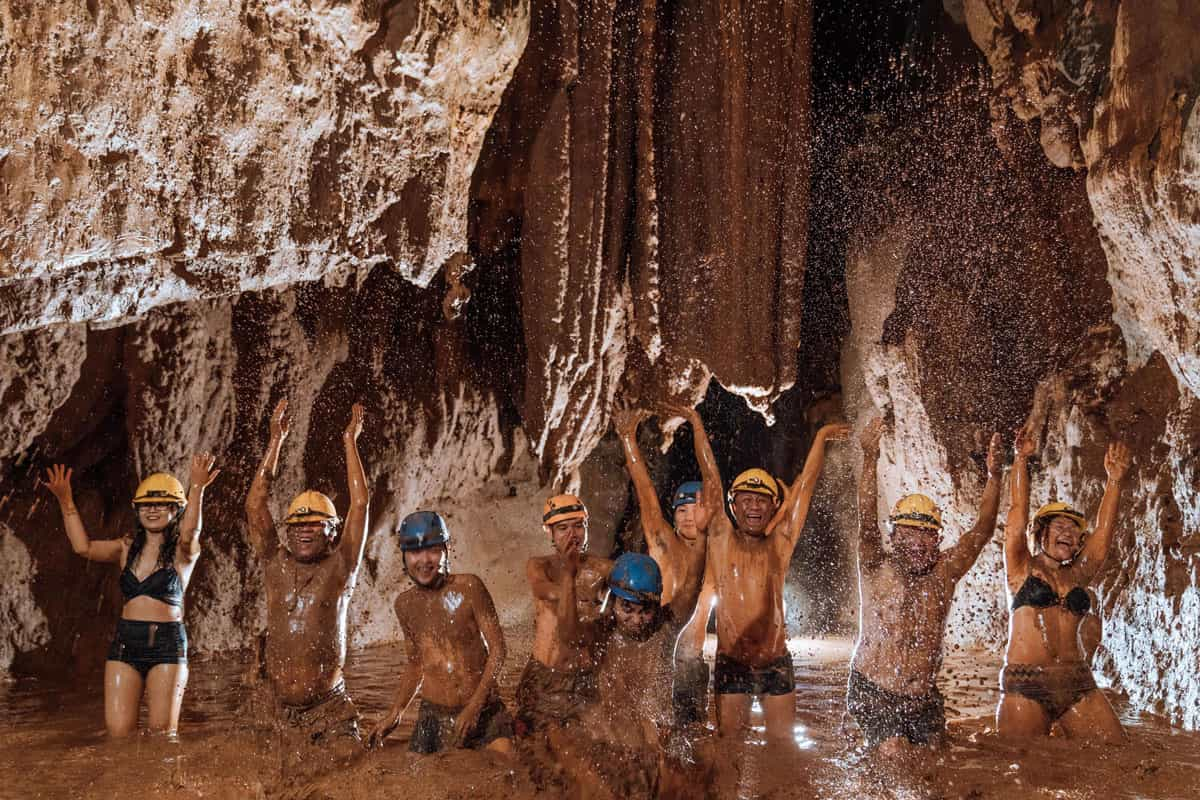 Visit the Dark Cave
The Dark Cave's main entrance is located on the Ho Chi Minh Highway West and is around 5 KM north of the Paradise Cave; you just can't miss the huge sign on a towering building that says "Zip-line to Dark Cave". The tours usually remain open from 8:30 AM to 5:30 PM and you should wake up early should you wish to enjoy a full day of adventure, depending on whether you choose to do it solo or through a tour operator!
You can visit the Dark Cave with or without a tour operator. The prices vary, but so do the activities!
Pricing & Options
You can purchase entrance tickets and tours in arrival at the Chay River – Dark Cave Zipline & water sports center, or visiting the Phong Nha Tourism Center based in Phong Nha town or any homestays, hostels in Phong Nha and booking a full access tour with them.
There are three options for you to select:
Entrance & Swimming Options (No Ziplining, No Mudbathing)
Included: Entrance fee, swimming in the Chay river, water sports, safety equipment.
Excluded: Zipline, mud bathing, kayaking.
Adults and children from 1.3 m in height: VND 65,000/ pax.*
Children under 1.3 metre in height: VND 35,000/ pax.*
Children under 1 metre in height: free of charge, only limited to the children's swimming pool.
Full Access (Ziplining & Mudbathing)
Includes: Zipline (weight 40kg and under 90kg above), kayak, swimming,  water sports, helmets, headlamps, safety equipment.
Limited Access (Ziplining, No Mudbathing)
Included: Zipline (weight 40kg and under 90kg above), Kayak, swimming, water sports, safety equipment.
Excluded: mud bathing in Dark cave
Adults: VND 189,000/ pax*
* Promotion price in 2021
What else to do in Phong Nha?
Are you looking for something else to do in Phong Nha, another easy-going, relaxing place or a real adventure in the Adventure Capital of Asia – Phong Nha?
Our What to do in Phong Nha page is what you cannot miss!
Or pay a visit to our Phong Nha Travel Tips page,we've listed some important things to know to help you make your way around our little town!
Kindly Note:
Oxalis Adventure does NOT offer any tours to Dark Cave. However, interested travelers can easily book the Hang Toi tours at any accommodation in town or simply head to their headquarter to purchase the ticket.
Oxalis takes no responsibility for the quality or service of the Hang Toi tours under any circumstances.