Explorers have discovered a hitherto unknown underground cave system inside Son Doong Cave, the world's biggest, in central Vietnam.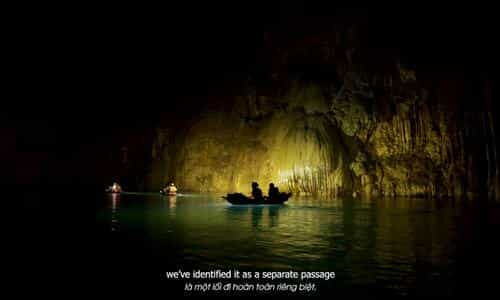 Three U.K. divers who helped rescue a Thai football team last year were invited to explore a subterranean river system in Son Doong hoping it would join another cave, Thung.
What the explorers found during their one-week quest was completely unexpected. It was a tunnel system which suggests that Son Doong stretches further than previously thought, they announced at a press briefing held Tuesday.
They estimated the depth of the river at 93 meters (305 feet) before they dived into it.
At a depth of 77 meters (253 feet), they still could not find any connection with Thung Cave, but Son Dong itself just kept getting bigger.
Their equipment did not allow them to go further and so they had to return.
They estimated Son Doong to be more than 500 meters deeper than earlier estimated, but said there was more to explore.
The discovery has made Son Doong, in the Phong Nha-Ke Bang National Park in Quang Binh Province, even more mysterious to cave experts and scientists, they said.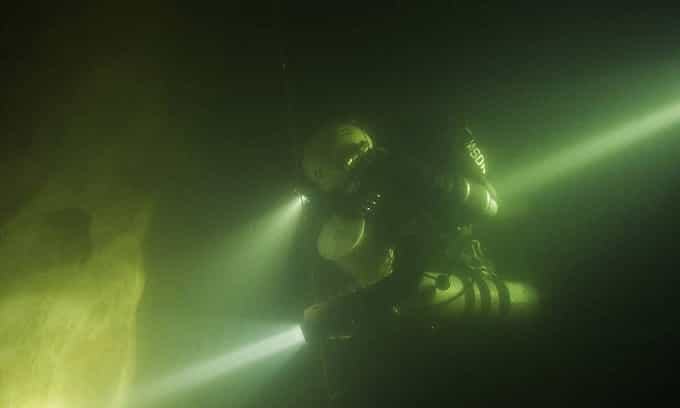 Jason Mallinson dives down the underground river inside Son Doong. Photo courtesy of Oxalis
The expedition, organized by Oxalis, the only firm licensed to take tourists to Son Doong, and Quang Binh authorities, included some of the best divers in the world, according to the British Cave Research Association.
They have 13-40 years of experience in diving and exploring caves, and were among those who rescued the 12 boys trapped with their football coach in a flooded cave complex in northern Thailand last July.
Nguyen Chau A, CEO of Oxalis, said the quest to explore this underground world would continue next year.
The diving tools were brought from the U.K. and the cost of the expedition is estimated at $53,000.
"We've been to many large cave systems but none of them can compare with Son Doong," one of the divers, Jason Mallinson, said.
"It's a pity that we cannot get a full picture of the underground system of Son Doong this time."
Cave experts said they chose early April since the water level drops to its lowest, the weather is cool and underwater visibility is good.
The divers plan to use helium next time so that they can go deeper than 120 meters.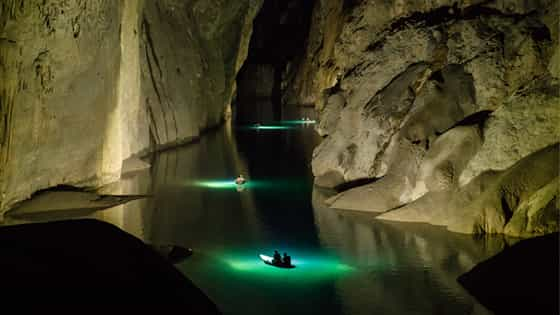 Cave experts explore the underground river in Son Doong. Photo courtesy of Oxalis
Since Son Doong was discovered in 2009, experts have only explored its dry part.
It opened to tourists in 2013, four years after members of The British Vietnam Caving Expedition Teamfinished their exploration and declared it the world's largest.
A local, Ho Khanh, first discovered the cave in 1991, and rediscovered it with the British cave experts almost 20 years later, opening it up for exploration.
Authorities in Quang Binh, known as the kingdom of caves, recently increased the limit for the number of tourists allowed to visit the cave from 640 to 900.
They have in recent years made several proposals, including building a cable car system to boost tourism in the area, but have met with strong opposition from environmentalists and the public.
On Tuesday Quang Binh officials said they have no plans to approve the cable car proposal.
Tag