This incredible Son Doong Cave Expedition will give you a wonderful chance to explore the world's largest cave and exit via the Great Wall of Vietnam. This is the only tour available of Son Doong Cave by the official tour operator Oxalis Adventure Tours.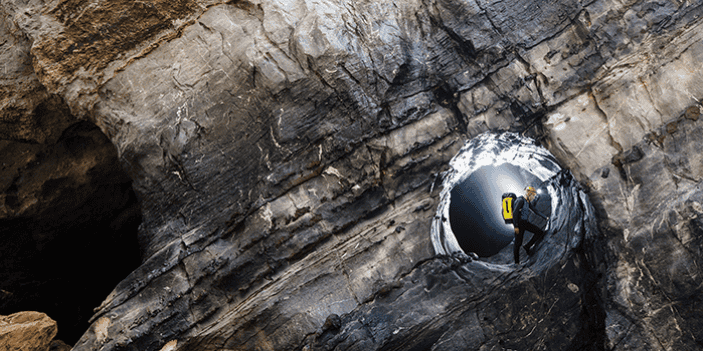 This journey to the wild, exploring Son Doong Cave requires more than 25 porters, safety advisors & guides. You will explore the entire length of Son Doong Cave, Hang En Cave, and visit Ban Doong ethnic minority village.
Less than 300 places remain available for trips departing in 2019. Please make your reservation below, or contact us to go on our waiting list for 2020.
Imagine trekking straight into the depths of the world's largest cave which can fit a Boeing 747 flying through the largest passage, on an expedition unlike any other. Son Doong Cave is a masterpiece of nature with otherworldly landscapes, enormous stalagmites and statuesque stalactites – hanging from the ceiling and rising from the ground like an alien species. The real jungle inside the cave will amaze you in every way, while misty clouds envelope the scene. The fossil passage will give you the opportunity to understand the formation of this ancient limestone.
HIGHLIGHTS
Climb the Great Wall Of Vietnam
2 nights camping inside Son Doong Cave (largest cave in the world)
1 night camping in Hang En Cave (third largest).
Portable lighting equipment to capture stunning photographs
25km of Jungle Trekking and 9km of Caving
Visit Ban Doong Ethnic Minority Village
An adventure from start to finish, you will use ropes to climb into the entrance, and climb up the Great Wall of Vietnam, a calcite wall totaling 90m in height. You will always be under the guidance of the Oxalis safety team.
The Expedition is not a race, so you should not expect to rush on this tour. There will be plenty of time for photography and to explore the cave. However, all adventurers are expected to be fit, and have some previous trekking experience (not necessarily climbing or caving experience).
Cancellation Policy: Once your reservation has been confirmed with final payment, the following conditions apply; If written cancellation request is received 90+ days before departure a VND 7,000,000 (USD 300) cancellation fee per person is charged and the balance refunded. If request received 45 – 90 days before tour departure you will be charged a cancellation fee of 50% of total booking price and balance refunded. If written cancellation request is received less than 45 days before tour departure, no refund will be provided.
BRIEFING: DONG HOI – SAFETY BRIEFING – PHONG NHA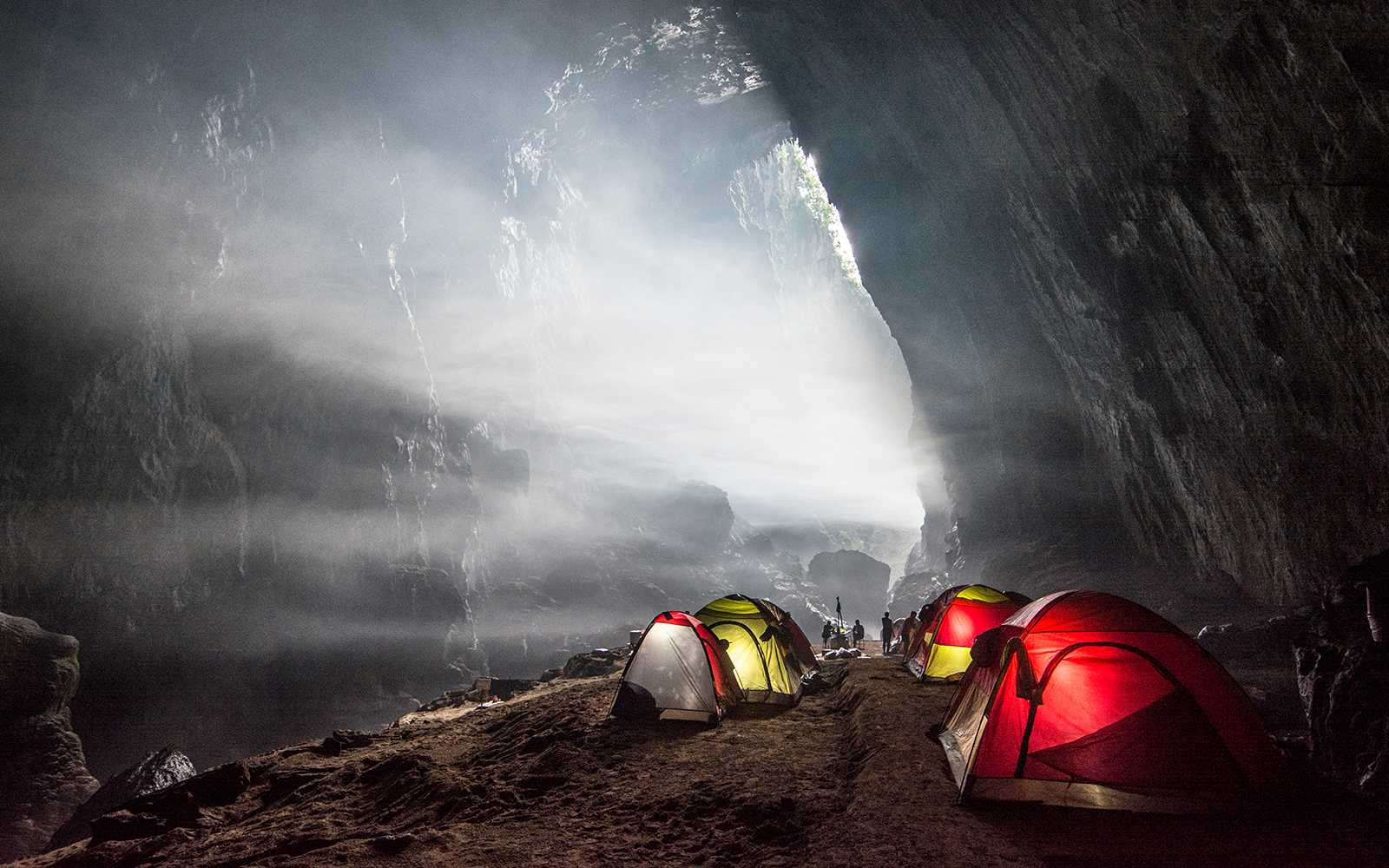 Arrive in Dong Hoi by no later than 2 pm on the afternoon of your briefing day, where you will be met by our driver and transferred to Son Doong Bungalow in Phong Nha. Upon arrival, hospitality services will be happy to help you plan your extra time there. You'll then have the rest of the day to rest, relax and wander around the village of Phong Nha. You will be required to purchase your own breakfast and lunch on this day.
Around 5:30-6:00pm you will congregate in the hotel restaurant before transfer to Oxalis Headquarters, where you'll meet your cave expert and guide team for your safety briefing and equipment check. The briefing is mandatory. Anyone who chooses not to join the briefing may be eliminated from the tour without refund.
You are suggested to have all belongings that you will be taking on the trek prepared before the safety briefing. The operation team will collect everyone's belongings right after the briefing in individual large plastic bags and send them to our porters to prepare for the following day.
You will receive your belongings each evening once you get to your campsite. Therefore, anything you want to take with you during the day you should keep in a separate backpack (e.g. cameras, tripods etc.). Before dinner, you will be given your helmet for the trip; the helmet will then be your responsibility for the duration of the tour. Please note that the Release Formneeds to be signed at the safety briefing. After that, enjoy dinner with your team at around 7:30 pm at Oxalis headquarters, after which you will be transferred back to your hotel for a good night's sleep.
DAY 1: PHONG NHA – BAN DOONG VILLAGE – HANG EN CAVE
Enjoy breakfast at 8:00 am before departing at 9:00 am for the first leg of the expedition. You'll leave extra luggage and any valuables at Oxalis headquarters before setting off for adventure.
After a 45 minute drive along Road 20 of the Ho Chi Minh Highway you'll reach the trailhead, where you'll start trekking for approximately 1 hour downhill through the forest, which is quite steep at times. Walk for half an hour along a small stream to the minority village of Ban Doong, which is a real highlight for many on this expedition. Learn more about this unique ethnic group of people and enjoy lunch in the village.
After this point, you will be in the sun all afternoon with about 2 hours along a river, with very little shade. You'll cross the river many times so please expect to have wet feet for the whole day. In the summer, the water is only usually knee deep, but Gore-Tex boots will fill and hold the water so therefore they are not recommended (please see our detailed FAQ for footwear recommendation).
You'll then reach the entrance to Hang En Cave, home to thousands of swifts. Here you'll be given your headlight and you will trek/boulder approximately 20-30 minutes to your campsite inside the cave. The group should arrive at camp around 3:00 – 4:00 pm where you can enjoy swimming and washing within the underground river. Dinner will be served at the spectacular campsite with numerous photographic opportunities.
Anyone who is unable to complete any stage of this first day comfortably will be turned around to Phong Nha and will not be permitted to continue the expedition. This will be the decision of the safety team on your tour. Should you be turned around, all tour costs will be forfeited.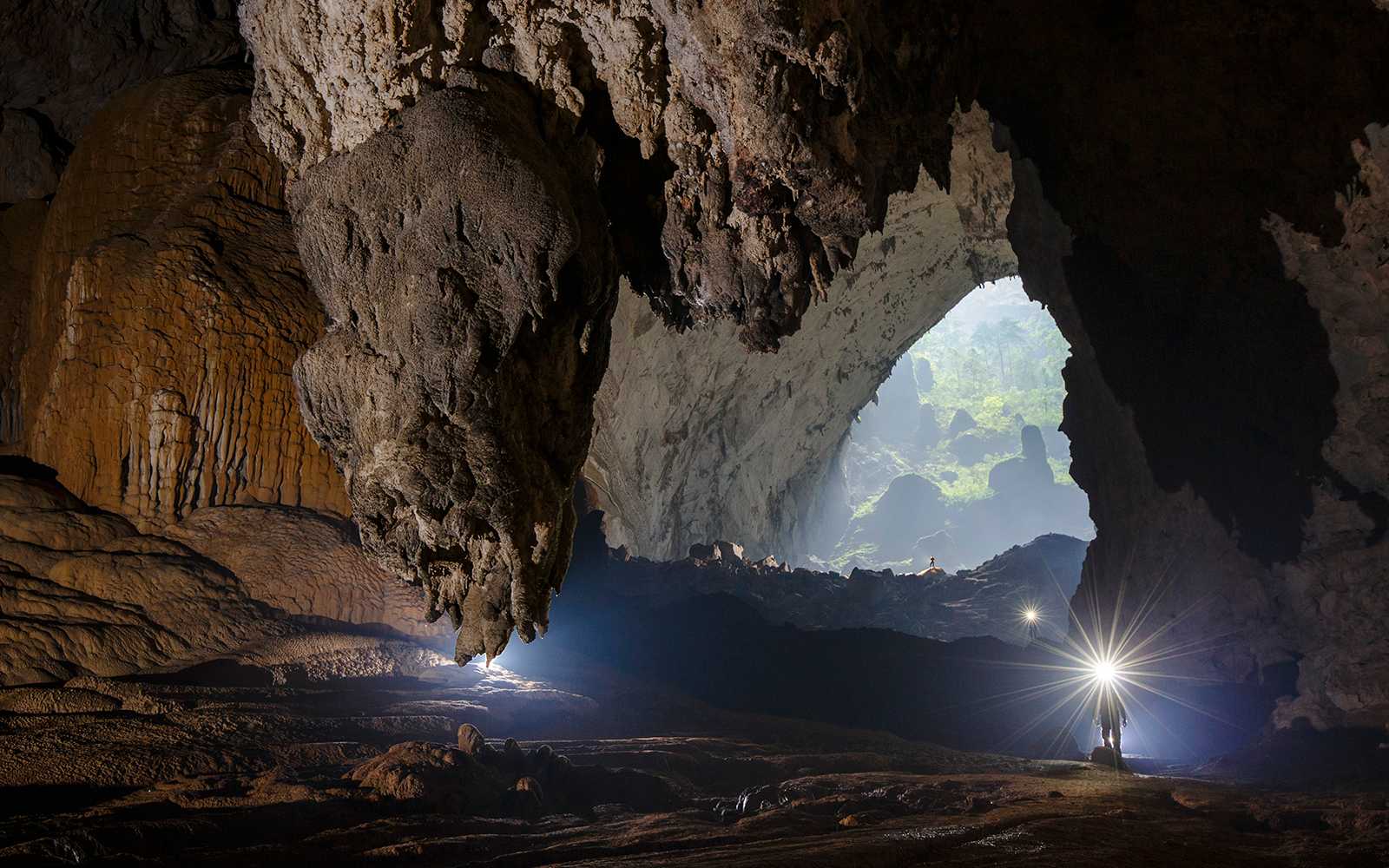 DAY 2: HANG EN CAVE – SON DOONG ENTRANCE – HAND OF DOG – SD CAMP 1 – FOSSIL PASSAGE
You'll again begin your day with a delicious breakfast at around 8:00 am. You'll be in for a very tough day today so it's best to enjoy a big breakfast, as you'll need your energy!
Start your trek at 9:00 am through Hang En Cave for about 30 minutes to reach the magnificent exit, made famous by many photographers over the past few years. You'll scramble down to the river valley and then it's an hour walk through the river, so your boots are going to be wet for most of the day; it is unavoidable, yet part of the fun.
You'll then start climbing a steep hill for about 45 minutes with some rocky sections to start. At the top of the hill you'll enjoy lunch, a safety briefing and fit your safety harness and prepare for your big journey underground. A steep descent with a couple of short rope climbs brings you at last to Son Doong entrance.
With your safety harnesses, you'll then start the 80 m descent into the cave by making a number of short climbs, using ropes and safety lines with your guides' assistance. There is no rappelling or abseiling at any point during the expedition. You'll then enjoy a few more climbs and bouldering to reach the first and second river crossings inside the cave, which are no more than knee-to-thigh deep depending on the water levels. You should have a wash here, as it will be the last washing place for the day.
On your way to the first campsite in the first large passage of the cave, you'll have to be extra careful as there are a number of big drops and scrambling over boulders along a rocky path before reaching one of the most spectacular views: Hand of Dog and daylight streaming through the cave, thanks to the first doline! You will then scramble down to the first campsite of Son Doong around 3 – 4 pm. After a tea and coffee break we will head down to view the ancient fossils. Here there is a chance for a short and cool swim, but no washing. You're in for another big meal with your team before turning in for the night.
Please note that there are no washing facilities at camp on this day.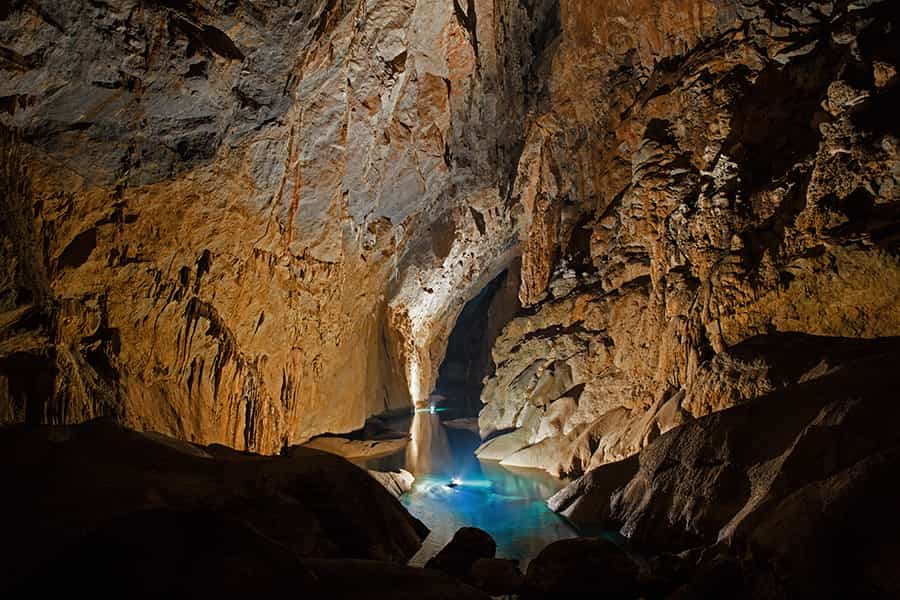 DAY 3: SD CAMP 1 – WATCH OUT FOR DINOSAURS – GARDEN OF EDAM – SD CAMP 2
Your day begins with a hearty breakfast with your team before a 9:00 am departure towards your second campsite in Son Doong Cave.  You'll start with some rocky climbs, which are quite steep in some places, as you reach the first jungle within the cave at Watch Out for Dinosaurs. It will take about 1.5 hours to travel within the cave from Camp 1 to Watch Out for Dinosaurs. We will spend some time here taking photographs and then you'll be going down the rocky path to reach the enormous Green Gours, one of the most magnificent and famous photography spots on the tour! A light lunch is provided with an incredible backdrop of the first doline. If you are lucky you may even catch some sunbeams, which make for truly spectacular photos.
It is then a walk through the cave past gigantic formations and plenty of cave pearls towards the light of the second doline and main jungle within the cave. Follow the path past the beautiful foliage reaching towards the light, to reach the underground jungle, unlike anything you could experience on the planet! Cross the jungle for around 30 minutes to reach the steep and sometimes slippery path down to your second campsite within Son Doong Cave. You will reach camp around 2 – 3 pm.
After a short rest at your campsite, you are back on your feet and heading deeper within the cave. You'll pass through a very large dry passage with huge stalagmites and great views back to the second doline. Many new creepy crawlies have been discovered within this passage including white spiders, fish, woodlouse and shrimp species, so be sure to keep your eyes open. You will have many great opportunities for photography here.
You'll be back at camp again around 5 pm to enjoy a sensational dinner with your team and delight yourself with an evening of games and entertainment, or simply relax and soak up the views at what is quite possibly the very best campsite in the world.
Quick note: you may use a pair of dry boots on this day, as aside from the mud, there are no water crossings! Also, there are no washing facilities at camp on this day.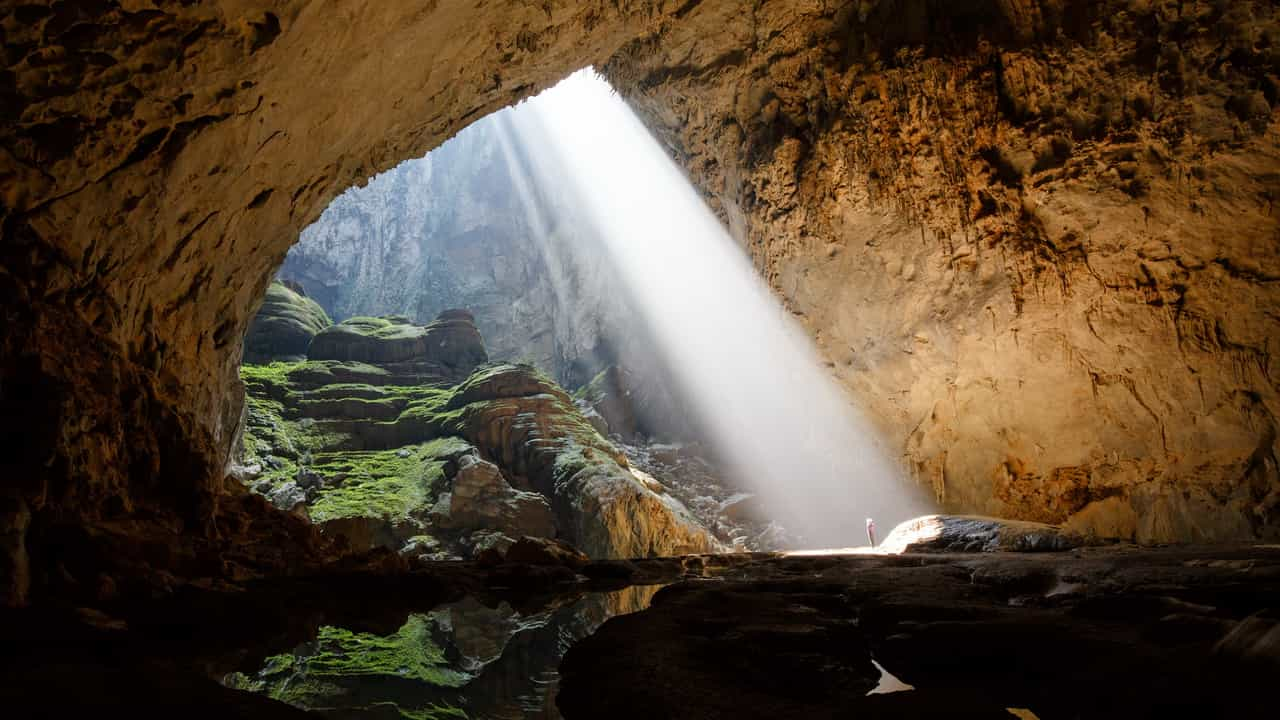 DAY 4: SD CAMP 2 – WALL OF VIETNAM – SON DOONG EXIT – CHAY LAP FARMSTAY
After refueling with another hot breakfast you'll pack up camp and start heading towards the Wall of Vietnam. Scaling this wall will use a combination of ladders and ropes, but you will always have a safety line and people to look after you. After this strenuous ascent, you will see the light from the exit. At the top of the Wall, you will enjoy your picnic lunch before passing more flowstones and cave pearls; see the calcited animal skeleton then emerge into the jungle again.
A short but steep and rocky path will lead you down to the bottom of the hill, followed by and a short hike to the road. Cold drinks await you at the top of the hill before a 45 minute drive back to Chay Lap Farmstay & Resort where cool towels and a refreshing swimming pool are waiting for you. You will have time to relax after your long trek before enjoying a group farewell dinner with your fellow expedition team members.
Please advise our sales team in advance of your departure time so that they can arrange the logistics of your transfer back to the airport or train station. If you would like to extend your holiday in Phong Nha, let our team know so that we can assist you in booking extra nights at Chay Lap Farmstay & Resort.

DEPARTURE: EXTEND STAYING OR TRANSFER TO TRAIN STATION/AIRPORT
Enjoy breakfast at the hotel and the check-out time of the hotel will be 12pm regardless of your departure time. Why not take this as your opportunity to get to know more about Phong Nha beside the expedition, by staying for some extra days?
You will be blown away by the remarkable scenery, being surrounded by karst mountains, idyllic green rivers, rustic villages with beautiful local people. There are so many places to go and see (Chay Lap Water Sport Center, Paradise Cave, Phong Nha Cave, Mooc Ecotrail, Dark Cave..); sensational local pubs (Easy Tiger, Moi Moi, Pub with Cold Beer..); motorbike/bike tours through the National Park, Bong Lai Valley.
If you are still in the mood for the wild, our one to two-day adventure tours in another marvelous area – Tu Lan Cave System, are highly recommended (see more here). Since the cave system is the home of the Hollywood blockbuster movie Kong: Skull Island, you will have a great experience enjoying the landscape and imagining the legendary King Kong!
Our driver will pick you up according to your departure time and don't forget to let us know in advance if you would like additional night(s) at the hotel and we can reserve that for you.