Readers of travel guide publisher Rough Guides have chosen Vietnam as one of 20 most beautiful countries to visit.
Vietnam, one of three Asian countries in the list, was ranked 20th, while India was placed 13th and Indonesia, sixth.
Scotland topped the list, followed by Canada and New Zealand. Other countries in the top 10 included Italy, South Africa, England, Iceland, the U.S. and Wales.
More than 40 years after the end of the Vietnam War, the S-shaped country has rebounded with vigor, Rough Guides remarks.
Infrastructure upgrades, the launch of direct flights that connect Vietnam with major cities in the world and modern development with a bunch of luxury hotels and skyscrapers have made Vietnam more attractive to foreigners.
The U.K. travel site mentioned the "impressive" rock formations in Ha Long Bay, four hours drive to the west of capital city Hanoi, and terraced rice fields in the northern highlands town Sa Pa as "not-to-be-missed" beauty sites in Vietnam.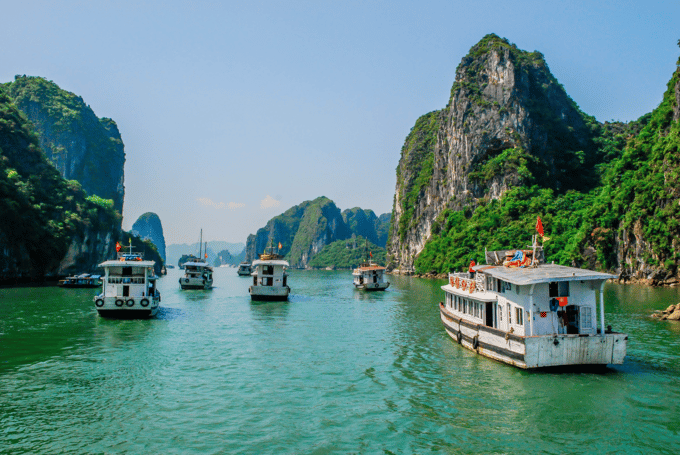 Tourist boats sail on Ha Long Bay in the northern province of Quang Ninh. Photo by Shutterstocks/andien
The Van Don International Airport, which opened on December 30, 2018, has made it easier for foreign tourists to visit Ha Long Bay, which was named among the world's seven new natural wonders by Swiss organization New Open World in 2011.
Foreign visitors to Vietnam rose 20 percent to a record 15.4 million last year, making it the world's fourth fastest growing travel destination, according to a United Nations World Tourism Organization report.
The country raked in VND620 trillion ($26.7 billion) from tourism last year and the industry is aiming to make $35 billion per year by 2020, contributing 10 percent to the economy, compared to the current 7.5 percent.
Observers have remarked that Vietnam has not done very well in balancing tourism growth with preserving its natural beauty, and there is a lot of room for improvement in this aspect.