Hang Én là hang động lớn thứ 3 trên thế giới xếp sau Hang Sơn Đoòng (Việt Nam) hang Deer (Malaysia). Hang Én nằm trong khu vực trung tâm của Vườn quốc gia Phong Nha – Kẻ Bàng, Vương quốc hang động của Việt Nam. Được phát hiện và công bố vào năm 1994, Hang Én nhanh chóng được biết đến và trở thành một điểm đến ấn tượng trên toàn thế giới.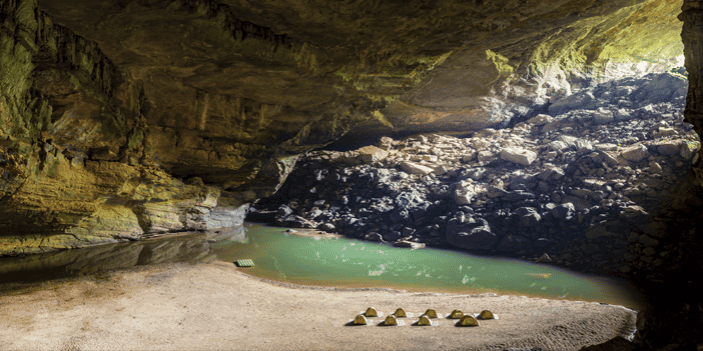 Hang En Cave is the world's 3rd largest cave and is quickly becoming one of the must-see natural wonders in Vietnam. Its size will blow you away, and our campsite located within the cave beside a lazy river, will leave you speechless. You'll examine fascinating fossils in one part of the cave over 300 million year old, and around every corner be subjected to the most picturesque views.
A stop in the ethnic minority Ban Doong Village, set amongst the limestone mountains is a highlight for many, not to mention the pristine jungle, many river crossings, and jovial porter team, made up of local jungle men!
Hang En is one of our famous caves that has been featured within National Geographic, The New York Times, Lonely Planet, Dailymail UK and recently on Good Morning America, in front of over 6 million audience members, as well as in Pan (2015), a blockbuster film distributed by Warner Bros. Entertainment (Hollywood).
This 2-day-1-night tour will truly be an unforgettable experience during your time in Vietnam.
Come and find out what makes Hang En so popular and amazing as many have said.
For safety and conservation reasons, Decision 47/VPUBND-VX (dated January 9, 2015) of the Government of Quang Binh Province grants Oxalis Adventure Tours as the only operator to bring tourists to Hang En Cave.
DAY 1: Phong Nha – Ban Doong Village – Hang En
Start your ultimate adventure with a pickup from your hotel in Phong Nha between 8:00 am and 8:30 am and a short transfer to Oxalis Headquarters. Learn all about safety collect your gear and sign our Release Form before driving 45 mins through the National Park to reach the trailhead. At 10:00 am, leave the road behind for the jungle.
A steep jungle hill starts the journey, with a refreshing river at the bottom. Hike through rich primary forest to reach the Ban Doong minority village, where a hot cup of tea welcomes you. Feast on a picnic lunch which takes place shortly afterwards at about 12:30 – 1:00 pm, near the river. Then it's back into the jungle, through rivers and streams, and along the river valley until Hang En lays on the horizon.
Enter Hang En around 3 pm, and take a quick rest as the porter team sets up camp on the beach within the cave. For the next couple of hours, complete the adventure by preceding the rest of the way through the cave to the breathtaking exit, a scene made famous in the film Pan. Return to camp through the dry passage to the viewpoint high above camp, where 300 million year old fossils can be seen. Enjoy your downtime relaxing or swimming in the natural pool before a sizzling grilled dinner is served, complete with rice wine and the sounds of swifts overhead.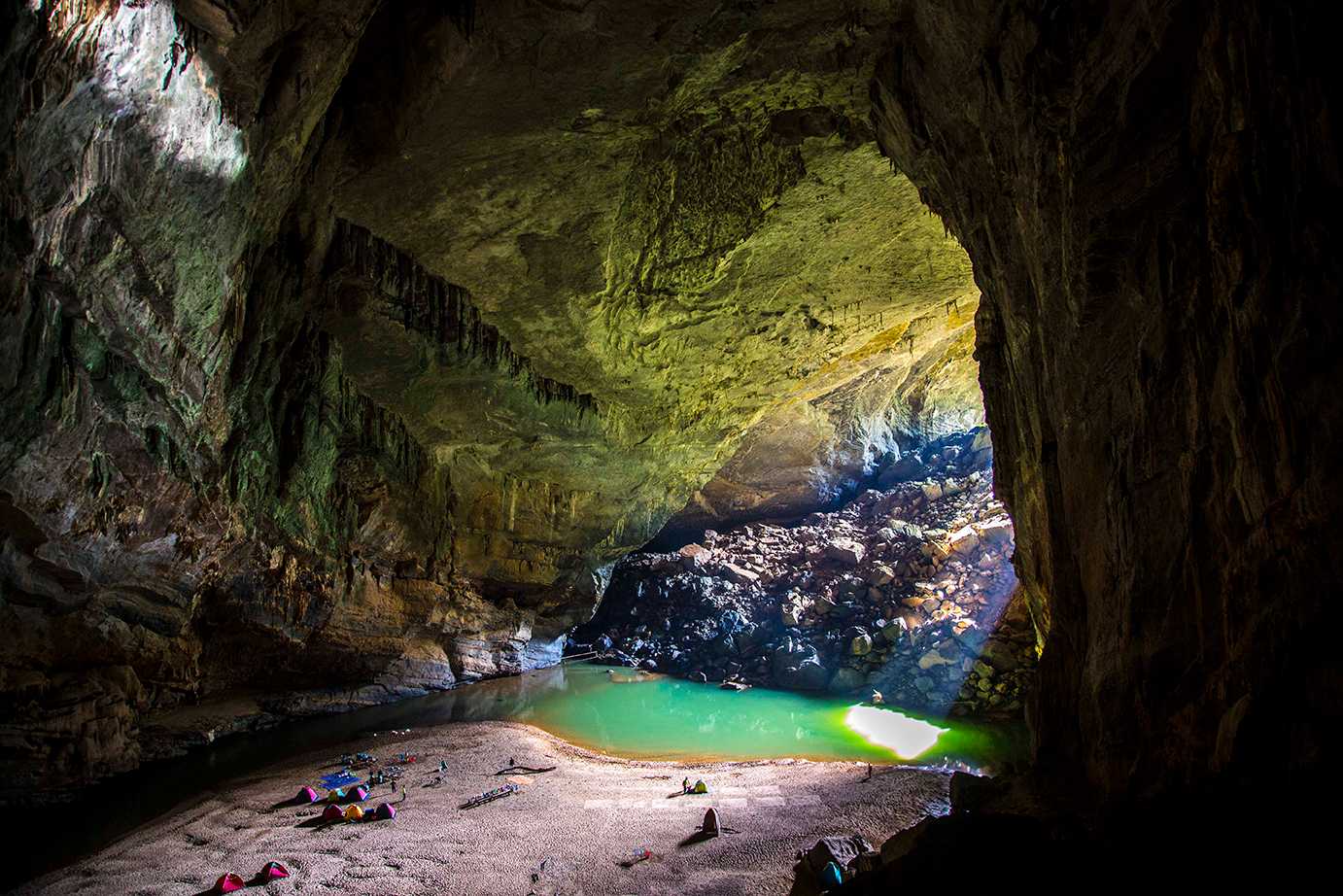 DAY 2: Hang En – Phong Nha
Awake at 8:00 am for breakfast and pack up your belongings. Depart camp at 9:00 am to leave Hang En. Take one last look at the entrance, almost hidden amongst the jungle.
Have lunch with your group from 12:00 – 1:00 pm, and then it's time to start the journey home. Trek for the next hour along a shady path through the river valley. And then from 2:00 – 4:00 pm, make your way up the hill to the pickup point, where our driver will be waiting to take you back to civilization. Return to Phong Nha between 4:30 – 5:30 pm.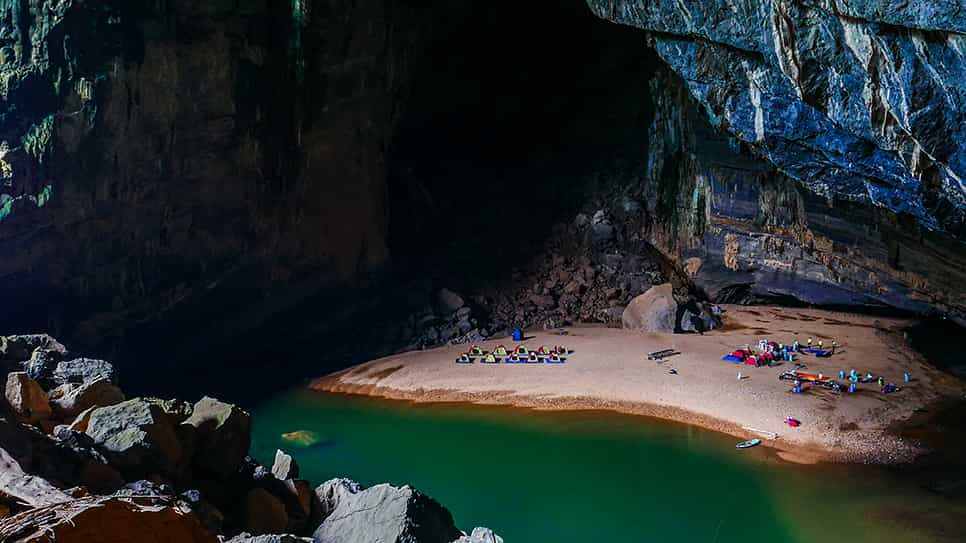 HANG EN CAVE TREKKING & CAMPING TOUR
For two days, this is our best-value-for-money tour that includes one of the most jaw-dropping natural landscapes you will see in this lifetime. This cave is considered the second largest cave in Vietnam and third largest in the World, and it also makes up one night of the original five-day Son Doong Cave Expedition being so close to the largest cave in the world.
It includes visiting Ban Doong Ethnic Village, located in the jungle, and a magnificent campsite on a sandy beach inside the cave. It includes 22km of jungle trekking at times quite rocky, multiple knee-deep river crossings, and elevation change of 400m (the 'hill' you won't forget), and 4km of caving. It costs VND 7,600,000 per person (USD 330).