Hệ thống hang Tú Làn nằm cách Vườn Quốc Gia Phong Nha – Kẻ Bàng 70 km, bên cạnh khu vực xã Tân Hóa, huyện Minh Hóa, tỉnh Quảng Bình; ẩn sâu giữa những đồng cỏ, cánh đồng ngô/lạc tươi xanh mơn mởn được nối tiếp bởi một khúc sông Rào Nan kéo dài.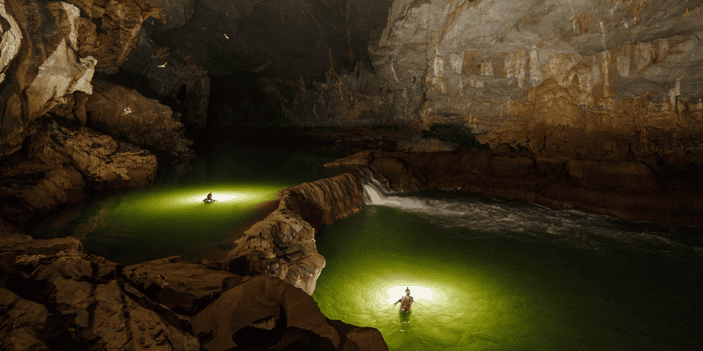 Exploring Tu Lan Caves System will see you trekking through remote, untouched jungle; crossing buffalo fields; being surrounded by giant, looming, limestone mountains on all sides; and plunging into deep, cool, underground rivers that wind gracefully through mountains and river valleys alike.
The rewards for this exploration include watching flurries of butterflies surround camp; sleeping under the stars, in a hammock, with the breeze floating lazily around you; sitting by a campfire telling stories, singing songs, and drinking rice wine; listening to the beautiful waterfalls gush around you; learning (hopefully) the words to popular Vietnamese songs, singing national anthems, and playing games; eating barbecue pork, fresh fruit, springs rolls, and more; and venturing through areas that are almost completely unexplored, and boast some of the greatest biodiversity in the country.
Aside from the beauty though, it's the adventure of swimming through the river caves that makes this tour unmatchable to anything else around. As you swim through each cave, you're surrounded by gorgeous limestone formations, seen only by the light of your headtorch, and the fading daylight of the cave entrance!
Our Tu Lan one-day tour is still voted the best adventure tour in one day offered in Phong Nha by guests on Trip Advisor, and travellers passing through Easy Tiger , Nguyen Shack or Farmstay. It is the original one-day adventure tour offered in Phong Nha and includes rock scrambling, about 50m swimming through a wild river-cave called Hung Ton, and up to 9 km of trekking through the lush jungles.
It costs VND 1,800,000 (USD 79) per person. This tour often books out in advance due to high demand. Please make your reservation before arriving in Phong Nha so as not to miss out on the experience.
Ảnh
The most popular overnight jungle and cave experience in Vietnam, with a 12km trek through the most gorgeous jungle and some of the most impressive wild dry and wet caves in the region, including Tu Lan Cave made famous by National Geographic.
On this trip you will swim up to 500m in a couple of river caves, witness outstanding cascading waterfalls underground and spend the night at our jungle camp beside a spectacular waterfall. It costs VND 5,500,000 per person (USD 242). Bookings essential.
Ảnh
Our three-day trekking tour of Tu Lan is for those who want to take their time exploring, and have a bit more energy for the wild jungles of Vietnam. ON this trip you'll overnight at two different jungle campsites beside stunning waterfalls, enjoy 3km of cave exploring through a number of caves, 1km of cave swimming and visiting some additional areas not included on our other tours.
In total it includes 17 km of jungle trekking and quite a bit of swimming, so bring your adventurous spirit. It costs VND 8,000,000 per person (USD 352).
Ảnh
Our ultimate expedition of the Tu Lan region incorporating Hang Tien, the largest cave in the region. You will also explore all of the extraordinary caves in Tu Lan, including Kim Cave and Secret Cave that boasts phenomenal natural falls and karst formations inside these two unbelievable river caves. You will also complete a trek through Hang Tien Cave – famed for its vastness and magnificent formations.
Our secluded jungle campsites are spectacular, and with a small group size guaranteed, this is the perfect alternative expedition for those who are unable to do Son Doong Expedition, but still want a jungle challenge. It is recommended for those with trekking experience and a good level of fitness and stamina. 
It includes an additional night at Chay Lap Farmstay before the tour to ensure you are well rested and ready to depart early the following day. It includes 30km of jungle trekking, 5 km of caving, about 800m swimming through caves and one abseil in a cave in the pitch black – highly adventurous! It costs VND 15,000,000 per person (USD 660).