Hang Tiên là hang khô lớn nhất thuộc hệ thống hang động Tú Làn, tọa lạc ở xã Cao Quảng, huyện Tuyên Hóa, tỉnh Quảng Bình; cách Vườn Quốc gia Phong Nha – Kẻ Bàng khoảng 70km về phía Tây. Hang Tiên từ lâu đã nổi tiếng bởi vẻ đẹp nguyên sơ và cấu trúc thạch nhũ được ví như ruộng bậc thang độc đáo, tráng lệ.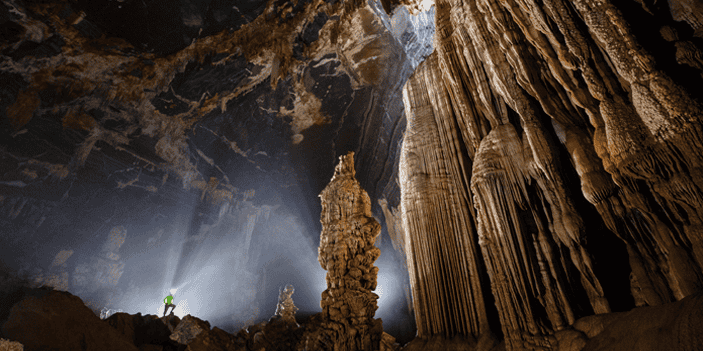 As the largest cave in Tu Lan cave system, Hang Tien is famed for its enormous size and spectacular formations. The guide will bring you into depths of Vietnamese jungle where the lost world of ancient rock configurations can be found dripping from the ceilings. This is truly a unique chance to enjoy the real wilderness of this country.
This tour is designed for those with just a day to explore the wild but still looking for an escape to the jungle along with adventure and of course, a beautiful cave.
Enter into Hang Tien where you'll be taken away by the swirling patterns of limestone and rock. Rimstone pools, known as gours, also greet you at the entrance. You'll explore different passages of this river cave and be in awe of its massive ceiling and formations.
The Hang Tien Discovery 1-Day is fitting for both true adventurers and also those with limited outdoor experience. Come check out our longest day tour, and the newest product of the season!
A phenomenon to explore the biggest dry cave of Tu Lan cave system within two days & one night jungle camping. On the ways to beautiful campsites, adventurers have to trek through the jungles and navigate over layers of rocky terrains.
It costs VND 6,500,000 per person (USD 286). Bookings essential.
Demanding trekkers would join this tour to explore the biggest dry cave of Tu Lan cave system. The itinerary is truly strenuous: trekking through diverse rocky terrain, river-crossing & camping at the most beautiful campsites.
In total it includes 28.5 km of jungle trekking and quite a bit of swimming, so bring your adventurous spirit. It costs VND 8,500,000 per person (USD 375).